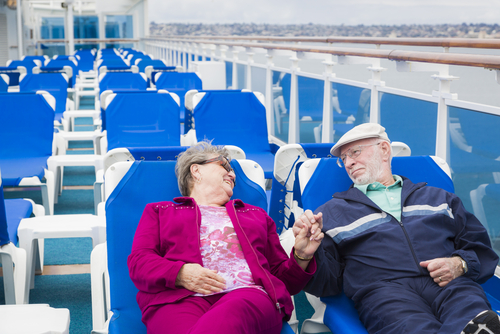 A new AARP survey of 2016 travel trends finds that nearly all Americans, regardless of age, are planning to take a trip for leisure in the coming year. However, that's where the commonalities end: Baby Boomers, Generation Xers and Millennials have distinctly different views on how to take a vacation.
Some 76 million Baby Boomers spend more than $120 billion annually on leisure travel, but a new survey by AARP indicates that not all generations travel alike. The three generations deviate on a wide array of trip details, including their booking methods, their lodging arrangements and even what they choose to pack.
Practically all Baby Boomers (99%) anticipate traveling for leisure in 2016, with approximately 4 or 5 trips in the works. Many are planning both domestic and international trips (45%), with 5% planning international travel exclusively.
Here are just some of the ways the three generations vary in how they approach their vacations:
Where do they go?
One of the biggest decisions made when planning a vacation is the location. While all generations are big fans of domestic trips, international trips are clearly more popular among younger travelers than they are among their older counterparts. Thirteen percent of Millennials are planning vacations to international destinations in 2016, compared with just 5 percent of Boomers.
Of the 95% of all travelers who will travel domestically in 2016, Summer Vacations, Multi-Generational trips, and Weekend Getaways are the primary impetus behind such plans. Popular domestic destinations are either a city/town or a beach, with Florida, Las Vegas, California, New York and Hawaii being mentioned the most. Europe and the Caribbean and surrounding areas are key destinations for international travelers.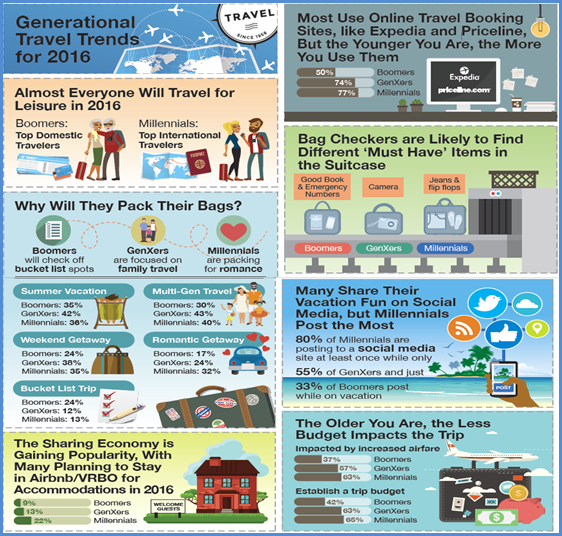 Why do they go?
The desire to travel (or take a vacation) comes down to three primary motivators:
To spend time with family and friends
To relax and rejuvenate
To get away from normal everyday life
Perhaps a reflection of their different stages in life, older and younger travelers will be packing their bags for dissimilar reasons in 2016. For Boomers, this will be a big year to check off bucket list spots: Nearly one-quarter of Boomers are planning vacations to "trip-of-a-lifetime" destinations. Family travel is in order for Gen Xers, with more than four in ten planning multi-generational trips involving three or more generations of family. And Millennials are looking for love via romantic getaways, with almost one-third opting for this kind of trip in 2016.
And where do they stay?
Traditional hotels and motels may still dominate other trip accommodations, but the sharing economy is on the rise: Airbnb and VRBO are growing in popularity. That being said, there exists a generation gap in the use of these up-and-coming accommodations. While 22 percent of Millennials are planning to make use of Airbnb, VRBO or other shared accommodations in 2016, only 9 percent of Boomers will be doing so. For Baby Boomers, free Wi-Fi and a complimentary breakfast are their top two "must haves" when choosing accommodations.
How do different generations book their trips?
Younger travelers are definitely more likely to use online travel booking sites to make their trip arrangements. Nearly eight in ten Millennials use such sites as Expedia and Priceline to book their vacations, while just half of Boomers use these sites. Gen Xers are more in line with Millennials: around three-quarters of them are using booking sites.
What do different generations pack?
Given that Boomers, Gen Xers and Millennials have differing opinions on the types of trips they want to take, it's not surprising that they're also packing different "must have" items in their luggage. Boomers say that a good book and a list of emergency contact information are among the most important items to take with them on vacation. Gen Xers take a camera to document their trip, while Millennials are more interested in kicking back, with jeans and flip-flops in their suitcases.
How they share the trip via social media?
Social media plays a very small role in influencing or occupying the older generation, with two-thirds of Baby Boomers saying they will NOT post to a social media site while on vacation. That said, the majority (83%) will stay connected to the outside world through the news they get via TV and Internet. Younger generations are far more frequent social media sharers: more than half of Gen Xers and eight in ten Millennials post at least once during their trips.
How do they spend?
For older travelers, cost affects travel plans less than it does for younger travelers. Thirty-seven percent of Boomers say increased airfare affects their vacation plans, compared with 57 percent of Gen Xers and 63 percent of Millennials. Two-thirds of the Boomers claim price has had no impact on their travel plans at all. Younger trip-takers are also more likely to establish a budget than older ones: 63 percent of Gen Xers and 65 percent of Millennials say they make a trip budget, while just 42 percent of Boomers make one.
Who is enjoying their vacation?
US workers continue to behave differently than those in other countries, with only slightly over half (54%) citing they will use all of their vacation time in 2016.  And even then, when they do travel, one-third are likely to bring work with them, absorbing approximately 10% of their vacation time.
The AARP online travel survey was conducted September 17-28, 2015 among males and females 18 and older who had taken at least one trip 50 miles or more away from home, with a two-night stay, in the past two years.