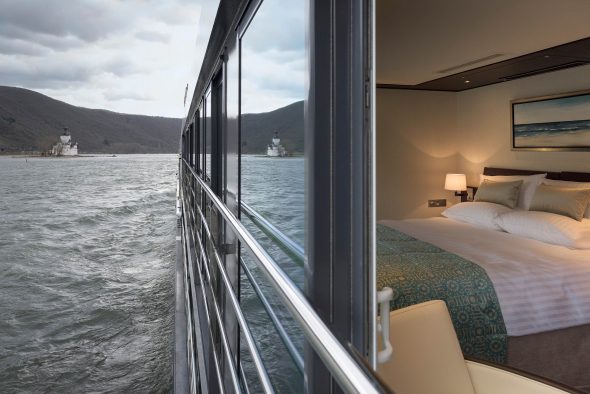 In Germany and Austria river cruising is a religion. The spiritual lift one gets from cruising along iconic waterways and watching the old world go by, castle by castle, can only be described as other worldly. It's a moment that can still be made, though, with a spurt of imagination and unparalleled comforts that make it all flow.
Such moments were in play recently on the Passion, the latest luxury river cruising vessel to be christened by Avalon Waterways in Europe. It was the river cruise company's 12th suite ship (there are 16 river vessels in all) and the moment was kicked off with the crack of Champagne delivered by Jill Ellis—the head coach of the U.S. Women's National Soccer Team, at a docking site on the Danube in Linz, Austria.
The new 443-foot, 166-passenger river ship is running Avalon's signature itineraries this summer, notably The Legendary Danube, Blue Danube Discovery, European Splendor, and Grand Danube Cruise.
But this vessel makes some changes to what it has done before: Its standard accommodations, namely the Panorama Suites that make up some 60 percent of the inventory, are 30% larger than the average stateroom and have beds facing the windows so guests get the glorious river views from the comforts of their beds. Floor-to-ceiling sliding windows mean each suite can turn into its own patio for indoor-outdoor floating.
"We've given this new suite ship a modern, contemporary theme and focused on stimulating curiosity," said Patrick Clark, Managing Director of Avalon Waterways. "We've been looking at river cruising through eyes of guests and have developed choices for them according to what they want: in destinations, activities, categories, experiences, and dining."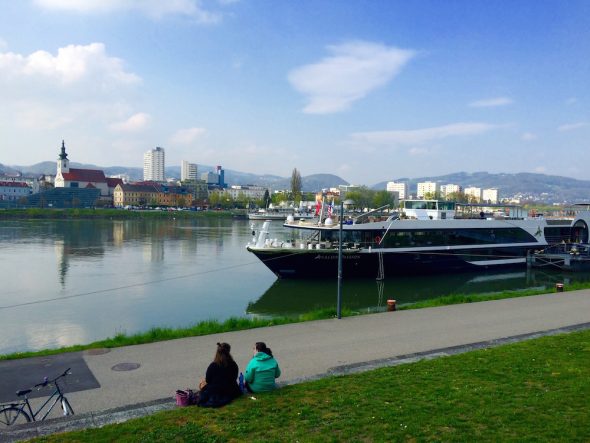 That new focus includes a freshening up of food choices to reflect the changing tastes of passengers, and an emphasis on active in the concept of port activities and excursions.
"A decade ago we introduced theme cruises and specialty cruises, starting with wine. We added three or four things around those specialties – rare wines, lectures, visits to vineyards, tastings. So now we have some 15 specialty theme cruises and more than 30 departures. We offer more enrichment. Most guests are boomers now and very active. People believe river cruising is about spending a lot of time sitting on a ship so we're introducing whole programs in active discovery, in this case on the Danube," Clark added during remarks made on the Passion during its inaugural voyage.
Vienna
And active they are. On the sailing between Vienna and Passau (listed as Munich in brochures), guests were offered such opportunities as learning to waltz – women in 18th century ball gowns, men in tuxedos fitting the styles of those times. Not enough men? No problem. Avalon planners enlisted members of the Austria National Ballet to fill in for the female singletons: handsome, agile 20-somethings who hire themselves out now and then for a dancing lesson or two. Other guests, for whom learning to waltz does not ring bells, chose to visit the Vienna Museum of Fine Arts during for a behind the scenes tour with a museum curator and lunch in the museum tower. Still, others chose to put aprons on and learn the fine art of strudel making, sharing their feats with other passengers at a lunch site in a small village in the nearby foothills.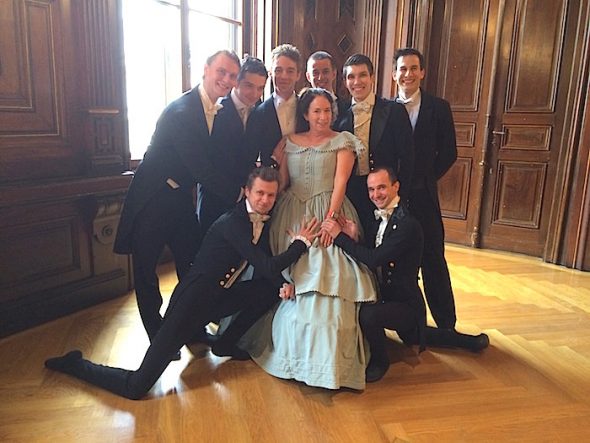 Vienna also brought such excursions as visiting the Spanish Riding School and watching the horse and rider ballet procession of white Lipizzaner stallions in the circa 1735 Hofburg Palace. With Avalon, that performance included talks about the history, a back end tour of the riding school and visits with the horses themselves, easily the most tightly trained and coddled herd of stallions in the world.
Guests can wander through Vienna on their own (a complimentary half-day city tour and walking tours through markets and back streets are available, however). The cruise vessel is docked a walkable two kilometers or so from city center on a riverwalk just off the Vogartenstrasse metro stop on the Red Line.
Other key attractions are the Hundtervasser House, an expressionist era landmark, designed by the painter and completed in 1985. Also, the Leopold Museum is a striking campus of minimalist design that houses works by Gustav Klimt and also has the world's largest collection of paintings by Egon Schiele, a stunning and haunting collection from the Klimt protégé before his untimely death at the age of 28 from the Spanish Influenza in 1918.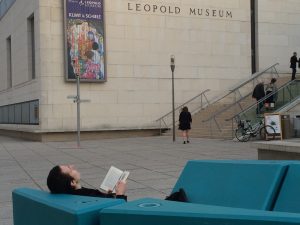 Passionate Floats on the Danube with Avalon
The Avalon Passion keeps guests active with rare tour experiences all the way along the Danube. A quick stop is made in Dürnstein, a medieval castle keep where King Richard I of England ( The Lionheart) was held captive by Leopold V, Duke of Austria after a dispute during the Third Crusade. The Wachau region is famous for wines and apricots, made more curious by what the small population of locals create with these.
Then, there are tours of Melk, known well for its monastery where monks spent their lives hand writing and etching copies of the Bible — setting for Umberto Eco's famous monastery mystery, "In the Name of the Rose."
Stops in St. Florian and tours of the 9th century St. Florian Monastery, with its beautifully preserved library, brought a special concert for Passion passengers by the St, Florian Boys Choir (composer Anton Bruckner was a choir boy there, and later an organist).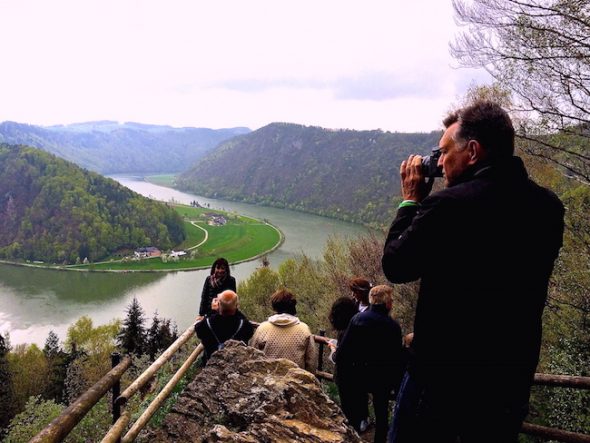 Other stops included a not to be missed hike through forests of the Schlogener Schlinge in the Eferding basin. The four-mile path undulates through farms and foothills, into canopies of pines and magical green glens. Finally, possibly the most scenic spot on the Danube appears in an overlook along a steep bend in the river. The spot is said to be lucky for lovers who kiss there.
Second Life in Linz
A day or two in Linz is also a perk of this particular itinerary. While the city has a pall cast upon it from its history as Hitler's childhood home and to where he returned at the beginning of his reign to announce and receive overwhelming approval for his plans, the city today is a lovely amalgam of art, science, beauty and life examined. A segue to Cesky Krumlov, just over the Czech border an hour away, may be available and if it is, take it. It's a preserved walled city dating back to 1309 and brimming with fantastical stories and colorful notion boutiques.
River cruise vessels in Linz dock right in the center of the city under the Nibelungen Bridge, which once acted as a Checkpoint Charlie between banks occupied by Russians on the east end and Americans on the west end. And it is on the "American' side the ship will be, practically a stone's throw from the uber-contemporary Lentos Museum of Art, the Brucknerhaus Concert Hall and the city center, which offers comely walking streets full of clothing stores, pastry shops, bookstores and notion shops a few blocks away. Of course, grand cathedrals mark these streets as well, but in the case of Linz, most of the magnificent buildings and arcades were, no doubt, also once visited by Mozart.
A not to be missed attraction in Linz is the Ars Electronica Center, also known as the Museum of the Future. Exhibits include Minority Report style hand scrolling through glass screens of forward-thinking projects all over the world. You will also find focus exhibits on how computer hacking works, a 3D movie about deep space, exhibits on emerging medical technology — you can even get a real time photo sent to you of your inner eyeball – and always there are geniuses in orange shirts ("infortrainers") to enhance the conversation.
The Austrian must-try pastries people come for are best left for the age-old shops along the boulevards that are practiced in making them. Find all manner of strudels, Black Forest Cakes and Linzer Tortes to sample. Properly packed, the tortes travel well and, it is said, get better with age.
The dishes on the Avalon will be less focused on regional cuisine (ok, expect sauerkraut available to garnish all the sausage options) than on eclectic cuisine that offers variety, including vegetarian, gluten-free and health-minded dishes. The company recently announced that it is teaming with two of Vienna's rising culinary stars and champions of new vegetarian cuisine – the Wrenkh Brothers – and launching Avalon Fresh in 2017. The program is moving through the whole fleet with promises to have Wrenkh–designed dishes available for all shipboard lunch and dinner presentations.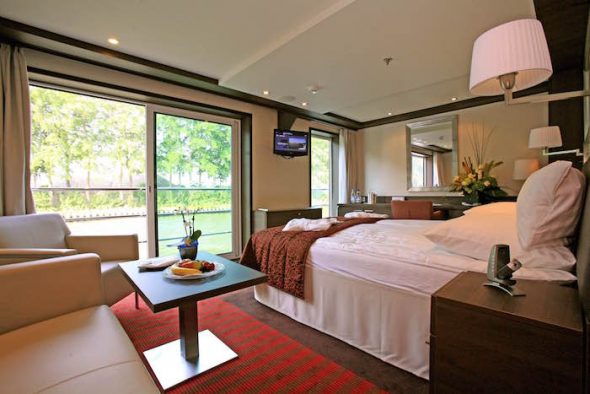 Avalon Waterways river cruising vessels can be found in all corners of the globe: Asia, South America, Africa and Europe. Shipboard amenities are too numerous to list but include complimentary Wi-Fi, use of bicycles in most European ports, meal choices and venues, stateroom TV with free movie options, concierge services, elevator, roomy fitness center and hair salon, guidance headsets, and non-smoking interiors throughout. A certain fitness level is required for walking tours and getting on and off the boat, but even upper age levels can consider a river cruise as the ships are small and the movements are smooth.
More information and a chance to access an expert travel advisor can be managed here: www.AvalonWaterways.com.