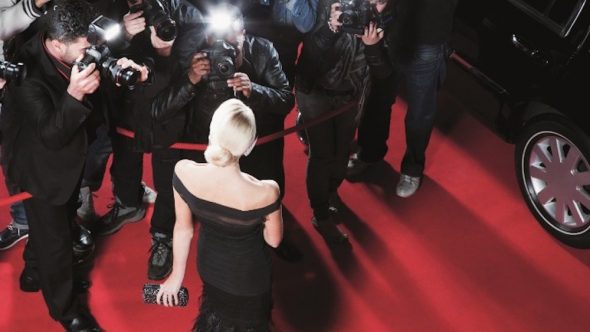 It doesn't take much to live large in Los Angeles. Where you browse is much more important than what you buy. And where you dine, whether you are having a classic hamburger or Escargots de Bourgogne with a 2010 Chateaux Margaux, may make all the difference in eye candy delivered. For those heading to L.A. here is a primer for where to put your attention for bargain plays, celebrity haze and great places to graze.
L.A.: Shop Where the Stars Are
Shopping in Los Angeles is not a pass time, it's a blood sport where celebrities don the next thing and fashionistas fight to be first to follow them. Everyone wants to get noticed in Los Angeles and skillful shopping can put you on the path. But you have to shop where the stars go.
Few street names define a city as perfectly as Rodeo Drive in Beverly Hills. And for all its fame and camera-toting tourist crowds along the sidewalks, Beverly Hills is still the quarry of celebrities who spend their leisure time testing the latest looks and nursing a hot macchiato at a sidewalk café.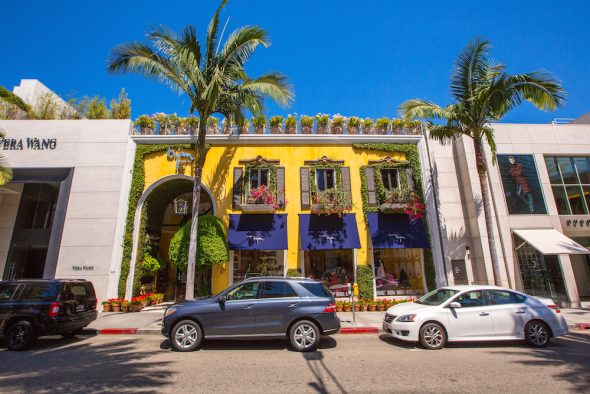 From Tiffany to Prada, Gucci to Valentino, the names on Rodeo Drive are familiar to fashion royalty. The street also includes the classic tailoring of Brooks Brothers, Coach leather goods and the opulent sparkle and shimmer of Cartier. Louis Vuitton and Gucci recently unveiled new renovated retail spaces on Rodeo Drive, while Burberry recently opened its first Rodeo Drive flagship there as well. Chic and sophisticated boutiques like Theory, AllSaints, Maje and COS spice up adjacent Beverly Drive with colorful approaches to style and design.
L.A.: Tried and True for Star Sightings
Kitson: Camera-happy travelers and paparazzi are routinely camped out in front of Kitson, a Robertson Blvd. store in West Hollywood that's a regular haunt of celebrities who like its eclectic assortment of T-shirts, gifts and "it" bags and shoes.
Barneys New York: The valet parking stand behind this tony store in Beverly Hills allows for gossip-quality picture-taking opportunities. And the magazines are full of close-ups from shopping starlets who want to be seen.
Fred Segal: For more than 40 years, the ivy-covered building at the corner of Melrose Avenue and Crescent Heights Boulevard has been destination shopping for the trend-obsessed. The venue plays out like a deconstructed department store, and the cluster of individual boutiques inside provides one-stop star shopping for sunglasses, beauty products, lingerie and wildly original home décor. The open parking lot provides plenty of working space for the paparazzi that find Fred Segal a treasure trove for money shots.
The Grove: An odd film set-style backdrop of dancing fountains, a vintage trolley car and dozens of sculpted store and restaurant facades, The Grove is fantasy entertainment rolled into one posh, outdoor promenade. The concierge service attracts stars to the outdoor mall where they are given VIP treatment to fit their wish list. The Original Farmers Market that connects to the Grove puts on no airs. It's been around for more than 80 years and it's the best place for spotting celebs that love this funky spot stuffed with counter cafes and fruit stands. But you may not recognize them without the make-up and stilettos. They will be in torn jeans, floppy hats and flip flops, and wiping food off the faces of their fidgety kids. The convenient mid-town location makes this an easy destination from both Downtown Los Angeles and the Beach.
L.A.: Star Powered Dining Spots
To dine in Los Angeles can be a an adventure in gourmet experiences that bring in all the senses: set, taste, cuisine that pushes the edges, brag-worthy mentions and, yes, likely a celebrity sighting mixed in. Everybody eats out in Los Angeles.
For celebrity-owned restaurants, Los Angeles has quite a few, these picks among them:
Beso: Owned by Eva Longeria (Parker) who is also a frequent diner, Beso brings yummy appetizers and a fun vibe to Latin-inspired cuisine created by celebrity chef Todd English.
Ago Restaurant: This corner restaurant bordering West Hollywood has the hand of Robert DeNiro, who backed this very popular L.A. venue with movie moguls Bob and Harvey Weinstein, and directors Tony and Ridley Scott among others. Its well-known chef, Agostino Sciadri, creates some Italian classics to a sun-kissed Tuscan villa setting and table set up in breads and oils that bring their own star power. Film and rock star sightings are common.
Tagine: Co-owned by Ryan Gosling, this Moroccan restaurant in West Hollywood features a sumptuous setting of colors and cushions and reasonably prix fixe meals to try.
Ketchup: Part of the Dolce group's Los Angeles collection of restaurants this spot is partially owned by celebrity investor Ashton Kutcher. Find upscale comfort food – and deals. Diners get 50 percent off on all food on Sundays.
Mulberry Street: When you have to have pizza, head to Mulberry Street, owned by actress Cathy Moriarty (Vicki LaMotta in "Raging Bull") with locations in Beverly Hills and around the city.
Best of the L.A. Beach Scenes
L.A. may be a great big freeway but if you gotta ride, do it on the PCH. The Pacific Coast Highway runs 74 miles between Malibu and Long Beach, hugging the coast line through most of it and passing some of the city's trendiest neighborhoods. But if you really want to see the beach, you have to get off the road. The cool waters and aggressive surf of the Pacific Ocean in these parts are there to be savored when you are ready to take a break from your urban explorations and segue into the bohemian beach life of Venice and Santa Monica while chancing the gilded cliffways of Malibu.
Whether star, student, VIP or very impatient person, you will want to take in the Venice Boardwalk. This is where circus fantasy meets California reality. Mimes will follow and mimic you; apocalypse tellers will preach to you; one-armed dwarfs will dance for you; fortune-tellers by the dozens will read for you; masseuses and aura tuners will heal you; rollerblading guitarists will strum for you; snake charmers and parrot tamers will pose for you; portrait artists will have you pose for them; political activists will talk to you; body painters will design for you; used book collectors will sell to you and if you are lucky enough, the crowds will part for you.
For crowds, family, entertainment and colorful scenes stick to Santa Monica and Venice. Find the funky shops selling soaps and hemp clothes, the cool coffee shops owned by rock stars (Bob Dylan owns the 18th street café) and some top-tier street performances. Third Street Promenade in Santa Monica is an ample car-free stroll that leads to the legendary Santa Monica pier for rides on the historic carousel and mini-roller coaster over the Pacific.
Further north find the star-studded neighborhoods of Malibu and the quiet public beaches their homes overlook. A top-down drive on the Pacific Coast Highway is one way to go, or you can bike or blade your way north along well-kept bicycle paths that border the beach from Redondo Beach to Malibu.
Top spots for pit stops
Find fresh catch at the Reel Inn, a paper plate kind of place where the food is sublime (everything is fried or grilled) and so is the people watching. It's a favorite weekend haunt for celebrities who want to hang near home. Similarly, Neptune's Net on the northern borders of Malibu provides a casual order-and-grab seafood spot with picnic tables overlooking the water.
Fancy diners will want to go to Nobu where there is nearly always a celebrity or two enjoying the skilled sushi talents of famed chef Nobu Matsuhisa. Also, Geoffrey's is a favorite brunch spot for stargazing and surfer watching. Opened in 1948, the views here were once enjoyed by Frank Sinatra, Shirley MacLaine, Lana Turner and even Kennedy and Monroe. The restaurant offers refined table set-ups on a cliff terrace over the waves (try the Scotch Benedict or Lobster quiche) made magical by the golden sunshine.
This is the second of two articles on living large in Los Angeles.