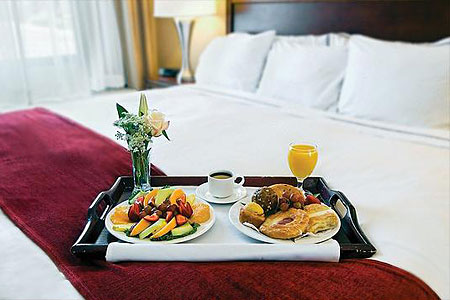 What's a club sandwich cost these days? $24.15 if you buy off a room service menu in New York City. That bottle of water? Consider it gold if you take it from a mini-bar in a Los Angeles hotel room.
The 2014 TripIndexTM Room Service report, a cost-comparison of common incidental items and services that many travelers will encounter when staying in a hotel, shows that Las Vegas is the priciest U.S. city for in-room amenities – averaging $68 for common in-room purchases, while Denver is the least expensive at $41.
This second annual survey by TripAdvisor compared the cost of in-room amenities in 62 popular cities around the world, including 15 in the U.S. It looks at the price of a club sandwich ordered through room service, the dry cleaning of one shirt, and the costs of a bottle of water, peanuts, a mini vodka, and a can of soda consumed from the mini-bar.
Among its findings, not surprisingly, is that of the 39 percent of U.S. travelers report ordering room service in the last 12 months, only 13 percent admitted making a mini bar purchase.
The Price of Room Service in America
Travelers can expect to spend about 22 percent more in the U.S. for these common incidental hotel costs than in popular cities around the world.
$55 is the average total cost for room service in U.S. cities, $3 more expensive than in 2013.
$45 is the average TripIndex Room Service total cost for international cities, representing no change from 2013.
Where to Buy an In-room Meal for the Lowest Price
At $41, Denver is the best value U.S. city for room service, narrowly edging out Seattle ($42) and Minneapolis ($46).
Internationally, make that Tunis, Tunisia where room service meals come in at $18 — less than half the price of what can be ordered in the least expensive U.S. city. In fact, travelers will find the biggest international room service bargain in Africa, with Tunis, Cape Town, South Africa, and Marrakech, Morocco outranking other cities.
Trendy Spendy Spots for Hotel Services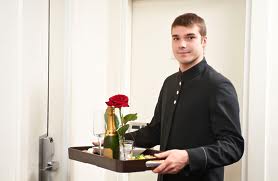 Among the featured U.S. cities, Las Vegas is the most expensive destination ($68). New York City is a close second at just under $68, followed by Washington, D.C. at $62. Helsinki, Finland is the most expensive international spot for room service. At $89, it is nearly five times as expensive as the least expensive destination. Scandinavia represents the priciest global region for room service, with Nordic cities claiming four of the 10 most expensive spots: Helsinki (#1); Oslo, Norway (#2); Stockholm, Sweden (#5); and Copenhagen, Denmark (#10).
Room Service vs. Hotel Prices in the U.S.
While expensive room service and pricey hotel room rates go hand-in-hand internationally, the TripIndex shows no correlation between the two travel expenses in U.S. cities. Although travelers may pay the most in Las Vegas for room service, the city boasts the least expensive hotel rates among the featured U.S. cities ($140 per night), and is actually the least expensive U.S. destination when the two costs are combined.
U.S. Cities (ranked from least expensive to most expensive for total room service cost):
Destination
Club sandwich
Water
Peanuts
Soda
Vodka
Dry Cleaning
Total Room Service Cost
Hotel Room Rate
1.

Denver

, Colorado
11.65
4.44
6.34
3.25
7.17
8.58
41.43
265.33
2.

Seattle

, Washington
13.00
4.08
5.92
3.08
8.33
7.17
41.58
364.63
3.

Minneapolis

, Minnesota
12.00
3.50
8.35
3.62
9.17
9.08
45.72
245.49
4.

Dallas

, Texas
12.33
4.17
8.90
3.17
10.73
9.42
48.72
218.99
5.

Orlando

, Florida
14.00
4.25
9.53
3.75
9.68
8.17
49.38
203.41
6.

Chicago

, Illinois
14.33
4.75
9.83
3.83
9.83
9.08
51.67
300.20
7.

New Orleans

, Louisiana
16.25
5.17
10.17
4.33
9.17
7.67
52.76
210.75
8.

San Francisco

, California
17.00
4.83
6.00
4.50
8.83
12.00
53.16
381.23
9.

Boston

, Massachusetts
14.67
5.34
12.78
4.36
11.11
10.25
58.51
361.97
10.

Atlanta

, Georgia
14.00
4.66
10.16
4.87
15.20
10.67
59.56
208.32
11.

Honolulu

, Hawaii
18.33
6.00
11.50
4.00
10.67
9.42
59.92
322.42
12.

Los Angeles

, California
17.33
6.75
10.75
4.17
10.67
11.00
60.67
277.97
13.

Washington, D.C.

19.00
5.00
7.33
7.33
9.33
13.67
61.66
268.48
14.

New York City

, New York
24.15
3.93
7.13
3.86
16.76
12.00
67.83
363.74
15.

Las Vegas

, Nevada
16.67
6.67
12.00
5.33
12.67
14.67
68.01
139.51
Best Value International Cities:
Destination
Club sandwich
Water
Peanuts
Soda
Vodka
Dry Cleaning
Total Room Service Cost
Hotel Room Rate
1.

Tunis

, Tunisia
6.95
1.83
2.56
2.02
1.58
3.47
18.41
168.45
2.

Cape Town

, South Africa
7.25
2.37
2.31
1.66
2.31
7.07
22.97
119.54
3.

Budapest

, Hungary
7.82
2.41
5.59
2.48
1.56
5.60
25.46
109.58
4.

Prague

, Czech Republic
8.11
2.46
4.20
2.54
2.54
5.92
25.77
125.31
5.

Marrakech

, Morocco
10.63
1.89
6.42
2.20
0.00
5.81
26.95
143.32
6.

Puerto Vallarta

, Mexico
10.24
2.46
5.69
1.86
2.12
4.65
27.02
130.47
7.

Istanbul

, Turkey
6.62
2.30
6.71
2.94
4.05
5.06
27.68
165.00
8.

Jakarta

, Indonesia
8.59
2.86
4.40
3.23
2.77
5.99
27.84
90.81
9.

Dubrovnik

, Croatia
9.10
3.40
6.18
3.67
1.76
3.73
27.84
242.45
10.

Hanoi

, Vietnam
9.48
2.25
6.88
2.86
2.01
4.42
27.90
98.98
Most Expensive International Cities:
Destination
Club sandwich
Water
Peanuts
Soda
Vodka
Dry Cleaning
Total Room Service Cost
Hotel Room Rate
1.

Helsinki

, Finland
38.16
6.44
12.13
6.37
5.51
20.33
88.94
200.46
2.

Oslo

, Norway
29.42
7.43
15.75
7.12
5.12
22.75
87.59
199.53
3.

Seoul

, South Korea
27.35
7.40
6.13
7.86
9.90
14.67
73.31
154.59
4.

Zurich

, Switzerland
31.29
5.94
10.84
5.56
4.32
14.39
72.34
296.52
5.

Stockholm

, Sweden
28.40
4.13
11.31
4.93
5.03
15.36
69.16
236.75
6.

Paris

, France
23.58
6.81
12.58
6.79
6.97
11.16
67.89
327.60
7.

New York City

, New York
24.15
3.93
16.76
3.86
7.13
12.00
67.83
363.74
8.

Toronto

, Canada
20.81
5.35
18.23
3.39
8.04
9.88
65.70
230.32
9.

Singapore

19.38
5.21
14.83
6.56
6.20
10.16
62.34
203.41
10.

Copenhagen

, Denmark
24.27
2.76
10.76
5.01
3.70
13.38
59.88
242.31