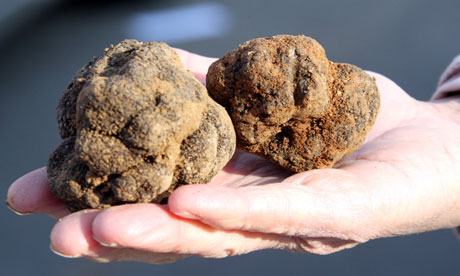 If you want to dig in the dirt for diamonds, best to target the tubers you will find in the Périgord. This region of southern France, an easy day trip from Bordeaux, produces the motherload of the world's black diamonds in the form of a fungi, Tuber Melanosporum, growing just beneath the ground in shapes that can fetch as much as $1,200 a pound in the right markets. You will need a dog named Farah, a basket and a good pair of non-fancy jeans if you want to go truffle hunting where the truffles are.
You will find such an opportunity on a river cruise excursion through France's wine region via Viking Cruises. This region of Périgord in Southeastern France makes such an enterprise particularly alluring with its 1,800 castles dotting the landscape and its particularly bloody history. Britain fought the 100 years war with France there – and lost (possibly to the effects of the wonderful "claret" to be consumed in quantity in this region. It is a place where deep history remains preserved caves where some of the earth's first upright humans left their marks along the hidden walls of the Dordogne River Valley.
For truffles, head to Pechchalifour, a circa 1700s estate that has been in the Aynaud family for many generations. Edouard Aynaud comes from a line of truffle farmers, carefully scoping the brown patches beneath oaks each morning for the musky tuber that takes six months to mature. The estate is a compound of simple stone dwellings inhabited by Aynaud's children and grandchildren and various adjuncts to the family and farm. There are not so many truffle farmers in this region any more. Most of the children head for the cities. More than a third of the region's dwindling inhabitants are over 60. Truffle hunting is a patience-staking enterprise, perhaps best left to those who have lived in times before social media. In France alone, the yearly black truffle harvest that was counted at 1,000 tons in the 1930s is only about 50 tons now.
With Farah, a truffle-sniffing Aussie sheepdog at the helm, you will trudge around the acreage of the estate in search of the elusive Périgord truffle, a dirty looking knobby-like growth that is known as the black diamond of this genre of tubers used by top chefs and purchased by bearers of fine tastes. It was in this region that, in 2012, the world's largest black Périgord truffle was unearthed: a monster tuber weighing nearly 3 pounds would sell in today's market for around $1,200 per pound.
The top prize happens, however, in winter with the winter white truffle, found mostly in Italy's Piedmont and fetching a mere $3,600 a pound. Macau casino and real estate billionaire Stanley Ho paid $330,000 at a charity auction in 2010 for nearly three pounds of Italian white truffles, although these items are rarely purchased in such large portions.
Both types of prized gems are under siege from two formidable enemies: climate change, which is turning wet, cool terrains to hot and dry rolling plains; and the cheaper, tasteless invasion of Chinese substitutes.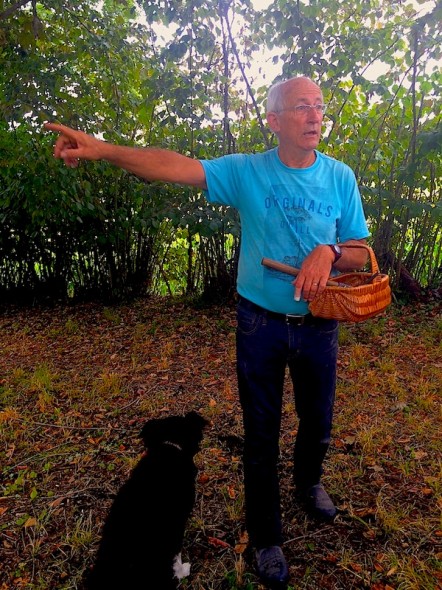 "And this is possibly the most dangerous problem," Aynaud says. "The Chinese fungus comes in contact with our soils and it spreads and takes over," much like concerns raised by fish and wildlife experts over farmed fish DNA spreading through lakes and rivers and into the natural eco-system. The much inferior Chinese black truffle entered the market in the 1990s and has become the scourge of the industry – often playing imposter to the real deal or mixing in with genuine truffles in the purchase.
Farah scratches at patchy spots in the turf, patches upon which, it was once believed, witches used to dance. After two years of intense tuber-targeted training, Farah can smell a ripe truffle that is at least six old and mature enough to be picked from the earth. It has a heady, musky, sweetish chocolate scent to the trained nose.
Dogs are the preferred way to find a good truffle, although flies and pigs can work as well.
But guests are entreated, however, not to play with Farah. She can unlearn things and learn new wrong things with her keen intelligence. As dogs are expensive to raise and take time and time and time to train, they are the truffles hunter's most valuable asset. Still, every truffle hunter knows how to follow the fly.
The fly, it turns out, is attracted to the mature rather than the younger truffles and they tend to hover around the base of trees where truffles abound. If the ground is cracked and exposing truffle growth, the flies will gather there in swarms. Once a fly finds its truffle spot it will hang on to it, often staying for long periods, and even tolerating close human presence.
Pigs, too, have been on the job since truffles became a thing – from the Roman Empire through the House of Plantagenet and on through the 19th century, when dogs showed their prowess in this field. In fact, pigs may have been a superior hunter for their olfactory senses can detect these growths as deep as three feet into the ground. In Italy, use of pigs stopped as recently as 1985 when it was determined that the animals caused damage to the truffle's mycelia, which precipitated a drop in growth in the region. And then there is a second factor: pigs often eat the truffles they find.
Following a fun sesion of fungi-tracking, it's onto the farmhouse where lunch, prepared by wife, Carol Aynaud, is set: French bread with truffle butter, brouillade with truffle flecks followed by pasta with black truffles and caviar and, finally, some home made vanilla ice cream topped with shavings of brumal truffles and complemented by some distinctively tasty unpasteurized local cheeses. And, of course, wine.
While it is possible to find your truffle without getting your knees smeared with dirt, finding Périgord black truffles may not be as simple as a trip to your local Supermarket.
Aynaud does a mail order business with sealed canisters of truffles and some other products, such as truffle olive oil, honey and truffle-infused spice. And he also opens his house and farm to day-trippers curious enough to come this way. They will leave with an unexpected gift: a contagious passion for the Périgord black truffle likely caused by Aynaud's infectious personality. www.truffle-Périgord.com.
Related Stories: