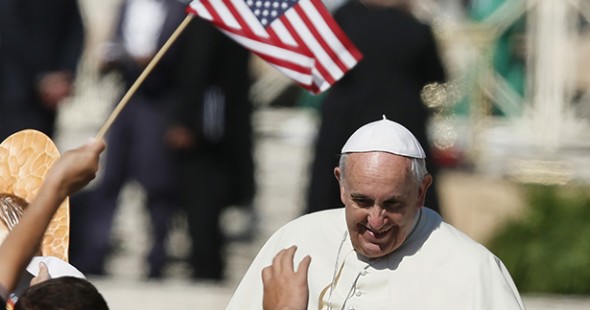 With Pope Francis' visit and the Francis Festival just days away (September 26 and 27), Philadelphia is ready to welcome locals and visitors to enjoy this once-in-a-generation event. To experience it in the most comfortable and convenient way possible, city officials and hospitality leaders are encouraging everyone to book a long weekend stay in a Center City hotel. As an added benefit and to encourage return visitation, those checking into city hotels on Friday or Saturday will receive two free tickets to the One Liberty Observation Deck, opening in November. Hotels are bookable at visitphilly.com.
The Experience:
The entire Philadelphia region is celebrating Pope Francis' visit, and here are some of the many reasons locals and visitors won't want to miss out on the celebration:
Papal Appearances, September 26-27: Visitors to Philadelphia will find plenty of opportunities to see Pope Francis and hear his inspiring message—including on 40 Jumbotrons, which will stream all papal events. Key public moments include:
Saturday, September 26:
An address by Pope Francis at Independence Hall, 4:45 p.m. (free tickets required, but no longer available; viewable on Jumbotrons)
Papal parade along the Benjamin Franklin Parkway from Eakins Oval to and around City Hall, time TBD (tickets not necessary)
Festival of Families, featuring Andrea Bocelli, Juanes, The Philadelphia Orchestra and Pope Francis himself, 7:30 p.m. (free tickets for certain areas required, but no longer available; not necessary for areas from 20th Street to City Hall and beyond)
Sunday, September 27:
Papal parade; route and time TBD (tickets not necessary). Public mass celebrated by Pope Francis in front of the Philadelphia Museum of Art, 4:00 p.m. (free tickets for certain areas required, but no longer available; not necessary for areas from 20th Street to City Hall and beyond)
The Francis Festival, September 26-27:
Running from South Street to Girard Avenue and from the Delaware River to 38th Street, this weekend-long, Philly-style block party features affordable food, drinks and souvenirs, along with free entertainment and Jumbotrons for an up-close look at all of the papal happenings. Plus, it's a pedestrian-friendly affair.
Special Events & Exhibits, All Week Long:
Museums and attractions are hosting all sorts of special happenings in celebration of the pope's visit. Just a sampling: Religious Liberty and the Founding of America at the National Constitution Center, Vatican Splendors at The Franklin Institute, Verbum Domini II: God's Word Goes Out to the Nations (free exhibit) at the Pennsylvania Convention Center and Catholics in the New World: A Selection of 16th-18th Century Texts at The Rosenbach of the Free Library of Philadelphia, among many, many others.
Food & Drink Specials, All Week Long:
The pope's visit gives restaurants and bars the opportunity to get creative with their menus, and that's exactly what they've done with items like the Il Papa pie (a Neapolitan-style pizza with Black Mission figs, mozzarella, lardo and Pecorino Toscano, oregano and fresh basil) from Pizzeria Vetri, the Pope Dog (chorizo sausage, chimichurri and pickled red onion salad) from Underdogs and Holy Wooder Belgian-style Tripel beer from Philadelphia Brewing Company.
Why Book A Hotel Room:
Staying in a hotel for the long weekend is the most comfortable and convenient way to experience the Francis Festival and papal visit. Those staying in Center City will enjoy easy walks to all papal events and throughout the festival grounds.
There are plenty of first-class hotel rooms available in Philadelphia, including many within the Francis Festival grounds, and most hotels do not require a minimum-night stay. As an incentive to return to Philadelphia, all visitors checking into a hotel on Friday or Saturday will receive two tickets to the city's newest attraction, the One Liberty Observation Deck, opening in November. Tickets are redeemable from January 1 through March 31, 2016.
In addition, many hotels are offering fun papal perks for those booking rooms. The Inn at Penn, for example, is providing guests with SEPTA tokens and a "Pope Pack" containing Philadelphia-inspired snack items to take with them on their pilgrimage to the papal events.
To book a hotel stay, go to visitphilly.com.
Getting Here & Getting Around:
Getting to and around Philadelphia will operate as it normally does from Monday through Thursday, with restrictions and road closures beginning at 10:00 p.m. on Thursday, September 24 and increasing on Friday. By Friday night, public transportation will be the best option for getting into the city. Once inside Center City, walking and biking are ideal for getting around.
Airlines:
Reporting availability, with SEPTA's Airport Line running to and from Philadelphia International Airport throughout the weekend. phl.org
Tickets still available and required for the weekend of the papal visit; no on-board ticket purchases permitted. amtrak.com
Closed beginning on Friday, September 25: the Benjamin Franklin Bridge; I-76 eastbound from I-476 to I-95; I-76 westbound from I-95 to U.S. Route 1 (Roosevelt Extension); I-676 in both directions from I-76 to I-95; and U.S. Route 1 in both directions from U.S. 30 to Belmont Avenue
Special regional rail passes available, with trains picking up passengers at a limited number of stations; the subway, elevated train, buses and trolley buses also operating on a special schedule, with tokens, transfers and passes accepted and a three-day pass available. septa.org
Modified schedule on the Atlantic City Rail Line and River Line; special tickets must be purchased in advance. njtransit.com
Non-stop service to Center City during the papal weekend, with pickups available at four New Jersey Stations; tickets must be purchased in advance. ridepatco.org
Servicing the Francis Festival grounds until 2:00 a.m. on Saturday and resuming at 3:00 a.m. on Monday.
Key Resources:
Plenty of resources are available for those planning their visits to Philadelphia for this historic week:
Online Resources:
worldmeeting2015.org: Go-to place for information about the congress schedule, papal visit, World Meeting of Families history and the Papal Visit Playbook, a how-to guide for Philly residents
Go Philadelphia! App: App featuring information about regional
attractions and the family-friendly events, activities and exhibitions taking place between September 18 and 29. Available for Apple and Android devices.

phila.gov: The place for information about road closures, secure perimeters and business resources
visitphilly.com, featuring visitphilly.com/pope: Visitor-focused site with comprehensive coverage of the WMOF and papal events, accommodations, transportation, what's opened and closed and more
uwishunu.com: Insider blog focusing on what to do today, tomorrow and this weekend
discoverPHL.com/OVG and discoverPHL.com/internationalguide: Downloadable guides to the city available in multiple languages
In-person Resources:
◦                Main location, 6th & Market Streets
◦                Sister Cities Park, 200 N. 18th Street
◦                Fairmount Park Welcome Center, 1599 John F. Kennedy Boulevard
◦                City Hall Visitor Center, Broad & Market Streets, Room 121
◦                Pennsylvania Convention Center, 1102 Arch Street
(Note: The city will conduct business as usual Monday through Friday, September 21-25 during the World Meeting of Families Congress. Hotel rooms are available, and transportation will run normally.)