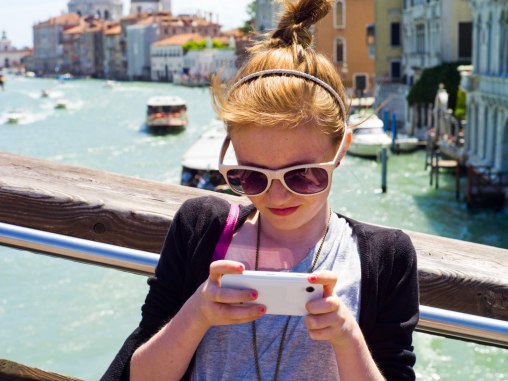 Travel by age does matter. Each age group has its own methods and wants when it comes to travel. Count on Virtuoso to chisel the persona of each generation and illuminate just what each age group seeks in travel.
This week Virtuoso shared findings at its annual Symposium, being held this week in Hong Kong, before an audience of 485 top travel executives from 42 countries, all partners of the esteemed network.
Tapping into transactional data from its U.S. and Canadian-based agency members and culling more than six years of information and travel totaling more (U.S.) $35 billion, Virtuoso analyzed travel by age groups by the spending habits of these generation. It layered this information with input from focus groups, interviews with travel advisors, and studies from research partner Wealth Engine. 
Travel by Age — Key Observations:
Millennials (ages 22-32):
If chosen carefully, they make great travel clients. Currently 90 percent of them book travel online and at the very least, 87 percent use online travel agencies (OTAs) for research and rate comparisons. Their average daily spend is 62 percent lower than Matures. When cultivated, though, that gap closes to just 24 percent. Another bonus, Millennials are actually more loyal than other generations.
As the "me" generation, they expect to be serviced differently. They are time suppressed and over-stimulated with a general philosophy that a smartphone can solve any problem. Engaging them, educating them and showing patience is the key to converting them into good clients.
Nothing cookie-cutter for this group. They strongly favor customized FIT tours and experiences. Given they are still building their careers and likely have less ability to break away from their jobs, they have a higher propensity to book trips within North America.
GenX-ers (ages 33-49)
This "slacker" generation is the least loyal, perhaps because they came of buying age at precisely the time OTAs came into the picture, shifting loyalty from brands in favor of price shopping. In fact, 82 percent book travel online and 71 percent research their travel through OTAs.
However, they do account for the highest average daily spend while traveling at $627 per day. By comparison, Millennials average $527 per day; Boomers average $522; and, Matures average $471.
Changes in their life stages are strongly reflected in their travel habits. Generation Z (their offspring) factor into travel decisions and schedules, with school calendars largely dictating timing.  Their top vacation motivation is having enough time to relax and unwind.
They strongly favor hotel stays and if it is in the Playa Del Carmen region of Mexico, even better.  They prefer to stick closer to home and Mexico is a favored destination.
Boomers (ages 50-68)
While 84 percent admit to having purchased travel online and 72 percent have researched travel through OTAs, they are responsible for the greatest travel spend. This is mainly because they make up the highest concentration of "ultra-affluent" consumers, meaning they have investible assets in excess of $25 million.
This generation is experiencing a big point of transition and as they retire, travel ranks among their top activities.  Their average spend on travel remains relatively constant before growing rapidly again after age 65.
They prefer more diversity in their travels, with 19 percent favoring hotels, 26 percent preferring cruises and 28 percent opting for customized FIT tours.
Matures (ages 69-89)
Travel factors significantly into the lives of this generation, and they rank as the highest spending travelers in aggregate.
They favor cruises, especially in January. And unlike their GenX counterparts, whose cruising schedules follow school holidays, Matures steadily cruise throughout the year.
Their loyalty remains the highest, too, as they are the most likely to repeat purchase.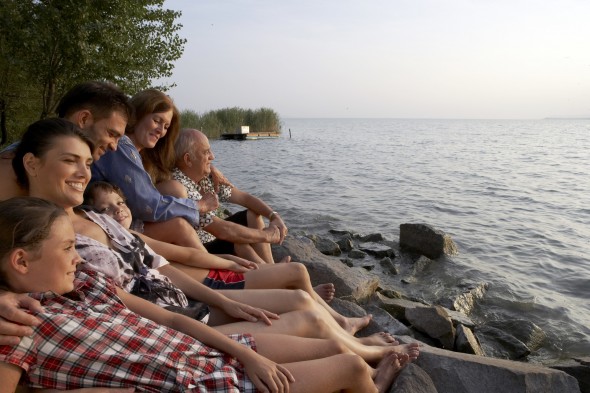 Baby-Boomers and the Multi-Generational Travel Explosion
While travel by age groups, each with its variations and particularities offers enough management, traveling by family groups in multigenerational bundles offers yet another set of factors to consider.
America's 76 million baby boomers spend more than $120 billion annually in leisure travel are making plans – and those plans are likely to involve traveling with the younger members of their family.
In fact, according to new research conducted by AARP, some 47 percent of travelers over the age of 45 plan to take a multi-generational family vacation in the next 12 months. These are trips that include three generations or more, such as kids, parents, aunts/uncles and grandparents all traveling to one destination to vacation together.
Key Multi-Generational Vacations Findings Include:
80 percent traveled in the U.S. and many chose active cities, beaches and amusement parks.
20 percent traveled internationally with half heading to the Caribbean, Mexico or South America.
Cruising is popular for 25 percent of international travelers.
Almost 40 percent chose nostalgic destinations to share a childhood memory. 
Top Destinations for Multi-Generational Vacations:
Picking the right destination where families across three generations can enjoy time with one another and also by themselves can be challenging, but there are destinations that offer both. The following information provides more insights into preferred destinations for multi-generational travel:
80 percent traveled domestically
Amusement Parks
Disney
California
Hawaii
20 percent traveled internationally
The Caribbean/South America
Cruise vacation
Europe
Mexico
Top Benefits of Multi-Generational Vacations:
Traveling with parents, kids and grandparents can be transformative in many ways. The following are the top benefits of multi-generational travel as identified in the research:
Bringing the entire family together (83 percent)
Helping build special memories (69 percent)
Grandparents are able to spend time with grandkids (50 percent)
Quality one-on-one time with family/spouse (36 percent)
Adult relatives spending time with younger generations (29 percent)
Top Activities Enjoyed on Multi-Generational Vacations:
Approximately half of all parents and grandparents who have taken a multi-generational trip recommend planning ahead, especially about activities so that everyone enjoys the trip. The top activities most enjoyed on multi-generational trips include:
Spending time together as a family (72 percent)
Dining out (49 percent)
Relaxing by the beach/pool (41 percent)
Sightseeing (33 percent)
Theme/Amusement park (18 percent)
Cooking together as a family (17 percent)
Outdoor/Nature activities (14 percent)
Top Barriers to Planning a Multi-Generational Vacation
While more and more travelers 45-plus dream of taking a trip with their families, multi-generational travel definitely poses a few challenges in terms of planning and coordination. The following are the top barriers to multi-generation travel according to recent travel research by AARP:
1. Agreeing on a date (38 percent)
2. Cost concerns (20 percent)
3. Overwhelming to coordinate (20 percent)
4. Finding time to make the trip a priority (18 percent)
5. Agreeing on a destination (17 percent)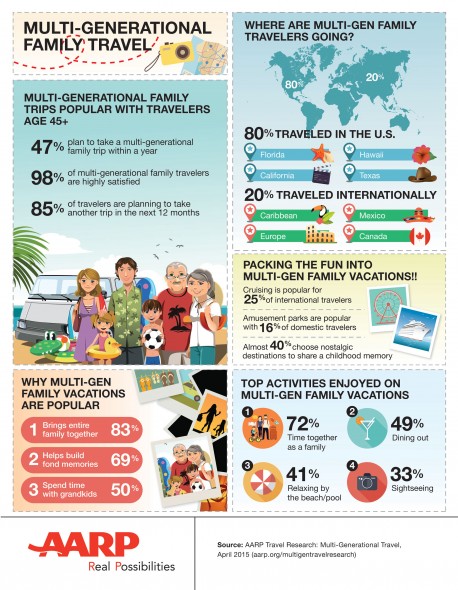 Related Stories: