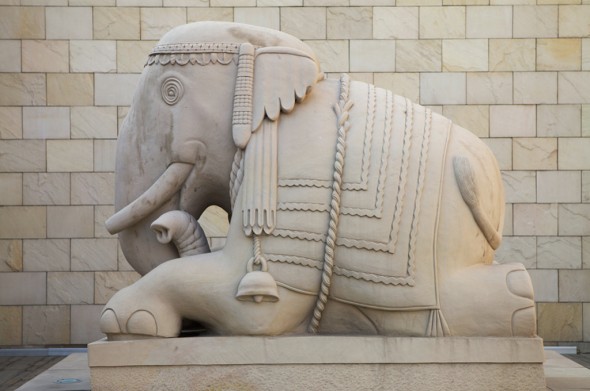 The luxury hotel across from the emerald necklace of Imperial Delhi now brings ancient and royal India up close with a series of compact journeys into lands left alone by time.
The Lodhi made headlines in February when it rebranded from Aman New Delhi into its current spot as a boutique luxury hotel in a very desirable area of bustling New Delhi. Since that time, the nine-story property of 40 rooms and suites has been busy sweetening the stay through the creation of four easy day trips into New Delhi that take visitors behind the veil with some expressly iconic experiences.
To start the day, guests can have an intimate yoga session – on the steps of the Sayyid Tombs, a short walk away in the historic, Mughal-era Lodhi gardens. A yoga session of Asanas (poses), Pranayama (breathing), and Dhyana (meditation) is followed by a picnic breakfast in a garden of birdsong and exotic flora.
The Lodhi has created a half-day excursion called "Three Temples, a Church and a Bangle Tour" for anyone seeking spirituality followed by beauty perks.
The tour takes in Birla Temple, a circa 1938 sanctuary and shrine to the Laxmi, Goddess of wealth, and Lord Vishnu, the preserver of the Hindu Trinity. Guests get a dose of Hindu mythology and a blessing from the resident priest before heading to the next stop: The Sikh sanctuary Gurdwara Bangla Sahib. A large water body there is believed to have a miraculous healing effect on the mind, body, and soul. Nearby is the Cathedral of the Sacred Heart, built in the 1930s and known for its exquisite architecture.
The last stop is Hanuman Temple devoted to throngs of rhesus monkeys and the monkey-king, Hanuman, from the epic-Ramayana. After appreciating the monkeys one can get henna'd and bangled in this ultimate destination for hand design and bling.
The Lodhi offers a two-hour Chef Experience for those who want to summon their own mistress of spices. The course takes place in the Lodhi house kitchen where guests are given an entertaining introduction to India's legendary assortment of spices ad masalas. They cook two starters, two main courses and one dessert. The class is followed by lunch in the Aman Restaurant where these guest chefs have the chance to taste their creations.
Old Delhi is another half-day trip to the true heart of the city, where nobles and members of the royal court once lived in beautiful mansions amid grand temples.
Today, the bumpy, narrow and busy lanes lead to the most popular market in India where it is possible to buy a thousand kinds silks and Sarees with Chikan and Zari work, plus books, clothing, shoes and leather goods, electronic and consumer goods.
Dariba Kalan, once known for precious stones, gems, gold and silver jewelry now deals in new or old silver and costume jewelry. Sample authentic attars, or traditional perfumed oils there. Architectural enthusiasts can study the  houses that have maintained their traditional style and appearance with courtyards and ornamental gateways. Khari Baoli, India's largest wholesale spice market, brings crowded shops selling spices, nuts and herbs. Guests can experience it all in a small, motorized rickshaw that can travel through the narrow streets and cobbled alleys.
The journeys are guided by personal Lodhi "ambassadors" who can guide, translate and explain. Days are ended by the return to the hotel where there are three restaurants and a lounge, a sublime spa, a 50-meter heated swimming pool, library, cigar lounge, plenty of greenery (including a golf course across the street), and all the rooms come with private plunge pools.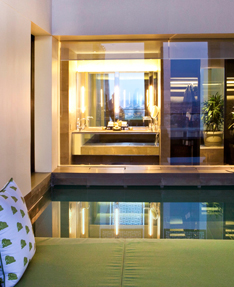 Nightly rates start at around $500, tours and excursions are extra. The Lodhi is a member of the exclusive Kurtz-Ahlers collection.
Contact:
The Lodhi
(011-91) 11 436-3-3333
www.thelodhi.com