The United States announced a new rule that bans bigger-than-a-smartphone electronics from the airline cabin on certain flights to the United States — including laptops, tablets and cameras. The rules apply to flights from 10 airports in Middle Eastern and North Africa. The government has attributed the new security measure to concerns about bombs. The U.K. followed with similar steps last month.
While the move has been widely criticized in both the U.S. and the U.K., the ban is nontheless going into effect, possibly timed in response to last month's vehicle and knife attack on Westminster Bridge in London. However, the new ruling is a security measure against the Islamic State, al Qaeda and other terror groups that have developed the capability to build an explosive that could be hidden in a laptop but still be big enough to blow a hole in the side of a plane. To date, no intelligence of such plans or actions by a hostile group has been intercepted.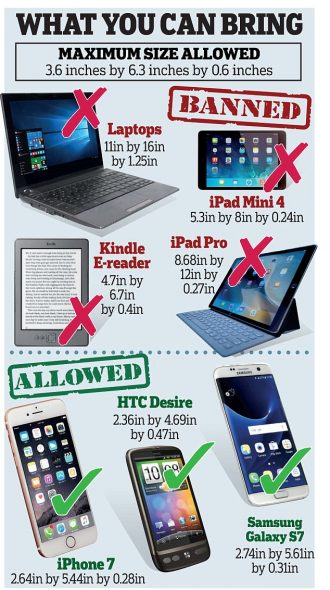 The requirement forbids passengers from bringing laptops, iPads, Kindles and even cameras larger than mobile phones into the cabin.
The ban specifically relates to ten airports in eight countries:
Jordan
Egypt
Turkey
Saudi Arabia
Kuwait
Morocco
Qatar
Dubai and Abu Dhabi
The affected airlines are Royal Jordanian, Egyptair, Turkish airlines, Saudia Airlines, Kuwait Airways, Royal Air Morocco, Qatar Airways, Emirates and Etihad. As is the style of the current US regime, many specifics were not addressed and left for Homeland Security to parse as they see fit.
The ruling in the U.K. affects flights from Turkey, Lebanon, Egypt, Saudi Arabia, Jordan and Tunisia into London Heathrow.
Under the new arrangements, banned items include electronic screen items larger than:
– length: 16.0cm
– width: 9.3cm
– depth: 1.5cm
and apply to:
Laptops
Tablets
E-Readers
Cameras
Portable DVD players
Electronic game units larger than a smartphone
Travel printers/scanners
Airlines, scrambling to respond to this are coming up with their own creative solutions. For instance, Qatar Airways is offering complimentary laptops to its Business Class passengers to use while in flight, as well as complimentary Wi-Fi. All other passengers will receive free Wi-Fi for one hour, followed by access for a discounted $5. In addition, Qatar Airways is personally collecting electronics at the gate, and safely stowing them away below, to ensure belongings are not damaged as damage and protection of valuable electronics and data has become another key concern.
It is important to note the ruling does not apply at all to domestic airlines and routes in the U.S., not flights from the U.S., or two the U.S. from non-listed airports.