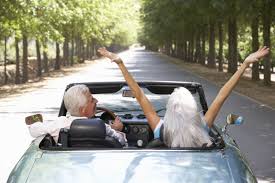 AARP Travel, which tracks America's 76 million baby boomers who spend over $120 billion annually in leisure travel, recently came up with the top gripes and top "greats" that boomers say color their experience of travel. Although they are less stressed, Boomers are not travelling without hiccups. According to the research, clearing security, flight delays at the departure airport and lack of legroom – in flight – make up the primary stressors in travel.
"Travel is the number one aspirational activity for the boomer generation, and we are seeing Boomers tend to be more relaxed during the air travel experience than younger travelers and a third of them have embraced travel technology – much like their younger counterparts.  A key difference, however, is that Boomers actually take advantage of airport amenities – unlike Gen-Xers and Millennials who often arrive for flights just in time to board," says Sami Hassanyeh, SVP, Digital Strategy and Membership.
Other important survey highlights:
Boomers enjoy the leisure travel experience (for the most part): Younger generations report higher levels of travel stress and nervous feelings compared to Baby Boomers. According to the research, Millennials are the most stressed generation while flying and Baby Boomers are the most relaxed.
Boomers stay connected: More than 90% of Boomers travel with some type of electronic device, primarily a smartphone and 56% of Boomers use airport Wi-Fi, if it's free.
Boomers are touring the USA: Domestic travel is most common among Boomers. More than 75% of the Boomers surveyed say they took their last flight to a domestic destination.
Boomers take Advantage of Airport Amenities: Boomers arrive, at least, two hours before their flight compared to their millennial counterparts, who typically arrive with just enough time to board their flight. Nearly 49% of Boomers bought food and drinks and 28% sat down and ate at a restaurant before their flight.
In fact, among the 58% of Baby Boomers who traveled by air for leisure last year, only 14% reported the experience as stressful.
On average these folks took 2-3 trips by air across all seasons of the year.
Neither mobility nor the need to compensate for a hearing or vision loss appears to be an issue for the majority of today's Baby Boomer air travelers.
Overall, the causes of the most stress are flight delays, a lack of legroom on the flight, and getting through security at the departure airport.
Of those who do report high levels of stress associated with their most recent flight, most cite their experience at their departure airport (31%) as the most stressful aspect of their travel experience.
Baby Boomers are far more relaxed about air travel than are Millennials and GenXers with just 14% reporting their most recent trip as stressful, compared to 29% and 23%, respectively. This trend is mirrored in the percent who are nervous about flying; 23% vs. 38% and 31%, respectively.
That said, for Millennials, part of their stress may also be caused by their behaviors: more than 50% arrive at the airport with one and half hours, or less, before their flight departs.
Millennials' nature to be 'always on' is no different when it comes to air travel, they report the highest usage of travel related apps (62% vs. 48% for GenX and 34% for Boomers), and are more likely than older generations to bring their own entertainment or work for in-flight distractions.
Which also puts them in the position to be the most likely to be looking for a power supply prior to their flight (41% vs. 35% GenX and 14% Boomer).
A 15-minute online survey was conducted among males and females age 18-plus who have taken at least one leisure trip by air in the past year. The survey was fielded in April – May 2016. Final data have been weighted to the U.S. Census for analysis.