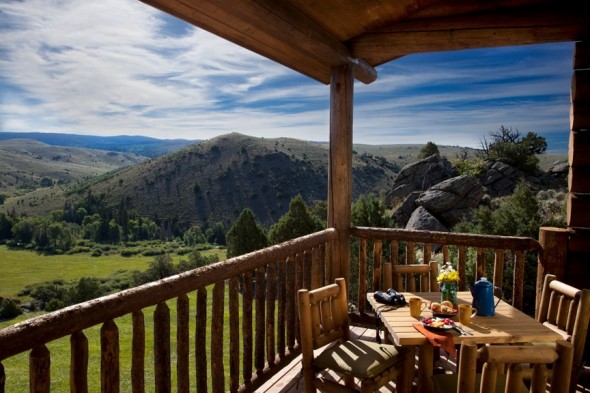 When seeking a Wyoming guest ranch experience, one of the first things guests should ask is what can you do there. At the Lodge and Spa at Brush Creek Ranch — top on Condé Nast's Reader's Choice awards list — the answer is actually a question: how fast can you go?
An ultra-luxury Wyoming guest ranch hideaway in the rocky southern foothills of the state, the Lodge and Spa at Brush Creek Ranch makes it possible to go fast and far, whether on the back of a spirited paint pony through stunning chaparral, down the currents of a fast river, on a racing mountain bike down a backcountry trail or by foot through shady forest paths, or through inner journeys enabled with onsite yoga and wellness opportunities.
The casual cowboy comeliness of this Wyoming guest ranch makes an art of pleasing the range of guests in need of space, sky, slow time and some easy ranch hospitality. That means families get the welcome mat, as do honeymooners, girlfriends on retreat, busy executives bent on some disappearing time, and active outdoor vacationers. The ranch's 30,000 acres provides plenty of space for those who want to be lone on the range, and lots of social time for guests who would rather be home on the range. Cattle, horses, deer and wildlife wildly outnumber the humans. Guest residents at the ranch are spread out amongst lodge or cabin accommodations for up to 150 guests at a time.
Time here, however, is measured in experiences rather than hours. The Lodge also accommodates with a certain luxury, well deserved at the end of a long and adventurous day. There are 13 Trailhead Lodge rooms, 10 two- and three-bedroom Log Cabin Residences, and nine cabin rooms and suites. And if it's an exclusive group, the Magee Homestead is ready with its private and secluded complex of seven historically restored cabins on a separate, but nearby, area of the ranch.