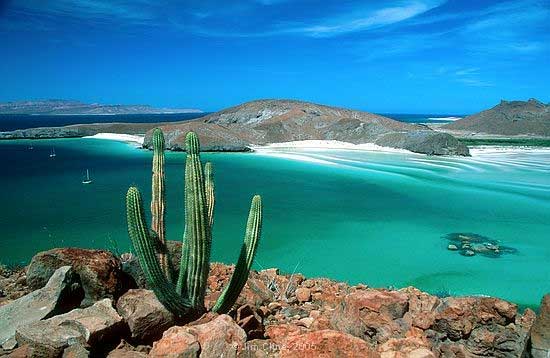 Travelers to La Paz will certainly find their share of  "The Peace," on this quiet inlet on the southern tip of Baja, California. It has all the tough character of John Steinbeck's The Pearl. But there is a newer, side to this once-backwater fishing village on the Sea of Cortez.  There is a certain luminous shimmer here that is irresistible. Possibly it is the preserved calm that calls from the Malecon, or the steady sense of place that comes from the Sea.
Find La Paz some 1,000 miles south of San Diego, CA, two hours northeast of Cabos San Lucas or a 16-hour overnight ferry ride from Mazatlan. The sleepy town sits near the foot of the Baja peninsula facing an inlet of marine magic that that may be its key attraction: the waters of the Espiritu Santo Islands.
Secrets of the Sea of Cortez
It is here that the soul of La Paz comes out in some seven islands scattered around a 27,000 square kilometer inlet that is oft referred to as "the World's Aquarium." Once the quarry of fishermen, it is now a natural aquarium visited by vacationers in search of frolicking dolphins, feeding whales and a thriving city of sea lions that call these craggy outcroppings home. Our guide calls to the sea lions as our small group dives into the cool waters, snorkel gear in odd skews on our faces. The curious sea mammals – mostly males looking to protect the new calves – shoot by us, over us and under, diving near, circling perhaps and then torpedoing away. We float through sea caves and motor along the perimeters of these islets now filled with nesting colonies of all manner of local birdlife: blue-footed boobies (found only in these waters and the Galapagos), cormorants, gulls and great blue herons. We pass an island coated in white: it's "sea snow," says our guide; it's a "seagull latrine" says a passenger.
But it is in these parts that black pearls were once harvested, nearly half the world's supply came from the oysters here that are now fiercely protected. So when it comes to our lunch stop on an island beach called Ensanada Grande, we enjoy homemade vegetable soup and fish, not rounds of oysters on the half shell. This spot, it turns out, is an outdoor hotel. There are tents with single beds and storage, an eco-minded outhouse, fresh and saltwater shower and water basin, and a kitchen with cooking staff that know how to turn out a meal in searing heat. Rates are $375 per person (+$70 single fee) in a tent, inclusive of one night and two days, all meals and margaritas, fishing in the morning, and the boat back and forth on a getaway, truly in the middle of nowhere, that can accommodate 60 people.
After lunch we swim in waters a soft as a bath, only clean and cool. We paddlesurf, kayak, snooze under a palapa, visit the "reptile sanctuary" behind the tents, and wonder what it would be like to look up and see only stars.
Fun Baja handles a number of diving, snorkeling, fishing and sightseeing tours and experiences in these parts, in boasts as small as eight passenger diving vessels up to 22-passenger, 35-foot cruisers. Trips leave from the marina near the CostaBaja Resort. All marine gear is available and snorkel gear is complimentary. Contact FunBaja.com.
La Paz by Land
The town of La Paz is a city on the brink of becoming. What it will become is less clear. The city rebuilt the wide sidewalk of the malecon along the sea front in 1997 and recently added a bike lane to the strand that runs five kilometers. Along the route are benches and sculptures and a line up of souvenir shops and restaurants across the street. By day, La Paz is a yawn – a steamy place to watch the sea and wonder about John Steinbeck. By night, it becomes a bustle of bar scenes, bistro dates and families crowding into the cool of the evening by the water's edge.
Behind the beachfront activity is the rest of the city, all seemingly stuck in the 1950s  – hair and nail salons, taco shops, dress shops, churches and hardware stores line streets now under reconstruction and making way for some needed modernization.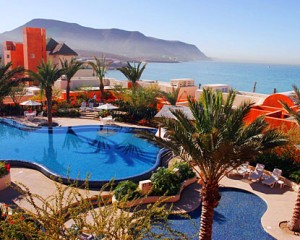 La Paz has its share of hotels – CostaBaja Resort is perhaps the most notable for its focus on upscale hotel services, a beautiful pool and large modern rooms where all the elements work. Many rooms have terraces over the harbor. This is not a beach hotel, per se, but solid hospitality slightly outside the city. Rates will run around $200/night. www.costabajaresort.com
Much of La Paz entered into the condo/vacation ownership frenzy that swept the Baja in the 1990s. And some of the outcome has been the ability for visitors to book condo-sized accommodations along prime beach spots. One of those places is Villas La Posada, a brand new boutique hotel with spa and restaurant that is also a residential complex on a stretch of beautiful white sand. A two-bedroom suite might rent for $135 per night through Airbnb or VBRO.
La Paz by Taste
While shopping in La Paz is not what it might be in Los Cabos, some two hours to the south, dining is delightful. A must order is a dish of "chocolate clams," (noted for the color of the shell rather than the taste of the mullosk). A squeeze of lime onto the pulpy shell will determine whether you're good to go. If the clam squirms, add soy and salsa and slurp it down in one glorious moment of tang, heat and brininess.
Recommended: dinner in the courtyard at Tres Virgenes restaurant downtown. The chef does creative things with tuna, nopal, shrimp, figs and ponzu so picture perfect they get Facebooked by foodies on a regular basis.
La Paz and the Magic Town of Todos Santos
A day trip to take in these parts is the hour's drive into the mountains to the artsy circa 1733 village of Todos Santos, one of Mexico's "Magic Towns." The cobbled streets and colonial storefronts along the main street keep the village close to its roots. Explore the galleries, notion shops, mission church and even a small museum that tells the story of this town with its sad and happy tales in photos. It's an easy take in, a great place for lunch and readily a highlight of any visit to La Paz.
La Paz by Air
AeroMexico has two non-stops between Los Angeles International Airport (LAX) and La Paz using Embraer 190 aircraft with 99 seats. The flight leaves at 2:20 from Terminal 2 at LAX on Thursday and Sunday, and arrives in La Paz at 5:44 pm (add an hour for the time change). The return flight is at 11:51 am on Thursday and Sunday, arriving LAX at 1:20. The airport in La Paz is 20 minutes from town.
More information: www.visitmexico.com/en/la-paz
More articles on Mexico: