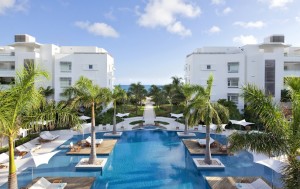 What started as an icon for chic retreats in New York City has blossomed into the new standard for Caribbean luxury in beachfront resorts and beyond.
The Gansevoort Hotel Group has emerged over the past eight years as an inimitable force of what's hip and refined through a dusting of properties that are defining the new normal of style in urban resorts.
Starting with the brand opening of its flagship, the Gansevoort Meatpacking NYC in April 2004, and continuing with Gansevoort Turks & Caicos in 2009 and, most recently, the opening of Gansevoort Park Avenue in 2011, the company has sought out the best and brightest to define its imprint on trend-setting hospitality.
Consider Gansevoort Turks & Caicos. This sunlit splash on the Caribbean resort map brings unobstructed views of Grace Bay* in all 91 guestrooms (including 32 suites and 4 penthouses). But those floor to ceiling views are eclipsed by guestroom décor and amenities: glass-encased rain showers; spa tubs that fill from the ceiling (some rooms); Frette bedding, towels, and robes.
Then there is the 7,000 square foot pool that seems to pour into the sea while sun worshipers pay homage from private pool islands. Guests can earn that lovely leisure time after a workout at Exhale, where daily classes in yoga and fitness, or life-altering systems including Exhale's exclusive Pilates (infused Core Fusion®, Core Fusion® Sport and Core Energy® Flow) keep the body in tune. Classes are held in an open-air ocean view pavilion. Then it's time for exquisite rewards, such as Provo Flow massage and Body Enlightening treatments, to complement the good work.
And when it's time to dine, Gansevoort Turks & Caicos offers dining under the palms followed by a night of bonfires on the beach and live island music. It's all part of a day that can include great scuba amid the world's third longest barrier reef, horseback riding along the rush of crashing waves, tee times or a good book upon a shaded opium bed the beach.
Getting away to this slice of luxury in the Caribbean may be easier than you think – and a steal for rates of $400 per night, including:
•                Accommodations
•                Round trip island airport transfers
•                Welcome cocktails for two
•                Daily full breakfast buffet
•                One fitness class per day
•                15% discount on all Exhale Spa services
* Find Gansevoort Turks & Caicos on the western side of Grace Bay Beach, with designated parkland to its west. The resort is centrally located on the island and within minutes of shopping and entertainment. The airport is 10 minutes away.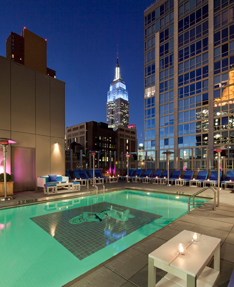 Gansevoort: An Urban Paradise
But Gansevoort did not stop at island's edge when it came creating its brand. With Gansevoort Meatpacking District and Gansevoort Park Avenue the hotel group has made its distinctive mark on the city's fast and competitive hospitality skyline.
It's all part of the vision of Michael Achenbaum, president and CEO of Gansevoort Hotel Group, to create a notable collection of "urban resort" hotels in gateway metropolises and popular resort destinations.
"We specialize in full-service distinctive urban and lifestyle resorts that redefine the contemporary hotel experience," he said in a recent Lodging magazine interview. "We are targeting key international gateway cities and resort destinations where the model of branded lifestyle hotels and resorts appeals to international jetsetters."
And to that end, whether in the Meatpacking District or the palaces of Park Avenue, Gansevoort is making a difference. Call it gritty chic, but the Meatpacking District, where many of New York's hippest hotels have put out a welcome sign, packs a crowd most nights in its legendary rooftop pool lounge. It's a pool with more than social benefits, however. Those that dive in can hear music in watery surround sound.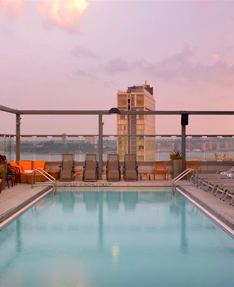 Also find the company's signature Exhale spa offering its celebrity-tested menu of Core Fusion®, Core Fusion® Sport, Core Energy Flow®, and Music Yoga Flow classes.
For dining, the neighborhood is loaded with must-try dining gems, including the Japanese gastropub, TOY Restaurant, located in the hotel. With 186 rooms and 23 suites, the Gansevoort Meatpacking property makes a sizable impression in the neighborhood and continues to attract the glitterati with its steaming pool soirees.
Uptown at the Park Avenue venue, Gansevoort puts on the panache amid 249 luxury rooms, Winston's champagne lounge, and the buzz-making Trattoria Ristorante Asellina.  Step into a 1930s lobby, a tri-level cathedral of herringbone granite floors, with a grand fireplace, and dramatic aubergine chandeliers.  Rooms, too, come with soaring ceilings and Juliet balconies at this address.
Guests can party 26 floors above the sidewalks on the property's rooftop pool and lounge in view of the Empire State Building and other iconic New York silhouettes.  Or immerse in sizzling urban tune-ups offered with a menu of daily classes in the Exhale spa.
Toss a coin and go. Gansevoort Park Avenue is a stone's throw in walkable New York City from the Theater District, Times Square, Bryant Park and the New York Public Library.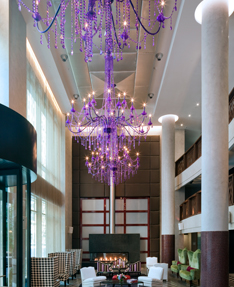 var _gaq = _gaq || []; _gaq.push(['_setAccount', 'UA-31024633-1']); _gaq.push(['_trackPageview']);
(function() { var ga = document.createElement('script'); ga.type = 'text/javascript'; ga.async = true; ga.src = ('https:' == document.location.protocol ? 'https://ssl' : 'http://www') + '.google-analytics.com/ga.js'; var s = document.getElementsByTagName('script')[0]; s.parentNode.insertBefore(ga, s); })();
Contact:
Gansevoort Turks + Caicos
Grace Bay Beach, Providenciales
(888) 844 5986
[email protected]
www.gansevoorttc.com
Gansevoort Meatpacking NYC
18 Ninth Avenue
New York, NY 10014
(212) 206-6700
[email protected]
www.hotelgansevoort.com
Gansevoort Park Avenue NYC
420 Park Avenue South
New York, NY 10016
212-317-2900
[email protected]
www.gansevoortpark.com