Crowded New York City has edged out easy Anchorage as the most expensive place to rent a car in the USA these days, even as car rental rates drop in this strange deflationary economy. The latest survey by CheapCarRental.net hasNew York topping some 50 US cities withcar rental rates averaging $72 a day when booked by out-of-towners and picked up (and dropped off) at centralairport locations.
That rate comes in a full $24 lower than last year's top charger. A 2012 car rental rate survey showed Anchorage, Alaska as the top charger with rates of $96 a day but now comes in 12 ticks lower on the survey poll with rates of only $46 a day.
However, visitors to New York City who decide to eschew the Taxi and subway systems and brave the traffic on their own, have some choices when it comes to car rental rates. Zipcar, recently acquired byAvis, is installing its network of shared vehicles at three airports in the GreaterNew York City area, including Newark Liberty, LaGuardia and John F. Kennedy(JFK) airports. The cars are conveniently located inZipcar branded parking spaces at theAvis Car Rental pick-up facility at each airport.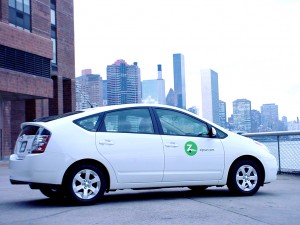 Zipcar is currently offering four vehicles at Newark Liberty Airport, four vehicles at LaGuardia Airport and five Zipcar vehicles at JFK Airport. The Zipcars in these locations include Honda Civic and Nissan Sentra models, with pricing starting from $12 per hour and $89 per day – ok, by day it can even top out the country's top car rental rates – but you do not need to keep the car for a day. Gas, insurance and 180 miles per day are included in the reservation price for these vehicles. The vehicles contain E-ZPass readers, and drivers will be billed separately for the toll charges.
Detailed instructions on how to locate theZipcars are included in the reservation confirmations with drop off spots throughout the city noted. TheZipcars atJFK and Newark Libertyairports are accessible via the airports' monorail systems, and all threeairports can be reached using public transportation.
"The availability ofZipcars at airports will provide increased options for those who may not need a full day rental car, or for those who need to travel somewhere not easily accessible by public transit," notes Zipcar's president, Mark Norman. To date, the company has some 10,000 vehicles in urban areas and college campuses throughout the United States, Canada, the United Kingdom, Spain and Austria.
For those who need to keep their rented car with them rather than dropping off and picking up cars for an hour here or three hours there, they may want to know that Milwaukee is the least expensive city for renting a car by the day. Renters pay an average of $27 dollars a day.
Surprisingly, San Diego, Seattle and Los Angeles were also bargains in comparison with other U.S. cities in thecar rental survey. All three cities rank among the least expensive car rental destinations, averaging only about $30 daily. That figure positions the trio at a sound 60% less costly than NYC.
Top 50 U.S. cities by dailycar rental rates*:
New York City
 $72
New Orleans 
$64
Honolulu 
$63
Washington DC
 $59
Houston 
$56
Boston 
$55
Newark 
$54
Charlotte 
$53
Austin
 $49
Sacramento 
$48
Jacksonville 
$47
Anchorage
 $46
Buffalo
 $46
Nashville 
$46
West Palm Beach 
$46
Denver
 $45
Baltimore 
$45
Kansas City
 $44
Phoenix 
$44
St. Louis
 $44
Pittburgh 
$44
Detroit 
$44
Minneapolis 
$43
Portland
 $43
Raleigh 
$43
Tampa 
$42
Dallas 
$42
San Antonio 
$42
Memphis 
$41
Chicago 
$41
San Francisco 
$41
Indianapolis 
$40
Cincinnati 
$40
Oakland
 $40
San Jose
 $39
Oakland 
$39
Fort Lauderdale 
$38
Atlanta 
$36
Cleveland
 $35
Miam i
$34
Philadelphia 
$34
Albuquerque
 $32
Salt Lake City
 $32
San Diego 
$31
Seattle 
$31
Las Vegas 
$30
Louisville
 $30
Los Angeles 
$30
Columbus
 $28
Milwaukee 
$27
* cheapest available car for the time period spanning April 2012 to March 2013