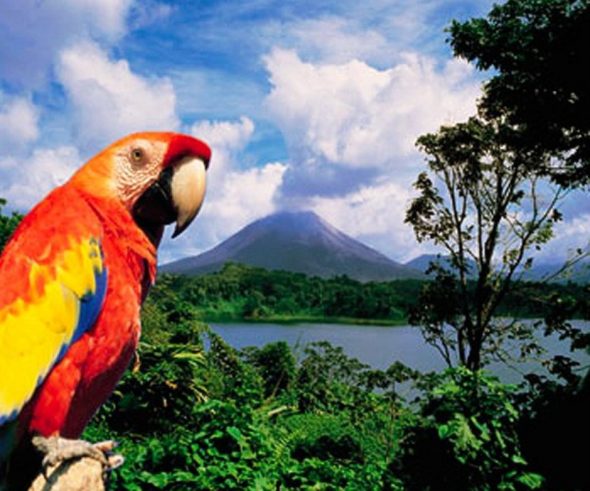 Costa Rica's diverse natural landscapes and terrain set the stage for coast-to-coast, action-packed adventures. Thanks to the country's compact size, travelers looking for extreme adventures can participate in any and all adventures they wish without stressing over not having enough time to go from one activity to the next. As home to 5 percent of the world's biodiversity, Costa Rica offers bragworthy experiences for travelers and peace for those seeking to become one with nature.
The following are the four must-do extreme adventures for the active set:
Canyoning in Costa Rica
Canyoning in Costa Rica takes place in the areas of Turrialba, San Ramon, Miramar, La Fortuna and Rincon de la Vieja. Performed in small groups of up to 12 people accompanied by a guide, the activity includes walking, hiking, climbing and rappelling any or all of the six canyons available. This is an unusal Costa Rican experience because the country's tropical canyons and climate provide travelers the opportunity to explore landscapes with lush vegetation and breathtaking views of waterfalls.
Mountain Biking through the Jungles
With miles and miles of rocky trails and tough terrains, Costa Rica is perfect for all kinds of two-wheeled fun. The country's most demanding routes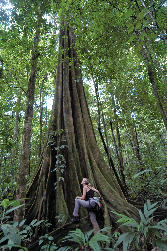 take various days, allowing travelers to cross the country. The average length of a mountain biking trip is five to eight, or even 10 days. Travelers can choose from professional routes such as "La Ruta de los Conquistadores," which lasts three days, or opt for a shorter route that combines mountain biking with walking, rafting and kayaking. If seeking to go completely off-road, travelers can also choose a route that does not touch pavement at any point, such as the one at Rincon de la Vieja, comprised of 24 to 31 miles of waterfalls and downhill paths.
Trekking Through Captivating Terrain
With mountainous terrain and unspoiled rainforests, trekking through Costa Rica's rainforests is a one-of-a-kind experience. Unlike hiking, trekking is a lengthier activity, with the average route lasting three days. There are three popular trekking routes in Costa Rica. The Savegre route consists of various trails connected through agricultural towns that offer facilities and activities, allowing visitors to choose the points they want to explore. For the Kamuk route, comprised of five days of walking for a total of a week-long trip, travelers have to carry everything with them, including their own tent and food, as the route is off the beaten track. Another option for travelers interested in trekking is the Chirripo route, in Costa Rica's tallest hill, but only after reaching out to the national park for a permit.
Sea Kayaking, Costa Rica Style
For travelers interested in sea kayak camping, the four-day route at Golfo Dulce, where different species of whales and dolphins give birth and nurse their young throughout the year, is a must. The trip begins at Puerto Jimenez and leads travelers up the coast at a rate of 12 miles per day. On the second day of the trip, travelers cross from one side of the gulf to the other. Travelers can take a rest at the campsite in Piedras Blancas National Park, at the opposite side of Osa Peninsula. For this trip, travelers have to take all essentials in the kayak with them, including their tent. Another popular route for sea kayak camping is the beginning at Puerto Viejo de Sarapiqui, through Rio San Juan and ending at Barra del Colorado Wildlife Refuge.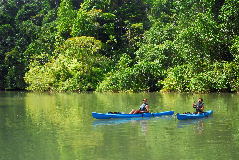 The Adventure Continues
Costa Rica's plethora of extreme adventures also includes skydiving in locations such as Manuel Antonio, Puntaneras and Esterillos, as well as scuba diving in Isla del Caño and Isla Catalina, where it's possible for travelers to see giant devil rays. Travelers interested in surfing may also choose to visit Costa Rica for its massive waves. Some of Costa Rica's most popular surf beaches include Jaco, the home of the 2016 International Surfing Association World Surfing Games, Playa Naranjo and Pavones.
Costa Rica in Two Days
Don't have a week to explore caves and jungles? Here is how to make the most of Costa Rica in 48 hours. In as few as two days visitors can experience the cultural richness of the country's capital, the majestic Arenal Volcano National Park and the colorful town of Sarchí.
Day 1: Welcome to Costa Rica!
2 pm: Eat like a local
Upon arriving to Juan Santamaria International Airport, check in at one of the hundreds of hotels offerings available in the capital city of San Jose. The new hop-on and hop-off tours offer visitors the ease and convenience of visiting over 50 attractions, including the Central Market, the National Theater and the Gastronomic Road in Escalante. The service is provided daily from 8:40 am. to 5 pm. For more information or to purchase tickets, visit www.costaricacitysquaretour.com.
Before exploring the town, those who want to eat like the locals can hop on the tour bus and stop at the Central Market ("Mercado Central"), the oldest and largest market in the city. First opened in 1880, the Central Market offers more than 200 shops and stalls, as well as "sodas." Also found throughout the country, sodas are inexpensive family-run restaurants where travelers will find authentic, home-cooked style Costa Rican dishes such as the popular "gallo pinto."
4 pm: Experience the classics
After sampling the local cuisine, plan to visit to the National Theater ("Teatro Nacional") . It's an architectural jewel in Costa Rica and one of tthe country's most popular attractions. Catch a performance or jus admire the exquisite interiors and ceiling murals. The National Theater is open Tuesday to Sunday from 9 am. to 7 pm.
7 pm: After dark
Head to the neighborhood of Escalante, the capital's gastronomic center, which hosts over 30 local and international restaurants and bars that draw locals and visitors alike. Many restaurants offer fusion delicacies by incorporating Costa Rican ingredients harvested from their own gardens. GAM Cultural provides visitors with a list of the latest events in San Jose, including concerts, art exhibits and workshops: www.gamcultural.com.
Day 2: Get out there
7 am: Embark on a quick adventure
Enjoy the picturesque scenery of Costa Rica's vast mountains while heading over to Arenal Volcano National Park, which is a three-hour drive from San Jose. The park is filled with rivers, thermal hot springs, waterfalls, and of course, wildlife. The area offers a wide variety of hotels to spend the night. Arenal Volcano National Park is open every day from 8 a.m. to 4 p.m., and the entrance fee is $10.
11 am:. – Hike the giant
Start the adventure by visiting the Arenal volcano. The hiking trails around the tall and imposing active volcano offer jaw-dropping views of this giant and its surrounding lush jungle.
3 pm. – Adrenaline rush
Zip lining, also known as canopy tours, is one of the country's most popular activities. Visitors will experience intense adrenaline rushes while zipping past the treetops. Zip lining is an unforgettable experience for those wanting to explore the surrounding jungle in a unique way.
5 pm. – Revitalize
After a very active day of exploration, relax at one of the hot springs surrounding Arenal. Due to the geothermal activity beneath the volcano, the thermal water of these hot springs, along with the surrounding nature, will provide much needed relief to tired muscles after a long day of adventure.
Day 3: End of the road
10:30 am: Shop for authentic Costa Rican crafts
On the way back to San Jose, make a last stop at the colorful town of Sarchi. Famous for vibrantly painted oxcarts, Sarchi is the perfect place to purchase handmade souvenirs, such as wall art, furniture, and even a one-of-a-kind, colorful oxcart. The town is a two-and-a-half-hour drive from Arenal and only 30 minutes from Juan Santamaria International Airport.