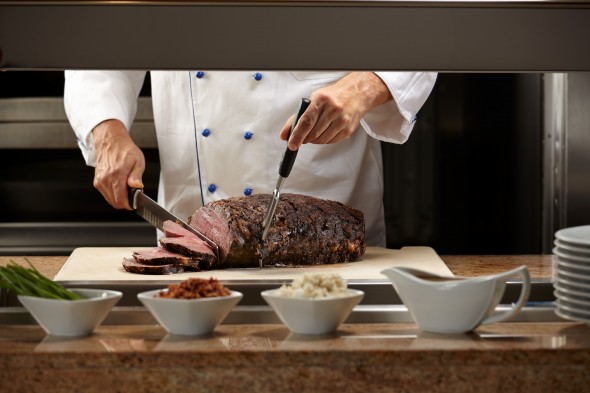 By David Yeskel
Is the Lido the new high seas culinary battleground?  As mass market cruise lines have steadily improved the quality and selection of their main dining room fare, their attention seems to be turning to the vitally important – but oft-disregarded – Lido casual dining operation. And it's about time.  After all, the majority of cruise passengers typically eat breakfast and lunch in the buffet area, with an ever-growing percentage having dinner there as well.
But let's face it, mass market buffet offerings can often be uninspired, with quality ingredients and preparation lacking. Conventional wisdom has always held that the dining room was the place to go for a quality meal. The buffet, on the other hand, was the best option when a convenient, fast bite was in order.
My recent experience on NCL's new Norwegian Getaway, however, proved that mindset to be outdated.
Launched in mid-2014 as the second ship in Norwegian's Breakaway class, the Getaway embodies everything the line has learned to-date about what its clientele needs — and wants.  The sports deck is loaded with an amusement park-like panoply of pleasure activity options, including five gargantuan water slides; a complex and challenging ropes course; a bungee trampoline; nine holes of mini golf; a kids aqua park; full court basketball; and a double rock climbing wall.
And if that's not enough impressive hardware, how about 59 of the line's groundbreaking Studio single-occupancy staterooms, the 80 suites in the intimate Haven ship-within-a-ship complex, and two bowling lanes? You can add to that an indulgence of ubiquitous touch-screen kiosks throughout the ship that help passengers navigate back to their cabin and display realtime restaurant availability. You can even use them to pinpoint the exact casino location of that Lucky 7 slot machine that's sure to pay off – someday.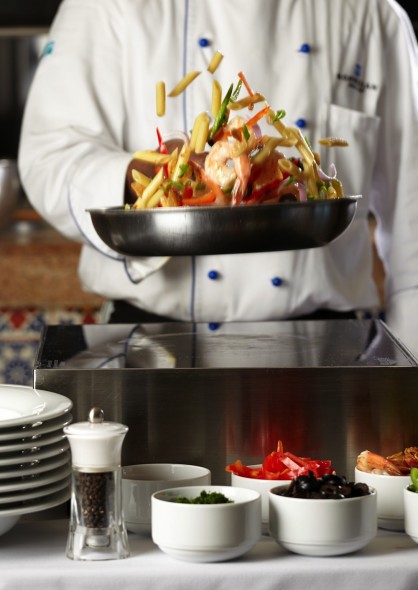 But I'm a foodie.  So moving past the impressive hardware and turning to the myriad dining options aboard, I was impressed by the selection and quality of the fare at the Garden Cafe, the deck 15, self-service, casual dining area. And though the passenger load (4,800) on this Spring Break sailing did present some crowding issues there, staff and crew did their best to keep up and accommodate the numbers.
An updated buffet design with multiple action stations also helped smooth out passenger flow. And while it's common knowledge that Norwegian's Freestyle Cruising mantra is the guiding principal behind the push to offer dining variety to guests, Getaway's Garden Cafe exceeds that goal with a product that often approaches premium category levels.
According to Karl Muhlberger, Senior Director of Food & Beverage for NCL, there has been a concerted, focused effort by the line to upgrade the buffet experience. "We want to push the envelope of what guests expect to see in a buffet," said Muhlberger, "and we've done so by incorporating fresh ingredients; combining flavors and dishes from around the world including Italian, Indian, Asian, vegetarian favorites and more; and featuring made-to-order sections where guests can create their own dishes based on their preferences."
Despite the cultural importance we place on dinner, breakfast is actually the toughest meal to deliver in terms of satisfaction, as guests typically are very picky about what they want – and exactly how they want it.  As expected, multiple eggs to order/omelette stations are located at good intervals in the Garden Cafe, and they operate efficiently to handle the load. Small batch preparation ensures that the popular waffles are fresh and hot. I was pleasantly surprised to find warm Bananas Foster, in addition to multiple fruit spreads and whipped cream, available as a topping option. Copious amounts of smoked salmon and marinated herring were also present, with the appropriate condiments.  Another unexpected, premium-level find was the Eggs Benedict station, where Hollandaise sauce could be added as a final touch.
Lunchtime buffets provide a nice variety of ethnic foods, with the Indian and Asian dishes being particularly tasty. Other interesting and notable menu items to expect might be braised oxtail, okra stew, ground lamb kebabs, lemon chicken and quinoa salad, and a mélange of asparagus, broccoli and baked brie. Upgrades even extend to the burger grill, which will feature patties with Hawaiian and bleu cheese toppings. In addition to the always-busy, soft-serve ice cream dispensers, better quality hard ice cream is scooped at both lunch and dinner – at no extra charge.
And while Getaway offers a whopping 16 venues for dinner (including three complimentary main dining rooms and nine extra-charge restaurants), the buffet area on this sailing was surprisingly busy at night. Changing on-the-go lifestyles that emphasize a fast, casual approach to dining are likely behind some of this shift.
Many of the full-service dining rooms' menu offerings will also be featured on the buffet line-up, along with a nightly carvery and a cheese station. On a seafood-themed nights, pasta with lobster is a popular choice, as is the made-to-order pasta station, which features shrimp and mussels. Pastries and other desserts might be hit and miss as they would be in any buffet presentation, but a busy and popular crepe station on the Norwegian Getaway was an unexpected treat.
The cruise experience is all about choice these days, and on the Getaway, it was obvious that Norwegian's Freestyle Cruising tagline isn't just hype – it's the real thing.
David Yeskel is a veteran cruise industry reporter. Follow David Yeskel, The Cruise Guru, on Twitter at @CruiseGuru_
Other stories by David Yeskel: