Photos by Ilene Perlman
For those who are headed to Israel a visit to Jerusalem is not just a must, it is a mandate. The city is a living museum of history, ancient history and that knowledge is preserved and interpreted in all manner of ways, from unparalleled museums to fascinating archaeological sites to a thriving Old City just as colorful now as it was 2100 years ago.
So it makes sense to stay in a hotel with a window on the city's culture and history — all found at David Citadel. Designed to blend in with the surroundings using the hues of the Jerusalem walls that circle and curve in step with the Old City just steps away, guests can relax and take the pace of some of the world's oldest living history on their own terms.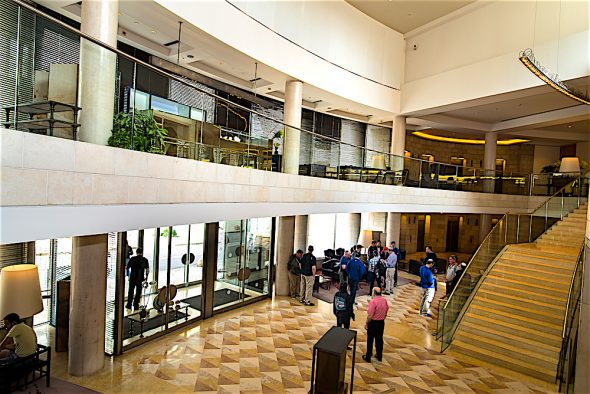 The 385-room Hilton opened in 1998 as a Hilton, but the international hotel chain pulled out in 2001 and the property is now managed by Alrov Hotel Group, which owns five luxury properties in Jerusalem, Amsterdam, London and Paris.
Often used by celebrities and statesman, what makes the hotel worthy of the dignitaries that stay there is its location just outside the walls of the Old City and the impressive profile David Citadel casts — a glass and stone edifice that smoothly bridges the confluence of ancient and modern in Biblical lands.
The David Citadel has hosted such VIPs as President Bill Clinton, Secretary of State Condoleezza Rice, Secretary of State Hillary Clinton, Rudy Giuliani, UN Secretary General Kofi Annan, Russian President Vladimir Putin, and high-ranking government officials from Asian, Eastern and European nations. Kim Kardashian, Kanye West and Mariah Carey have also stayed there. The property was under consideration for an upcoming trip by President Trump, who chose the nearby Dan Hotel Jerusalem instead for its upgraded security operations.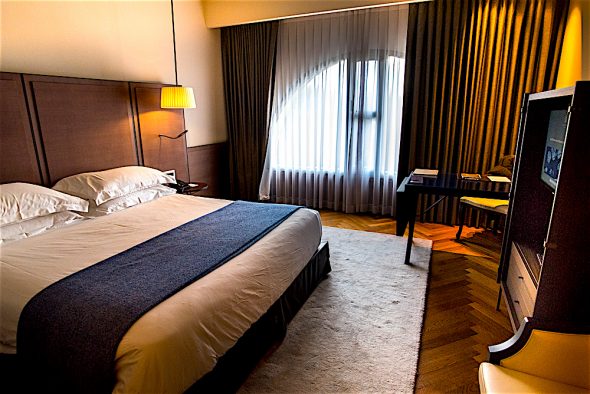 As one of the few five-star properties in Jerusalem, David Citadel, recently completed a multi-year renovation overseen by renowned Italian designer, Piero Lissoni. All 385 guest rooms (including 41 suites, including 7 grand suites) were involved, as were most of the public spaces. Guests will see soft lighting and textured fabrics. Serigraphic glass panels in each of the guest rooms have been inspired by Scottish artist David Roberts' 1834 tour of what is now modern-day Israel.
The David Citadel has a pool and spa. A tiered design for the suites offer large terraces with views of the city, while standard rooms bring French balcony-style openings over the pool. Standard rooms tend to be small and stylish with masculine accents and soft textural touches. They offer a clear workspace and some standards rooms, such as the Premium Alcove room, come with a small social area.
An Executive Lounge is available with all-day light dining, a generous breakfast buffet, international bar, international newspapers, and free Wi-Fi and fax services. Guests not on the lounge plan can pay a fee and invite two guests. Guests wanting to add lounge access must arrange for that in advance to keep the occupancy down. The lounge is open from 7am to 10 pm daily.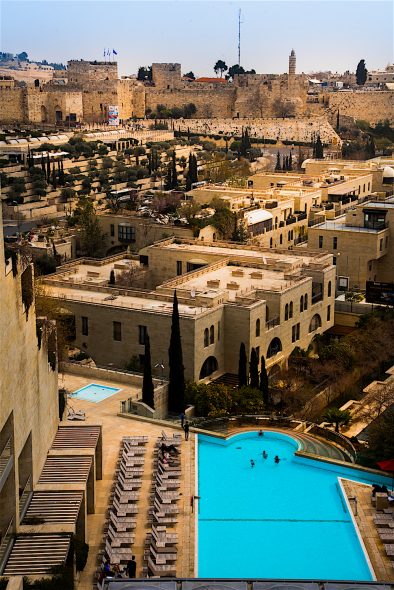 Seasons at David Citadel is a favorite place for business meals in the city. It offers a lavish complimentary buffet breakfast of local cheeses, smoked fish and herring, cereals, a variety of fresh salads, health food, breads, cakes and hot dishes. Guests often eat on the terrace in warm weather. The restaurant also serves up gourmet, multi-course Shabbos meals and holiday dinners.
The Grill Bar by the pool and the lively lobby lounge are there for snacks, cocktails and light fare. Or adventurous guests wander through the Jaffa Gate and to search out savory hummus, shawarma and other delights native to these lands, complete with authentic settings.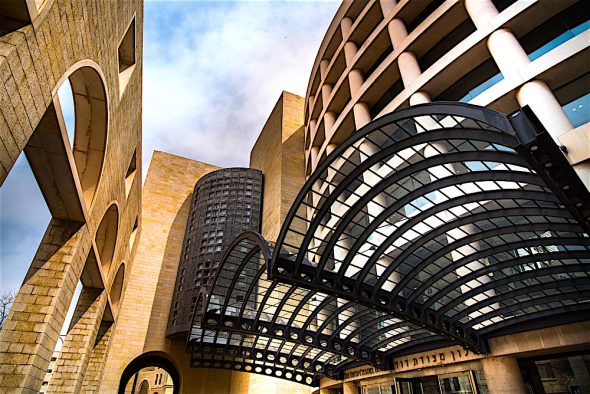 Secret Garden: David Citadel abuts a well-tended public park with a large fountain, a garden and stone benches. Find this public oasis of serenity in the back of the hotel on Yitzhak Kariv Street in Jerusalem's Mamilla neighborhood, opposite the Old City's Jaffa Gate. An electronic gate there opens during daylight hours with a gentle push.
Although Jerusalem is a walking city, with winding alleyways and stone archways best explored on foot, for those who want to get more than a pedi-workout, the property offers a fitness area and then a spa across the way that uses L'Occitane products and provides Asian-inspired treatments.
Rates: Rooms at David Citadel start at around $558 per night.
Contact:
David Citadel Hotel
7 King David Street
Jerusalem 94101, Israel
Tel. +972.2.6211111
www.thedavidcitadel.com
Related stories: