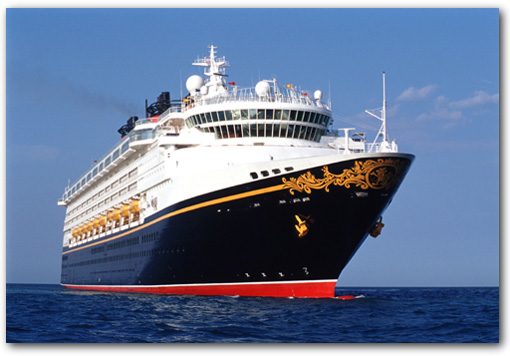 By Bill Becken, Cruise Editor
Travel agents know or can imagine that a Disney cruise, as a lively and memorable family experience, has broad appeal. Indeed, Disney cruises, being unique and popular, have higher-than-par fares across the industry. Uniquely and reliably in the cruise market, these treasured, classic American travel products elicit a demand that exceeds supply.
For their part, Disney Cruise Line executives well-appreciate these market dynamics. Occasionally they can't resist leveraging their strength to become, well, even stronger and more profitable. Sure enough, on August 18, Disney Cruise Line took the opportunity to raise its non-commissionable fares (NCFs) markedly.
The cruise line changed its calculation of the portion of fares considered non-commissionable by agents from a flat $20 per-guest-per-day to a more slippery sliding scale: 1) cruises of six days or fewer have an NCF of $25 per-person-per-day; 2) those of seven to 10 days have an NCF of $30 per-person-per-day; 3) cruises of 11 days or more retain the $20 NCF debit. Bad news for travel agents? To be sure, the development is not auspicious. At the same time, the cruise line is doing quite a bit to polish its offerings and mitigate, if not neutralize, the hit on travel agents (in theory, enabling them to book such new, increased business on Disney Cruise Line as to easily offset the hit on their profit margins from the new NCFs).
The line has organized operations so that, for the first time, all four of its vessels–the Disney Dream, Disney Magic, Disney Fantasy and Disney Wonder–homeported this year in Port Canaveral, Florida.
"We are thrilled to have had all four of our ships sailing from Florida in early 2014 to the Caribbean and The Bahamas. Guest response has been very positive," said Karl Holz, Disney Cruise Line's CEO. When summer arrived, the Disney Magic headed out to Europe. Soon she will return to Port Canaveral. The line's itineraries for early 2015 once again include all four vessels cruising out of Port Canaveral, added Holz.
So far in 2014, Disney Cruise Line has presented a dazzling array of additional changes, if mostly centered on Disney Magic's recent, clever, fervent refurbishment. Holz noted, "We re-imagined the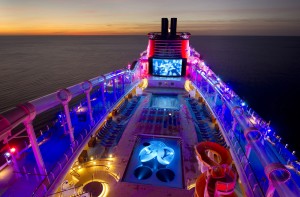 Disney Magic…with (for example) a new thrill slide, the Aqua Dunk, which starts from one of the funnel-tops…and with Carioca's, a restaurant inspired by the cuisine and spirit of Rio de Janeiro…"
The refurbishment had its openly intended effect of increasing the Magic's appeal as a vacation option, thereby enhancing sales. "Our team accomplished so much with re-imagining this ship… by incorporating guest favorites from our newer ships, while introducing all-new elements…such as our interactive dinner show, 'Drawn to Magic,' to which the response has been nothing short of amazing. The show literally surrounds guests with classic Disney animation and storytelling…I can tell you that the Disney Magic, and our entire fleet, continue to enjoy great popularity among our guests…We made what was already a magnificent vessel even better."
New and changed itineraries further afield, especially in Europe, round out the line's additional changes for 2014 — including calls for the first time in the Norwegian fjords, Iceland and Scotland. Disney Cruise Line was inspired to visit such new places, especially the fjords, without detracting from its visits to its customary Mediterranean ports. Northern Norway is the setting for Frozen, The Walt Disney Company's 2012 animated feature. "Aboard the Magic, families have the chance to see the mountain ranges, steaming geysers and other natural wonders of this country that served as the backdrop to this blockbuster film," said Holz.
Has the line generally increased its focus on Northern Europe? "The first consideration is where our guests tell us they want to go…(albeit) a number of factors drive these decisions. Sailings to Europe and Alaska continually rank high on their list. We've had several successful seasons in both the Baltic and Mediterranean, so we looked forward to returning…
"This time around, we wanted to give guests even more options than before. In fact, we are always striving to offer itineraries that include new places to explore as well as favorite destinations. For some time, we had been looking carefully at Norway, Iceland and Scotland; so, when the time was right, we added them. I'm convinced that our guest families are going to love the natural grandeur, historic architecture and adventurous spirit in these locations," she said.
The itinerary changes hardly stop there. The cruise line's summertime returns to Europe include new visits to the Greek Isles and Sicily. The Line also introduced a new homeport in San Juan, Puerto Rico, for southern Caribbean sailings that include Grenada — yet another a new port for Disney.
In 2015, Disney cruise itineraries will include Iceland for the first time and present two special Hawaiian itineraries that truly showcase the Hawaiian Islands.
For 2014-2015, what seems paramount at the line is maintaining the Disney Cruise Line spirit and tradition as the value differentiator it has become—for both consumers and travel agents (even those newly impacted or at least affronted by the line's NCF increases). In any case, added Holz, "We remain absolutely focused on delivering an unmatched vacation experience at sea…whether it's through our original stage shows, immersive youth programs, elegant adult dining experiences or distinctive port adventures."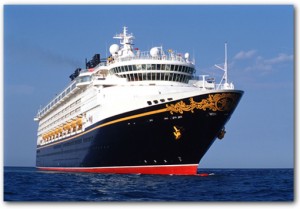 Related Stories: