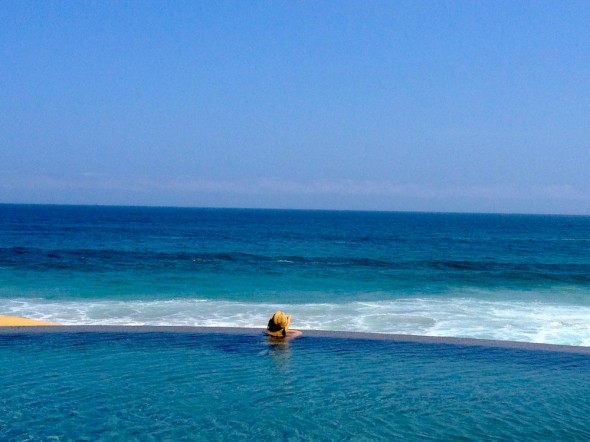 There's more than great beer at the bottom of Baja. While college kids of the west may venture here for their spring weeks of fun in the sun, the tony town of Cabos San Lucas remains a place where the rich can get pampered, romancers can get their sunsets, adventurers can find a bounty of natural thrills and seasoned travelers can dig up some unexpected treasures.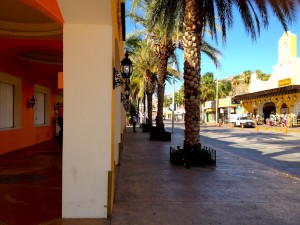 A quick orientation finds Cabos San Lucas at the tip of the Baja Peninsula extending below California into a leggy landmass that separates the Pacific Ocean from the Sea of Coretz. Along those southern beaches of Los Cabos and Cabos San Lucas the two great bodies of water meet.
Lower Baja contains its own golden triangle of sorts. These include the magic mountain town of Todos Santos and the sleepy fishing town of La Paz going north, and the chic tourist destination of Cabos San Lucas (and the colonial artist outpost of San Jose del Cabo nearby) at the southern-most point to create a wonderland of resorts, beaches, great food, value-laden designer shopping and active entertainment, especially for the restless vacation-seeking crowds from the U.S. southwest.
Best to rent a car and explore these places at leisure as the distances along Highway 1 and Highway 19, and the resorts, towns and dozen or so golf courses they connect, can be sizable.  Cabos San Lucas (or just "Cabo"), is where the action is, however. It's a walkable scrunch of five-star (an many with less stars) hotels, behemoth shopping malls, patio cantinas serving all manner of margarita, fish taco restos and those palapa-style kiosks with pesky hawkers hooking passers-by with discount dining coupons for quick trips to time shares, and seats on cruises to the famous Los Arcos rock formations.
There's a modern marina there around which all this action occurs, plus a well-organized tour office selling a variety sea-focused excursions. Best to check out the offerings at Cabo Adventures and Dolphin Center (yes, you can find family-friendly dolphin encounter programs onsite.) This is a catch all center for visitors at the epicenter of the marina with free changing lockers, a welcoming courtyard, a snackbar and plenty of places to sit and feel comfortable while waiting for a tour, or waiting for friends who are on a tour.
While the town of Cabo is fun enough, what's outside of town is what gets most visitors coming back for more. Find along the scenic peninsula a selection of romantic beach settings – including Lover's Beach facing the Pacific, considered as much a "must-see" as the iconic rock arches for its location at Land's End and its great snorkeling when conditions are right. It's possible to catch a water taxi from the marina to get here, but pack what's needed as this is all beach and no services. Unfortunately, the adjacent beach is called Divorce Beach, possibly because of a deadly undertow that plagues the location.
Take in the beach from the ocean via a Cabo catamaran tour, whether private, group or part of a scheduled departure. Many sunset cruise options feature tacos bars, cocktails and dancing.
Snorkelers will want to check out Santa Maria Bay and Chileno Bay, close to each other along the "Tourist Corridor" along the Sea of Cortez. The calm waters there are great for swimming and kayaking and the Sea is widely referred to as the "Aquarium of the World." Surfers in the pack will want to head farther north to the beaches around Costa Azul where they can pick up some surf lessons and local surf tips.
True adventures in these parts come in the form of ATV explorations, horseback riding, off-roading, hiking, zip-lining, bungee jumping, canyon swinging, mountain biking, even camel safaris. Cabovillas.com might be the easiest way to manage a one-call booking for pretty much anything that can be imagined within the marvelous setting that is the southern Baja.  Although the company also books stays at local condos, apartments and villas, Cabo San Lucas has a lively line-up of top tier lodging properties to be considered, from all-inclusive/all-adult resorts, such as Secrets Marquis, to five-star legends, such as the One&Only Palmilla, Capella Pedregal and La Esperanza. In between are a variety of fabulous brands that have all the required wants: luxury amenities, upscale servicing, sensational ocean locations, brag-worthy dining, unusual spa experiences and luxurious accommodations overlooking the surf. These include the Fiesta Americana Grand, the Sheraton Hacienda del Mar, Las Ventanas al Paraiso and Hilton Los Cabos.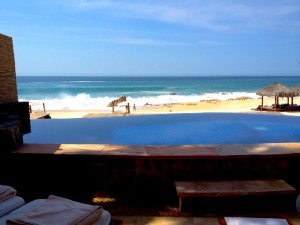 Spa services are especially enjoyable at such places as the Fiesta Americana Grand (where pre- or post-treatment wine tasting add-ons do plenty of their own magic); at the One&Only Palmilla and Capella where the settings are sensational; and at the Sheraton Hacienda, which offers treatments using chocolate and possesses a rarely found "float bed" that really adds a gravity-defying experience to a massage or facial.
Finally, food in Los Cabos has developed far beyond fish tacos and Dos Equis with Don Julio chasers.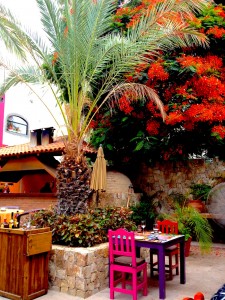 Within the cobbled streets and the art-filled colonial square of "Old Town" San Jose del Cabos find Don Sanchez Restaurant. Half fine wine restaurant, half gourmet cantina, the signature among the 15 mojitos menu is the watermelon and basil mojito. Chef Todd Chapman puts Iron Chef creativity into his entrees with such choices as cumin-seared yellowtail with strawberry, tomatillo, habanero and cilantro. His Quinoa Crab Duo uses special local seasonings with the hearty Peruvian grain and soft-shelled crab. His favorite local fruit is the pitaya, with which he makes some flavorful desserts and gelatos. Entrees average $22. San Jose is about 20 minutes north of the town of Cabo and a great take in for a day or evening as it is filled with art galleries, bistros, notion shops, wine bars and music along narrow streets that preserve the original 1730s European feel.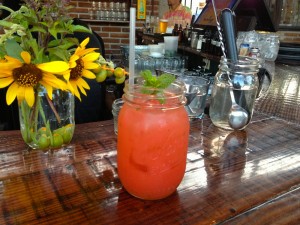 Also among the unusual food experiences to be found in Los Cabos: Flora Farm. Situated on a ten-acre hilly elevation not far from the Tourist Corridor, Flora Farm is a holistic concept in living and not just a great place to eat fabulous handmade fresh, organic farm food. The farm features several wholly-owned (and several fractionally-owned) homes that are all models of what can be done by hand using only locally grown and recycled materials – from kitchen appliances, to bathrooms, to furniture and textiles. The ample gardens are tended by those who live there and for visitors there are park-like grounds, some local dogs and a farm-themed restaurant with picnic tables, a bar that serves cocktails in mason jars, family-style dishes with and without meat, and, usually, a long wait even with reservations.
For more information about staying in Los Cabos and playing in Los Cabos, check out VisitLosCabos.com.