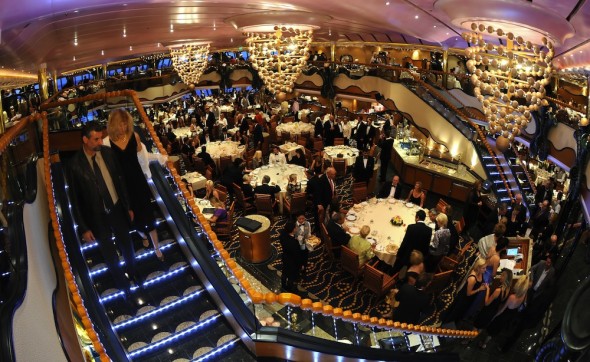 By Bill Becken, Contributing Cruise Editor
An agent's more lucrative cruise clients, those well-traveled and well-versed in cruise culture, may care not as much about visiting exotic foreign ports and getting steeped in shoreside culture as the ship experience itself. Having cruised often and enjoyed many shore excursions, the wows travelers seek are in the experiences cruise lines have to offer starting with what's notable in dining.
Agents who are able to expertly differentiate cruise lines often highlight the food-and-beverage offerings to be considered. The cruise lines have every incentive to continuously create, develop and promote the onboard food-and-beverage experience. Those in charge of food-and-beverage–have watched with amazement as the shoreside higher-end food- scene has yielded a revolution in tastes and styles.
Various cuisines may be more or less popular among different cruise markets and guest profiles, according to Chris Prelog, vice-president of hotel operations and fleet purchasing, Seabourn Cruises. For example, will the cruise passenger list be made up mostly of European, American or, say, Australian guests? What ages and other guest attributes are involved? These are important questions in the context of a hotel manager's provisioning, much less a travel agent's marketing and selling a particular cruise on a particular line.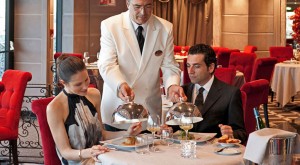 "I do see the Mediterranean cuisines holding up the onboard allure for those guests more interested in classic dishes and more conventional menus," Prelog says. On the other hand he notes that trends such as farm-to-table and health consciousness are afoot and rapidly developing among guests. For example, "compared to five or ten years ago, gluten-free choices were in the way of special requests. Today, they're more in the way of ho-hum standard requests…Gluten-free choices now constitute almost a menu unto themselves."
In addition, compared with roughly 5 or 10 years ago, guests far more educated about food–where it comes from, how it's procured, produced, and prepared, says Prelog. This requires Seabourn's purchasing team—along with its counterparts among other cruise lines—to do more work up front, to provision more food and a greater number/diversity of items (including beverages), and to requisition the items from a greater number of origin points globally.
Crystal Cruises' Toni Neumeister, vice-president, food-and-beverage operations and hotel procurement — a skilled and respected chef in his own right — concurs: "Celebrity chef TV shows, star chefs' new celebrity stature, new types of restaurants, people traveling more than ever, learning so much about food from one another on the Internet instantly — these days you can pick up anything about food so quickly and it all has greatly affected our guests' expectations and, of course, our business.
Neumeister says that guests certainly do want and deserve the type of cuisine that is offered in so many shoreside high-end restaurants around the world. On the other hand, people hanker for new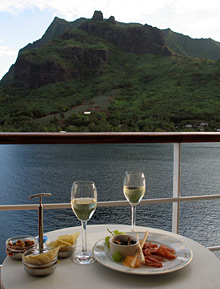 foods, such as fusion foods, even street foods, and this tendency doesn't stop once they ascend the gangplank. "The new foods are obviously our job to provide, too," says Neumeister, "and that's not necessarily a limiting thing. Of course, our assumption is that most people on a luxury cruise would like to experience both the high-end and some of the interesting alternatives."
One of Neumeister's points is that cruise lines aren't necessarily limited in giving guests both—citing, as an example, Crystal's new informal dining alternative, Tastes, and the "beautiful creativity" of its Tapas-style dishes, offer culinary echoes from around the world in a super-fresh, hygienic format.
Indeed, at this point in globalization, an agent is well served to at least touch upon a cruise line's emulation of particular shoreside dining experiences. That conclusion is well-borne out in comments by Michael J. Smith, Holland America Line's senior vice-president, hotel operations. To him, the cruise industry's understanding of shoreside dining is better than ever, and is reflective of how its guests' knowledge of food and wine "has developed acutely over the last few years with the tremendous changes in trends ashore.
"There's definitely a trend away from the more formal, European-style dishes and a trend toward European style dishes, comfort food, street food, — more casual," he says. "We have introduced some — for want of a better phrase — food truck concepts, like our burgers around the pool. We call them dive-in burgers, and they have recently been rolled out on all 15 Holland America ships — kind of following both the food truck and shake shack trends…" says Smith.
For cruisers who love the dining as much as the doing cruise lines are offering plenty of culinary possibility to research. When it comes to taking a cruise based on the merits of the food and wine likely to be served onboard, there's plenty of variety and it's changing all the time.
Related stories: