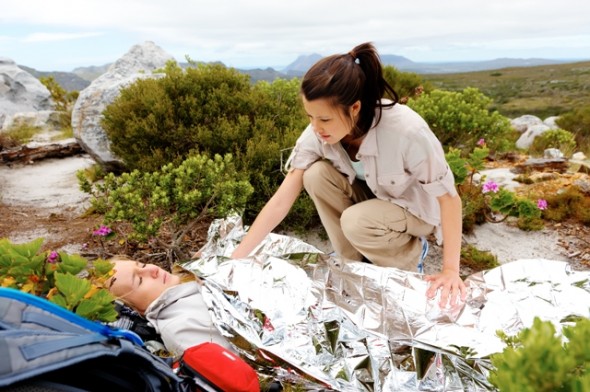 Are you insured for that overseas medical mishap? A surprising number of Americans are unclear whether their health insurance works outside the US. In a recent survey by one insurance company a quarter of the travelers polled were not sure whether their domestic health insurance plan would cover any doctor or hospital visits while traveling outside the country. 
Some 39 percent believed their domestic health insurance would provide coverage, while 34 percent believed their insurance plan would offer no coverage.
Depending on your domestic healthcare provider, specific plan and area of travel, medical coverage can vary widely:
"In Network" coverage from some providers and plans in certain areas overseas. Limited coverage for other providers, regardless of where you are traveling. And then there is No coverage at all.
Coverage gaps and deficiencies can be addressed with the purchase of travel insurance. Travelers should also be aware of the following:
Deductibles: the amount a patient must pay for covered services before insurance will kick in.
Co-insurance: the amount a patient is responsible of a covered healthcare service.
Co-payments: a set amount owed for a covered healthcare service.
A word about Medicare
Medicare does not cover medical care for travelers outside the US. There are supplemental plans such as Medicare Advantage and Medigap that can provide limited additional coverage, for more details visit Medicare.gov.
Emergency medical evacuations
According to the US State Department, very few domestic health insurance companies will pay for a medical evacuation back to the United States, which can easily cost up to $100,000, or more, depending on the condition and location of patient.
Travel insurance options
It is important for travelers to know about any limitations of domestic health insurance policies while out of the country. In most cases, there are gaps in coverage. Some gaps are significant. Travel insurance is recommended because it can act as supplemental or primary coverage.
Most travel insurance providers offer two different types of insurance plans that provide emergency medical coverage outside the US:
Comprehensive travel insurance for the most protection, with benefits that may include trip cancellation, trip interruption, emergency medical evacuation, emergency medical coverage, 24/7 emergency assistance, and baggage protection.
Example: For a $5,000 two week vacation to Aruba, a comprehensive travel insurance plan will cost a couple in their 50s around $200. This includes a $50,000 medical limit, $250,000 for medical evacuation in addition to trip cancellation coverage.
Travel medical insurance provides emergency medical coverage, 24/7 emergency assistance, and emergency medical evacuation coverage. Trip cancellation is typically not included.
Example: For the same trip to Aruba, a travel medical insurance plan will cost a couple in their 50s around $80. This includes a $50,000 medical limit with a $250 deductible and $500,000 medical evacuation.
Both comprehensive and travel medical insurance plans are a valued supplement while traveling overseas, offsetting possible coverage gaps evident in some domestic health insurance plans including:
Emergency medical care: when a traveler requires a doctor or hospital visit when traveling abroad. Emergency evacuation: when a traveler requires transportation to another medical facility or back home for further care. 24/7 emergency assistance: when a traveler needs help with a medical-or-safety-related issue, needs to find a doctor or hospital, or requires translation services.
Some travel insurance policies also cover pre-existing medical conditions. Travelers with medical conditions or who may be more vulnerable to medical problems while abroad should have easy access to their medical records – a move that can prevent any number of medical disasters at foreign hospitals. A U.S. company called My Medical Records offers instant and private access to accounts via Internet 24/7 for a minor cost.
For more information about specific destinations worldwide contact: US State Department