A recent report from the Center for Responsible Travel revealed that sustainable travel once again outpaced the rest of the tourism industry as demand for more socially and environmentally focused tours continue to thrive.
Nature-based vacations now make up 20% of all international travel. Adventure travel, a $263 billion industry, grew 65% each year between 2009 and 2012. Agritourism, travel that takes visitors to local farms, ranches and wineries, is another emerging category of sustainable travel.
Below are eight exceptional sustainable travel tours for 2017.
Rwanda Gorilla Trekking Tour – Encounter some of the last remaining mountain gorillas in the world by trekking into the lush forests of Rwanda, home to hundreds of species of birds and numerous waterfalls. Track chimpanzees and the beautiful golden monkey, and keep an eye out for elephants and buffalo. Enjoy a boat ride on the massive Lake Kivu, spend time relaxing on the beach, and enjoy some of the world's best coffee.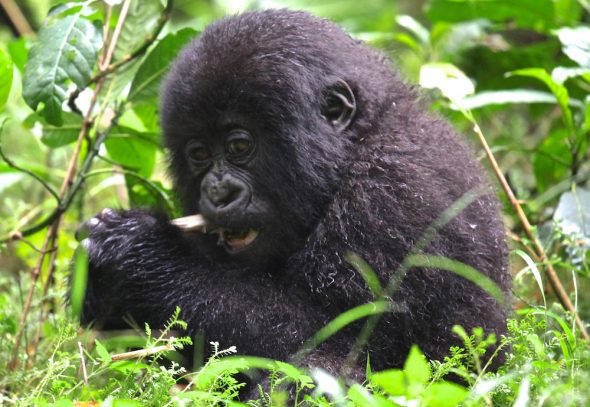 Costa Rica Turtle Research – Join biologists for two nights of research at the most important nesting ground of leatherback turtles in Costa Rica. A day of whitewater rafting and a few days of jungle adventure and relaxing round-out this exclusive Costa Rica travel itinerary.
Wyoming Working Ranch – Red Reflet Ranch is a luxury working guest ranch in Ten Sleep, Wyoming. Explore the 25,000 acre ranch, work cattle, fish on private streams and enjoy abundant wildlife. Gourmet dining includes ingredients from the ranch's butcher shop, organic greenhouse and gardens.
Dogsled and Trek Glaciers in Greenland – Explore and photograph fantastic landscapes of pristine beauty, exotic, arctic wildlife and northern lights. This all-inclusive adventure is a splendid introduction to the highlights of Greenland: calving glaciers, palatial icebergs, dogsledding, wildlife viewing, and trekking the Greenland Ice Sheet.
Visit Remote Amazon Tribe – On this intrepid adventure explore the world's largest river system by foot, plane, motorized canoe and kayak. Stay at Ecuador's award-winning Kapawi Ecolodge; explore Cotopaxi National Park; visit "Devil's Cauldron" waterfall; overnight at a traditional hacienda; participate in ancient Achuar Indian ceremonies; and wander the lively streets and plazas of Quito.
Tuscany "Slow Food" Cycling Tour – Join a family-run farm in the heart of Tuscany for an exciting cycling and epicurean adventure dedicated to the "Slow Food" movement.  This exclusive six-day Tuscany tour includes some of the most beautiful bike rides in Italy and a complete cultural immersion into the Tuscan lifestyle on an energy-independent Italian agriturismo.
Visit Russian Reindeer Herders – Spend nine days exploring the remote Kamchatka Peninsula of Russia's east coast, meeting its diverse people and experiencing the ruggedly beautiful landscapes.  Highlights include:  helicoptering to UNESCO-listed Valley of the Geysers; visiting a camp of reindeer breeders; soaking in an extensive system of hot springs; and trekking Avacha volcano.
Patagonia Trekking/Photo Tour – Join a celebrated photographer and nature documentary filmmaker on this nine-day hiking and photography tour of Patagonia. Highlights include Argentina's Los Glaciares National Park and Chile's Torres Del Paine National Park. Wildlife is ever-present as reclusive pumas, guanacos, Darwin fox, and soaring condors abound.