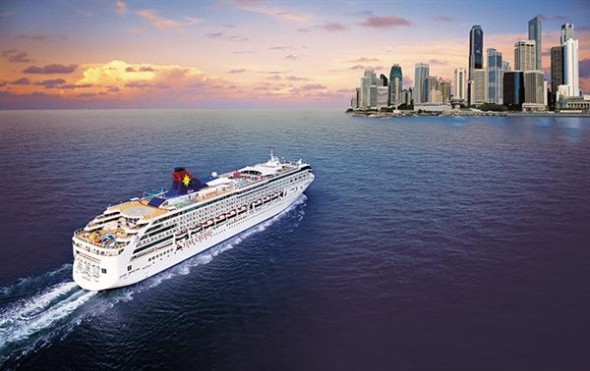 Despite fires, sickness, systems malfunctions and sinkings, the cruise industry is more robust than ever.
A record 23 million passengers are expected to sail this year, according to reports from the Cruise Lines International Association (CLIA. Some 22 new ocean, river and specialty ships will be making their debut this year as Cruise lines entice travelers with nearly 1,000 ports of call in new, exotic locations, especially in the fast-growing Asian market.
"From new ports around the globe to the investment by CLIA's member cruise lines in new, innovative ships, it's an exciting time for the cruise industry and cruise passengers," says Adam M. Goldstein, CLIA Chairman and President/COO of Royal Caribbean Cruises Ltd. "This year will prove to be another step forward for the entire industry as our members continue to strive to make cruising the best overall vacation experience."
Using several research studies, CLIA identified seven 2015 cruise industry outlooks:
Travelers Will Continue to Set Sail – Cruise travelers intend to continue to set sail and are highly satisfied with prior cruise experiences. In fact, 62 percent are return cruisers and 69 percent ranked cruising as a better value than a land-based vacation. Overall, CLIA member ocean passenger volume is projected to increase to 23 million in 2015, a four-percent increase over 2014 estimates of 22.1 million.
Size Doesn't Matter – Five years ago, the largest cruise ship in the world was introduced with a 6,300-passenger capacity. With 22 new ocean, river and specialty cruise ships scheduled for debut this year, the focus is less on size and more on unique design and amenities.
Specialty Cruises Continue to Thrive – CLIA's specialty silo, which includes sophisticated ships, luxury yachts, elegant ocean liners and the newest river cruises, continues to experience double digit passenger growth. In fact, specialty cruises grew by 21 percent annually from 2009 to 2014 estimates.
Caribbean Continues to Be Queen – The Caribbean remains queen for the cruise industry with more than a third of the global deployment capacity market share in 2015.  At the same time, cruise travelers are expanding horizons.  The Mediterranean continues to grow as a destination, as well as other regions including Asia and Australia.  In 2015, 52 ships will provide 1,065 Asian cruises with capacity for 2.17 million passengers.
New Places to Go – The cruise industry is seeing an increase in passengers looking for global experiences. As a result, cruising has made the world more accessible than ever. CLIA's member cruise lines offer nearly 1,000 ports around the globe, including many areas that fall within a UNESCO World Heritage Site.
Travel Agents Are Key to Cruise Travel – While the Internet and mobile devices have overtaken how consumers make purchases, travel agents continue to be the most popular and best way to book a cruise. In fact, seven out of ten cruise travelers (70 percent) use a travel agent to plan and book cruise vacations.
Passengers Are at the Helm – When it comes to travel, consumers are in control more than ever before. The cruise industry is excited, motivated and responding with key innovations that are meeting the needs of today's passengers, such as bow-to-stern Wi-Fi and phone connectivity, multigenerational appeal, themed cruises and "foodcations".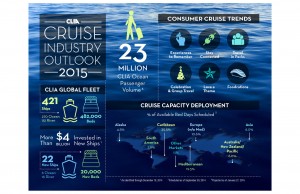 Similar Stories: