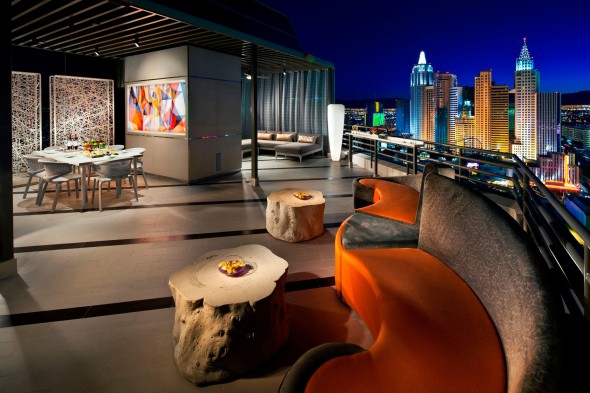 Can your hotel room make you healthy? The MGM Grand Hotel & Casino in Las Vegas thinks it can. The sparkling emerald-hued resort at center Strip that offers the largest casino in Las Vegas has developed an antidote to Sin City for visitors who want to bypass the smoke-saturated slot banks, the non-stop well drinks, the all you can eat food brothels, and end-of-the-world pool parties. Call it excess meets expurgation. Meet the Stay Well rooms at the MGM Grand.
Forty-one of the hotel's 5,044 rooms have been rewired from bottom to top as Stay Well rooms and include all sorts of unusual features for fitful sleeps and germ-defying stays. Among the secrets of these health-promoting quarters are extra soundproofing, ventilation that purifies and humidifies the air, and filtered water on tap. The bathroom lighting emits blue light (said to counter jet lag), and a vitamin-C-infused shower dowses bathers with an extra dose of cold prevention while filtering out chlorine.
Wellness Design
So what does it take to make a room healthy? A little design and a little technology:
· Advanced Room Lighting: improves the body's internal clock by assisting in the regulation of melatonin production and sleep/wake cycles
· Wake Up Light Therapy: exposes guests to short periods of blue-shaded lighting to increase energy and reverse the effects of jetlag
· Nightlighting: LED lamps designed to illuminate pathways at night without disturbing melatonin levels
· Dawn Simulator Alarm Clocks: gradually awakens the body
· Vitamin C Shower Infusion: shower water infused with Vitamin C, which neutralizes chlorine to promote healthy hair and skin
· Air Filtration: The most advanced HEPA-standard air purification system reduces allergens, toxins and pathogens, creating better air quality and breathing
· Aromatherapy: optional aroma infusion for STAY WELL guests
· Water Filtration: reduces disinfectant byproducts, chlorine, pesticides and some pharmaceutical and personal care products for the cleanest, most purified in-room water
· EMF Protection: protects guests from electrical equipment that emanates sleep-disruptive Electromagnetic Fields (EMF)
· Photo-Catalytic Coating: breaks down bacteria, virus and nasty bugs on bacteria-susceptible surfaces
· Cleveland Clinic exclusive access: wellness software includes stress management, sleep and nutrition programs, as well as access to healthy food/drink options developed by the Cleveland Clinic, which guests can use for up to 60 days after their stay
· The Stay Well Channel: World-renowned health and wellness expert Dr. Deepak Chopra welcomes guests to MGM Grand.
The rooms are located in the hotel's main tower. They aim not only to reverse jetlag, reset the body's internal 24-hour clock and regulate melatonin levels to promote better sleep, keep filtered water flowing through the taps and Vitamin C flowing through the shower head, but also provide guests with some healthy food and beverage options before they hit the steak and foie gras.
MGM partnered with Delos, a pioneer of Wellness Real Estate for this concept and spent the past four years collaborating with doctors and researchers at Columbia University Medical School and the Cleveland Clinic, as well as with architects, engineers and contractors, to come up with a curated presentation of optimal conditions for health and well-being in a hotel room design.
Rates will start at $105 when the rooms open for occupancy on October 15.
(877) 880-0880