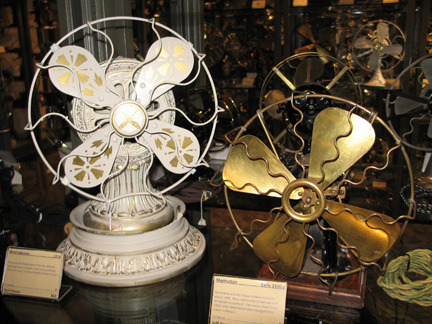 by Susan McKee
Antique fans are shiny toys. Perched like rare birds on glass display shelves, they preen with gleaming metal blades, polished chrome safety cages and glowing varnished wood holders, attached electrical cords neatly coiled at the ready.
When I heard about the Antique Fan Museum in Zionsville, Indiana, I imagined something like my grandmother's attic with dusty old appliances stacked in boxes. This is more like a showroom, which is logical because it's located in the same building as Fanimation, which manufactures all kinds of ceiling fans for homes, offices and anywhere else.
Fanimation's founder, Tom Frampton, is a member of the Antique Fan Collectors Association, an organization of more than 500 aficionados. The museum moved from Andover, Kansas to Zionsville, IN in 2009. According to the AFCA, it's the only dedicated antique ceiling and desk fan museum open to the public in the world.
Each fan in the museum has been restored to pristine condition. All are labeled (some more completely than others), and many are on loan from AFCA members as well as from Fanimation's own collection. Some hang from the ceiling or perch atop tall stands. Others are intended to be wall mounted, but most are displayed on glass shelves.
They're arranged in roughly chronological order. The earliest I found was a Curtis & Crocker dating to 1886. It has six brass blades — and no safety cage. The signage says it was the company's first fan, manufactured from 1886 to 1888, when electric power was standardized to 110 volts of Direct Current.
A few had two blades, or three. Others had four, five or six. Most of the blades were metal (with brass as the flashiest), but there seems to have been a fad in the late 1930s for fans with "safe" rubber blades.
Most were "standard" — that is, there was a base, a "post" holding the blades and some sort of cage. Others clearly were intended as novelties, such as a gray aluminum airplane with fan blades instead of propellers. Some were enclosed in elaborate wood cabinets, obviously intended to function as furniture as well as fans.
The range of manufacturers is large: I spotted Emerson, Westinghouse, Philco, General Electric, Tiche and Mathes.   I was surprised how many of the models I recognized: both my parents and my grandparents had owned more than a couple of those on display.
One fan that stuck out as a bit unusual was the Ribbonaire.  It's a small blue number dating from the late 1940s that sports green ribbon loops instead of metal blades.
My favorite? A fan on a stand, taller than me, that's operated with a foot pedal. Obviously it was for someone with a servant. The resulting breeze from the fan blades does not cool the person pumping away to turn the belt that operates the fan but points away at a 90-degree angle.
Location:  10983 Bennett Parkway, Zionsville, Indiana. There's a separate door for the Antique Fan Museum, but unless there's a special event, you'll need to go in the main door for Fanimation. Hours are 9 a.m. to 4 p.m. weekdays.
The Antique Fan Museum isn't the only quirky museum in the Hoosier state.
Consider the Ropkey Armor Museum in Crawfordsville, Indiana where the Ropkey family showcases their extensive collection of United States tactical military vehicles. It all started with a Civil War pistol, but museum favorites these days are much larger (like Sherman tanks).
Also in Montgomery County is the Rotary Jail Museum in Crawfordsville. Built in 1882 as first of its kind the United States, it was in use by law enforcement until 1973. Sixteen cells in two tiers were rotated by a hand-crank so that just one door could be opened at a time. It's now an art gallery and museum.
The Kinsey Institute for Research in Sex, Gender and Reproduction on the campus of Indiana University in Bloomington, Indiana houses an extensive collection of what-not spanning more than 2000 years of human procreative history. Because of the subject matter visitors to the gallery must be 18 or older.
In Portland, Indiana, you can stop by the Museum of the Soldier, originally built by former soldiers who had been carrying military history items to school presentations. It's housed in a former Coca Cola bottling plant.
Susan McKee is a freelance travel writer living specializing in exotic foreign destinations as well as quirky mid-western gems.