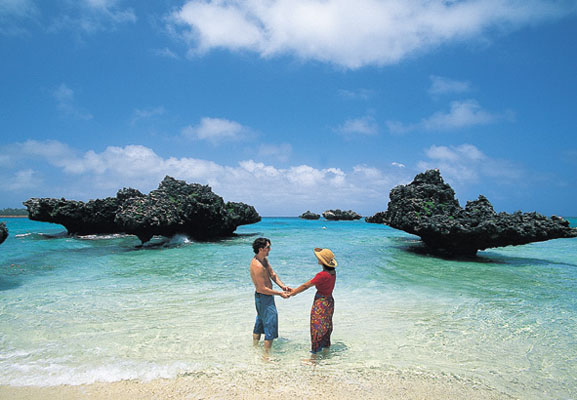 By Lark Ellen Gould
Forget Paris. Head to Fiji for the romance. The South Pacific sprawl of some 333 islands considers itself the most romantic place in the world and there may be something to that thought.
Unlike many foreign and exotic spots where couples can tie the knot, a wedding in Fiji is legal and offers a license that is recognized world wide – no blood tests, no waiting periods, no lines at the court house.
Secondly, planning a wedding in Fiji comes with a bonus: no stress. Nearly every resort has a wedding coordinator at the ready that can arrange a simple ceremony for two on the sand or a gala event on an island decked out with singers and dancers and bridal entrance by canoe.
The honeymoon plans are but steps away, usually in a luxurious bure on a private beach. But the range of resort options is endless, given the countries continued growth in tourism and tourism development.
In 2011 alone, Fiji welcomed some 700,000 international visitors, a healthy 6.8 percent gain over 2010. Most of these visitors hail from Australia but Fiji's third largest tourism market for visitor numbers is the U.S. Those visitors, however, come out on top when it comes to spending.
"The U.S. market is up 7 percent," says Ili Matatolu, regional director, the Americas, for Tourism Fiji. "And we hope to increase those numbers as more rooms and airline seats come on line. By 2016 we are hoping to see more than a million international visitors coming to Fiji."
But reaching the million visitor mile mark does not mean having to sacrifice the environment, says Matatolu.
"We are trying to set up the world's biggest marine park by 2020 and we are trying to become the world's first low carbon tourism industry destination," she says. "Even now in our cities and towns no building can be taller than a coconut tree."
Fiji currently claims protection of 30 percent of its marine eco system through state mandates and has programs on the roster for
planting a million trees and protecting coral, mangrove forests and turtles.
Meanwhile, the country's dedicated air carrier, Air Pacific, offers direct flights four times a week from Los Angeles and three times weekly from Honolulu using 747 400s (Airbus upgrades coming in 2013). The airline code shares with Alaska and American for routes and points.
Romance Recommendation:
Vomo Private Island Resort, a recent hideaway for Monaco's Prince Albert and his new bride, Princess Charlene, as well as enviable backdrop for the 2011 finale episode of ABC's Bachelorette, produces all the must-haves for an indulgent Fiji interlude. The 30-villa resort property is a 15-minute or hour boat ride from Nadi on a 225-acre private isle in the Mamanucas. Mt. Vomo anchors this spot at one end flattening out into white sand and clear blue beaches at the other in geography considered to be the dry side of Fiji. The resort offers one- to four-bedroom villas some with private pool and indoor/outdoor dining spaces with butler service. A Turtle Club kids' camp runs all year long and a new, more beautiful and larger spa is opening this season.
While rooms average $1,000 per night, all-inclusive except alcohol, a stay five, pay four; or stay seven, pay five offers is currently on the table.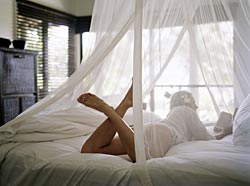 Fall in Love with Fiji packages available through May at Tahiti Legends include a stay at Como Island Resort for rates starting at $4,699 per person double, for seven nights in a beachfront bure, all meals and a special honeymoon amenity: French Champaign on arrival and daily sunset canapés at the bar. The rate also includes air from Los Angeles.
Other packages include value-packed stays at the Koro Sun, Tadrai Island Resort, LikuLiku Lagoon, Jean-Michel Cousteau Resort, Matangi, Mamale and Qamea island resorts for five to seven nights for rates starting at $3,499 per person, double, including air, if booked by the end of May. Call (800) 200-1213.
For more information and information about Fiji's Matai Specialist Program, contact Tourism Fiji at (800) 932-3454.