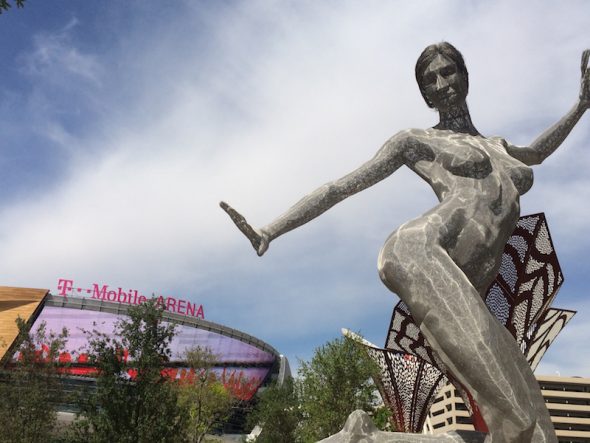 Las Vegas opened their latest gargantuan project on the Strip last month, and it was one packing punch that should go way beyond wins at the gaming tables.
The 20,000-seat T-Mobile Arena opened with all the fanfare Las Vegas can offer April 6 with plans to go beyond the bounds of hosting sports teams and rock groups. The partnership between AEG, T-Mobile and MGM Grand was designed in much the same fashion as LA Live was in Los Angeles, as an entertainment park attached to the Staples Center. But unlike the Staples Center, which has two NBA teams and one NHL sports teams, the new T-Mobile Arena in Las Vegas does not yet have a sports team to call its own. But that may change.
Now Steve Wynn and Sheldon Adelson are making murmurs about building yet another sports stadium – this one seating a mere 65,000 souls – just a few blocks away in a parking lot in back of the Tropicana Hotel and Casino in hopes of getting the Oakland Raiders to call Vegas home.
Meanwhile, the new $575 million T-Mobile Arena, lodged on former parking areas between New York, New York and the Monte Carlo, has many things the L.A. Live venue may not: some of the largest hotels in the world short blocks away and a concentration of some 40 million visitors ambling by.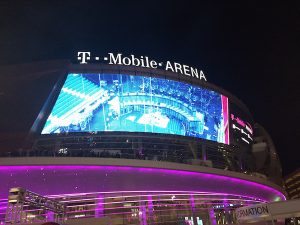 "The Arena is a great demand generator and with all the new events we are hosting and restaurants bringing in their flagships here, it changes landscape of Las Vegas and gives that many more reasons to come," says Jeff Eisenhart, Vice President, Leisure Sales & Marketing at MGM Resorts International.
To make the arena more of a destination rather than a place to catch hugely popular performances and sports spectacles, a two-acre city park was created with branding from Toshiba and some high-energy dining spots to make Toshiba Park a magnetic gateway – a two-acre park leading from the Las Vegas Strip to the new arena.
On the way wanderers can grab a shake at the Shake Shack, or a chicken and waffles sandwich at Bruxie, powerbowls and pizza at California Pizza Kitchen, rock 'n roll sushi at Sake Rok and dozens of craft beers at Beerhaus. All the restaurants have open-air access to the promenade where performance artists dance and paint and a sparkling, 40-foot Burning Man sculpture called "Bliss Dance" towers over the festivities. Water features and oversized tree sculptures dot the way – as do games: beer pong, ping pong, bean bag tossing, and board games for the asking, all with shaded cool spots to play and sip a cocktail.
The arena has no shortage of sit and sip spots for VIPs and company brass that want to watch events unfold within certain comforts. It has six premium lounge areas, including 18,000-square-foot Hyde Lounge nightclub on top floor. There are eight "event-level" suites on the floor of the arena, each outfitted with flat-screen monitors, a bar, barstools, couches and seating for 16. A total of 44 luxury suites are mostly owned by corporations but two party suites and several terrace areas are up for buyouts. And to keep VIPs sated and quenched, a menu of labor-intensive gourmet offerings and spirits created by celebrity mixologist, Tony Abou-Ganum, are at the ready. Because the arena wears T-Mobile on its marquis, the VIP rooms, lounges and stadium space are network-optimized throughout Arena, including charging stations for everyone.
For those who do not have a corporate lounge to meander into, the Hyde Lounge, created by SBE Entertainment, does the honors with a penthouse platform on the fifth floor, an active bar and seating that costs a mere $1500 a table for four, bar not included. Those who want to stand (and not by the ledge looking over the floor and stage) can do so for free. The lounge opens an hour before an event and stays open two hours after the event, mostly because the talent usually finds its way up there after the close.
Plans are also in motion to bring a hometown national hockey team to Las Vegas, now that there is a star-quality arena for them to play. Meanwhile, more than 70 events, including Dixie Chicks, Cold Play, George Strait and others are on the roster for this year.