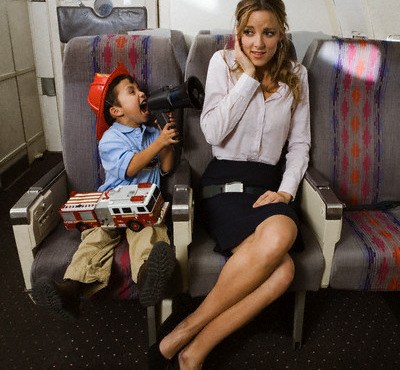 Expedia this week released the results of a survey of American parents examining the joys and perils of family travel. The study looks the issues parents face when planning family vacations and the difficulties that can arise while traveling with kids.
The Family Travel Study ran more than a 1,000 interviews of randomly selected U.S. adults with children under the age of 17 and found that 94% of American parents who have traveled with their children take at least one trip with their family per year. Twenty-seven percent take two trips per year and 10% take three or more. In fact, according to The Family Travel Association, family travel now accounts for a full one-third of all leisure trips booked in the United States.
Tears on the Tarmac

Traveling during the holidays is already hectic and is even more difficult with children in tow. Getting a full family through security, with all of the shoe-removal, baggage search and liquid disposal it requires is particularly challenging, and one struggling family slows the line for every passenger that follows. The same challenge holds true within the tight confines of a plane, which can disconcert children and disrupt the peace of fellow passengers.
Not Surprisingly, Expedia's 2014 Airplane Etiquette Study found "Inattentive Parents" to be the second most offensive airplane passengers. To that point, 3% of American parents who travel admitted to having "temporarily lost track" of a child while on vacation.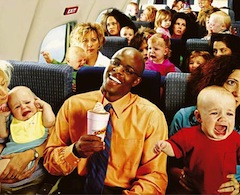 Family Travel is Worth the Challenge

Despite the challenges, the majority of respondents agree that the reward of family travel is well worth it.
70% of parents who travel "agree or strongly agree" that their favorite childhood memories involve a family vacation.
76% of U.S. parents say that traveling with their children is "more play than work."
89% percent of parents say that it is more important for their children have fun on vacation than themselves. Approximately 10% feel a parent's fun is paramount.
4% of families bring a babysitter with them to share in the child-care responsibilities.
While unruly children pose an etiquette (and safety) challenge, the study found high levels of commiseration and sympathy among fellow parents who travel. In particular:
80% of parents "agree or strongly agree" that they have grown more sympathetic toward parents who are traveling with children since having kids of their own.
23% of American parents reported that vacations with children feel "more like work than play."
Nonetheless, aggravation still abounds. Seventy-six percent of American parents who travel report having received "annoying parenting advice" from strangers while on vacation.
Planning for family travel is also, by definition, more challenging than for couples or solo travelers. A majority (61%) of parents who travel begin planning family trips a couple of months in advance. A quarter of American parents plan family travel roughly one year in advance, while 12% book last minute, less than one month early.
Ten percent of parents who travel spend more than 10 hours searching for flights before booking, while 57% spend between two and five hours or more. Sixty-four percent of parents say that they would prefer to travel with family by car, if possible, while 35% prefer to fly.
The Family Travel Study also found that:
35% of American parents who travel have taken their children out of school for a vacation.
76% of parents say they would rather travel solely with their immediate family, versus 23% who say they would rather travel with other families.
31% have let their children choose the vacation destination. And these are the most popular vacation types selected by American families:
Beaches – 23%
Theme Parks – 19%
Outdoors (camping, national parks) – 18%
All-inclusive resorts – 13%
Cruises – 9%
Road trips – 7%
Cities – 5%
The study was conducted by GfK, an independent global market research company, using an online probability-based panel designed to be representative of the US general population, not just the online population. The study consisted of 1,002 interviews conducted between September 11 and 13, 2015 of randomly selected U.S. adults with children under the age of 17. The margin of error is +/- 3 percentage points.
Related stories: