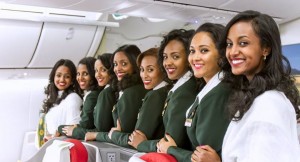 Call Ethiopian Airlines the mouse that roared on the African continent. The Addis Ababa-based air carrier launched thrice-weekly service this week from Los Angeles International Airport (LAX) to Dublin, Ireland (DUB) and Addis Ababa, Ethiopia (ADD). It now stands as the fastest growing carrier on the continent and one of the fastest growing airline companies in the world.
The airline now flies the Boeing 787 Dreamliner out of Los Angeles, one of 13 787-8 aircraft the company currently operates, on Monday, Thursday, and Saturday, departing at 11:45pm. As the airline is a member of Star Alliance, lounge and points privileges apply.
The connection to Dublin from Los Angeles also marks other significant news. The new non-stop is now the only such flight between LAX to DUB and also marks a change in the Ethiopian carrier's hub map. Dublin has become the new European hub city for the airline and its flights from Toronto and Washington D.C. now stop in Dublin instead of Rome for refueling.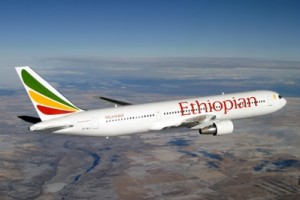 In addition, passengers flying between LAX and ABB are able to stop in Dublin for a few days vacation if they wish before carrying on to the Horn of Africa. The route offers "fifth freedom" status that allows the airline to pick up new passengers in Ireland on both legs of the trip. The Toronto and Washington D.C. routes, however, do not have this status.
"This flight represents a dream for me," said Tewolde GebreMariam, the airline's CEO at the new route's launch celebrations Saturday, and emphasizing that the flight marks the shortest flight time between the U.S. West Coast and East Africa. The layover in Dublin is 75 minutes. The flight between LAX and DUB is 10 hours, and the flight time between DUB and ADD is 7.5 hours. Because of the Ethiopian capital's 7,700-foot elevation, non-stops between the U.S. and Ethiopia are not an option currently.
With the addition of Dublin, the airline's 11th European city to be served, and Los Angeles, its fourth destination in the Americas, Ethiopian Airline's international network covers 85 destinations across 5 continents. The company signed orders for six new 787-8 Dreamliner aircraft at the Paris Air Show this year as part of a 10-year expansion vision to 2025. Ethiopian Airlines operates the youngest fleet in Africa, its aircraft having an average age of seven years.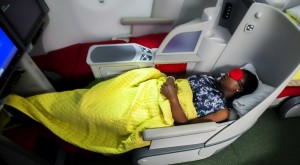 While Ethiopian airline is the fastest-growing airline in Africa (it now carries more than 7 million passengers a year), it is also the most profitable airline on the continent, according to IATA. Ethiopian Airlines took delivery on August 14, 2012 of the first of 10 Boeing 787-8s, nearly seven decades after the company was launched and 53 years after Ethiopian Airlines initiated the first jet service in Africa.
Contact: