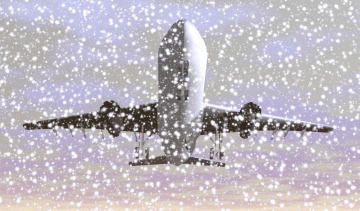 On a recent Thursday along a very wet, white and wearily cold East Coast of the U.S., some 6,200 flight cancellations and another 3,700 delays left many travelers stranded as yet another major snowstorm blew in.  What few travelers may have known, however, is how the financial impact of those flight cancellations and delays might have been remedied by a bit of pre-planning and the purchase of travel insurance that safeguards against such weather-related interruptions.
"If you're concerned about winter weather affecting travel in your city of departure, destination city, or really, anywhere — that ripple effect is a tough reality of air travel — then travel insurance may be a good investment to make," says InsureMyTrip.com CEO Jim Grace. "This season we have observed an unprecedented number of flight delays and cancellations nationwide and more travelers are turning to travel insurance to safeguard their investment."
For weather-related coverage, travelers should consider the following options:
Trip Cancellation: This coverage, which is included most comprehensive policies, will help passengers recoup any pre-paid, nonrefundable expenses related to a trip if that trip is cancelled due to a delay of 24-48 hours or more in transportation interruptions.
Trip Delay: This protection is also included in most comprehensive trip cancellation insurance policies, and allows a traveler to file for reimbursement of unexpected expenses incurred as a result of a shorter (but still significant) delay– usually 6 hours or more.  If there is a need to purchase meals, for example, or pay for overnight lodging to avoid sleeping on the airport benches, travel delay coverage can help cover those incidental costs.
Trip Interruption: This coverage is always included in travel insurance comprehensive plans. It's a benefit that offers travelers reimbursement of their pre-paid, non-refundable expenses should their travels be unexpectedly interrupted or cut short. Important things to note when researching Trip Interruption benefits: read the fine print behind exclusions and special coverage options.
Cancel For Any Reason (CFAR): This is a specific type of travel insurance coverage offers travelers the opportunity to change their plans for reasons other than those that are listed as "covered reasons" on their travel insurance policies. While most travel insurance policies will provide benefits only if a trip must be cancelled for a reason listed in the policy's details, CFAR allows the traveler to bypass that list, offering greater flexibility and freedom of choice for important decisions about following through with travel plans. This highly desirable benefit is usually offered as part of a Comprehensive Plan, but may only be available when certain criteria are met. Typically, travelers will be required to purchase a travel insurance policy within a specified time frame (usually within seven to 30 days of making an initial trip payment) in order to be eligible for CFAR.
SImilar Stories: