Escape Rooms – who would have thought that turning scary, sadistic and downright gory SAW series entertainment would become the latest rage for travelers, groups and team building designers?
In fact, Escape Rooms are the very latest in immersion attractions all over the globe and there is, no doubt, a scary room right now in or near your targeted destination just waiting to humble some unsuspecting tourists or fun seekers.
There are some 2,800 of these attractions on the planet, and they started cropping up around 2011. Now they proliferate in places like Los Angeles, San Francisco and Las Vegas and come in all styles and designs – from seedy medieval dungeons to Egyptian tombs to 1960s diners from hell.
Guests are locked in, given a time limit and a wall clock and little else. Amid creative props and high tech locks are keys – keys to doors, false keys, keys to other keys, keys to nowhere. The rooms are usually windowless and screams will not be heard. The light may be dim, the atmosphere dank and the back story grim. You may get out, and then you may not. But to do so, you have to beat the buzzer or forever hold your fate.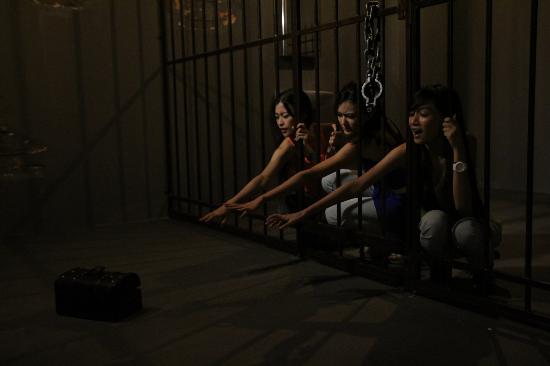 Escape rooms usually cost between $25 and $50 per person, depending on the sophistication of the set design and the location. Although participants may play similar games on their computer or iPad, in this context they are not alone. Guests are usually locked in with eight or ten others and get the rich (or possibly horrific) experience of working with other people.
The concept has become so popular that Norwegian Cruise Line has opened an Escape Room called Escape the Big Top. The escape room experience is essentially an onboard carnival that goes awry, forcing passengers to solve the clues and escape the strange spell before the time runs out. The event is complimentary for guests and is open to passengers of all ages.
The escape room experiences are available several times per cruise and can be found on Norwegian Cruise Line's four newest ships, including the Norwegian Getaway, Norwegian Epic, Norwegian Breakaway and Norwegian Escape.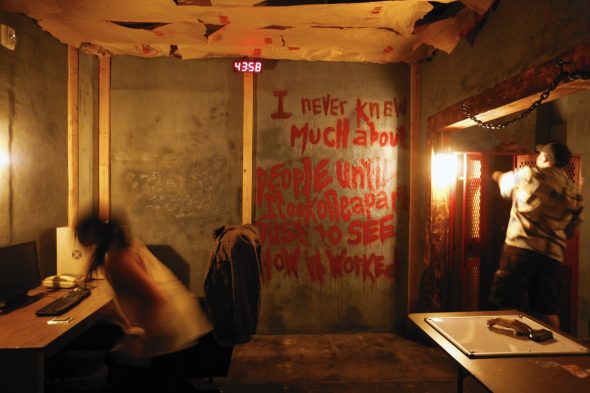 In Los Angeles, dozens of these rooms have popped up as set designers and entrepreneurs fill empty warehouses and offices with extraordinary surrounds and trickery. Hollywood meets game night as intricate movie sets cross with the mind games elements of TV shows such as "The Mole" and "Survivor." For team building and corporate perks, escape rooms provide a perfect lab for revealing strengths and weaknesses.
In San Francisco, a first-of-its-kind attraction for the city provides a 60-minute, live-action journey through 200 years' worth of the Bay Area's most riveting—and sinister—history.
Located in Fisherman's Wharf, the experience begins with a suspense-filled descent in a rickety mine-shaft elevator to a realm where theatrical actors, captivating storytelling, special effects and spectacular stages offer up a dark, atmospheric—and often hilarious—interpretation of the city's deepest, darkest historical moments.
From the Gold Rush to the Chinatown Plague to Alcatraz, guests immerse in 10 distinct shows inspired by actual events from the city's history. As visitors pass from one show to the next, professional actors transform into various shady characters such as Sam Roberts, the leader of the Gangs of San Francisco, or infamous bar owner and crimper, Miss Piggott and her partner-in-crime, Shanghai Kelly. Highlights include:
The Descent – Guests begin the journey in an old mine shaft elevator, complete with creaking floors and rattling chains—all while trying to suppress a creeping sense of dread. All seems well—or does it?—when colorful showman Jack greets visitors upon arrival at the bottom.
Gold Rush Greed – Visitors encounter a spectral incarnation of Father Francisco Palou, who expounds upon the sinful antics of gamblers, harlots and corrupt politicians who defiled the once-peaceful lands.
Lost Mines of Sutter's Mill – Guests enter this disorienting maze of a mine, where the first traces of gold were discovered, at their peril. Recommended only for those with a keen sense of direction.
Gangs of San Francisco – An encounter with Sam Roberts, the leader of The Hounds, just might leave guests poorer than when they came—if they're not careful. Extortion, as well as particularly painful means of persuasion were this gang's calling cards.
The Court Room of San Francisco – Crime and punishment in old-time San Francisco comes to life in Judge Alcalde Meade's court room, where guests might find themselves accused and convicted of hilarious "crimes."
Miss Piggott's Saloon – That creepy-crawly sensation guests feel when sitting down for a drink in this joint is no joke. They should be wary of drinking just anything Miss Piggott offers—they might just end up shanghaied.
Shanghai Kelly – Unsuspecting patrons of Miss Piggott's soon find they have been sold off to this infamous crimper. Forced to board a boat bound, they navigate back waterways to meet their fate as a crewman aboard a ship—or worse yet, find they are declared unfit to work.
Chinatown Plague –Guests encounter the Rat Catcher along the back alleys of 1900 Chinatown, where quarantined streets hide something even more shocking than infected rats and rotting bodies. This cure really might be worse than the disease.
The Ghosts of Alcatraz – In the 1800s, Alcatraz was a brick jailhouse housing the most dangerous military prisoners. This is not a place for the faint of heart. Guests who look scared will be the first to be spooked—in hilarious fashion, of course.
Special combination ticket packages are available and include online pricing starting at $14.99 per person.
For a directory of Escape Room Experiences in the U.S., visit https://usaescaperooms.com; in Europe, visit: www.escaperoomsmaster.com
Side Bar:
TOP TIPS FOR ESCAPING ESCAPE ROOMS
Look everywhere as soon as your blindfold comes off. Turn the place upside down. Look in and underneath drawers, inside books and take careful note of what's in pictures on the walls.
Communicate with each other. If you find something, call out what it is. It might relate to something someone else has found. Discuss everything and work together.
Numbers and colors are usually significant in escape rooms. Whenever you find them, try to make connections between them.
If you get stuck on a puzzle for longer than five minutes, don't be shy about asking the game master for help.
Go to the toilet beforehand. Really. Even if you don't think you need to. Go anyway.
(Barry Divola of Sydney Morning Herald)