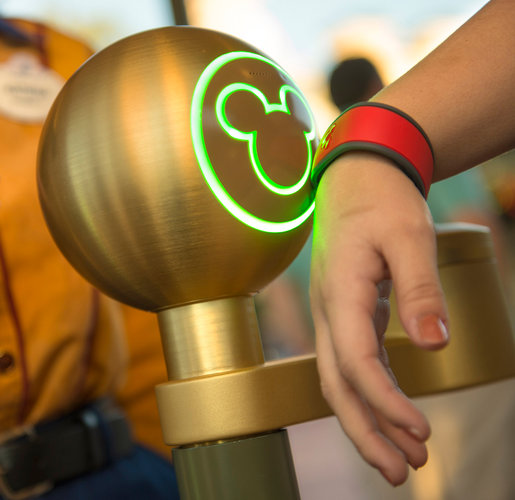 Think Disney doesn't know you? Think again. As Walt Disney Parks and Resorts gets ready to roll out its latest technology, do not expect a game or a mystical carpet ride or a hologram hotel. Expect a bracelet that will not only have your name on it, but your financials, food preferences, ride choices and room number.
It's the latest in customer conveniences for parkgoers, and it is a way to make sure tickets and passes to the parks stay with the parties for whom they were purchased.
Tabbed the MyMagic+ bracelet, the new accessory will change the way parkgoers do Disney in a big way, according to Disney executives, via easy paying options and smartphone alerts.

"Some of these initiatives are more apparent and can already be seen by our guests – like our interactive queues at Walt Disney World Resort and the Enchanted Art on our cruise ships – while others are more behind-the-scenes and are focused on "how" visitors plan, access and enjoy their experiences with us.
"Like most people who visit Walt Disney World Resort, my family and I have our "must-do" attractions, and as the father of three boys, those attractions often end with the word 'mountain.' Now, rather than dashing as a group, or even splitting up to gather FastPasses, imagine booking guaranteed ride times for your favorite shows and attractions even before setting foot in the park," Disney theme park chairman Tom Staggs said in a recent blog posting.
The device will keep track of itineraries, alert guests when they should head to their desired rides, and allow them to pay for Indiana Jones whips, mouse ears and pirate patches without reaching for their wallets. The bracelet will store credit card information via NextGen technology.
A major component of MyMagic+ is the new My Disney Experience website and mobile app, which gives guests planning their trip the information they need to register, plan and reserve. They can book dining and other experiences and reserve times for their favorite attractions, shows and more through an enhanced FastPass system, FastPass+. Once they arrive, they can use their smart phones to spontaneously change their plans in the moment, exploring the parks at their own pace and getting the most out of their visit.
The bracelet will serve as a guest's admission ticket, FastPass and PhotoPass card and even serve as a room key should the guest be staying at a Disney resort. Visitors will not have to dig through purses and pockets for keys, cards and pieces of paper. And the wristband can be disabled upon misplacement, while a new band is procured.
Disney representatives insist the data is well-secured and, although some people might argue that Big Brother is here in the form of a mouse with big ears, Disney insists that whatever information is gleaned goes into refining and perfecting the customer experience.
"This collection of tools is another step forward in the ongoing evolution of our guest experience, giving us even more ways to help friends and family create the unforgettable Disney memories that they want most. We'll be testing, adjusting and adding features to MyMagic+ and My Disney Experience over time and will continue to make improvements based on our guests' feedback," notes Staggs.
The MagicBand will be made available initially to select Walt Disney World Resort hotel guests this spring. Other guests will be able to use their standard ticket to access the benefits of MyMagic+, such as making FastPass+ selections on My Disney Experience. Guests will not be required to participate in the MyMagic+ program or use the MagicBands.