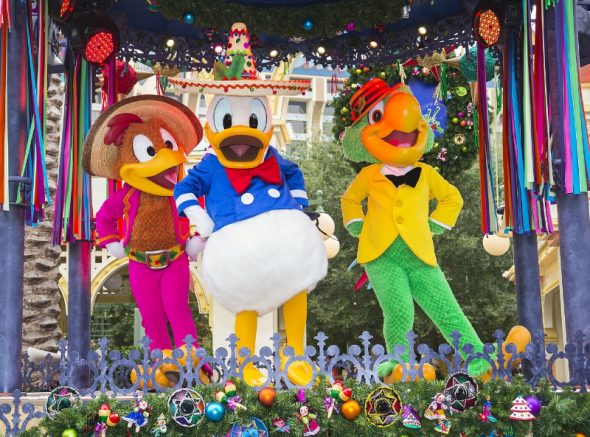 No place celebrates the holidays better than the Disney Resorts and it is, once again, the season to be merry and bright on Main Street as Disneyland in Aneheim lights up the night with the wonderful "World of Color". This year, park guests will have music, dance, food and heartwarming holiday fun inspired by cultural traditions from around the world.
The holiday-themed "World of Color—Season of Light," a nighttime water spectacular entertains with music and treasured Disney animation. It's a sparkling winter fantasy with magical storytelling, brilliant lights, lasers and high-definition projectors, along with fountains that shoot as high as 200 feet to create the giant screens of water.  Princess Elena of Avalor makes her debut at during this time, performing in a colorful cavalcade.
This year, guests will find Santa Claus in a fun, new location at Disney California Adventure Park, at Redwood Creek Challenge Trail, and guests at Disneyland Park will enjoy the one-of-a-kind transformations that create "it's a small world" Holiday, Jingle Cruise and Haunted Mansion Holiday. Now celebrating its 20th holiday season, "it's a small world" Holiday has added some "Hidden 20s" for guests to discover on their voyage.
Holiday Fest Disney California Adventure Park
The new Festival of Holidays celebrates holiday festivities of diverse cultures with music, dance and craft-making, plus food at the Festive Foods Marketplace. The daily lineup of entertainment includes nearly 50 performances of separate nine shows, with special Disney characters, street parties, cavalcades, musical ensembles and dance performances. The celebrations include Diwali, Hanukkah, Kwanzaa, Christmas/Navidad and Three Kings Day.
Guests can look for performances of traditional Indian dance that builds to a Bollywood party, a Klezmer band with a new global sound, the Mariachi Divas and an a cappella vocal group that puts an R&B spin on holiday songs.
Princess Elena, the first Disney Princess inspired by diverse Latin American cultures, will make her Disneyland Resort debut as part of the Festival of Holidays. She will perform a song in "Princess Elena's Musical Grand Arrival," and she will appear at a character greeting location. Guests will recognize this brave and adventurous teenager from the Disney Channel series "Elena of Avalor."
The popular Disney ¡Viva Navidad! returns as part of the Festival of Holidays with a wonderful finale to celebrate Three Kings Day (Dia de los Reyes). The special festivities for Three Kings Day will run Jan. 5-8, 2017, including music and storytelling in Paradise Garden. Treats for this holiday will include traditional Rosca de Reyes bread.
World of Color – Season of Light brings the spirit of the holidays to this stunning, nighttime water spectacle, with its 1,200 powerful fountains shooting water as high as 200 feet to help tell the story. The show's musical soundtrack features some well-known musical artists performing popular holiday tunes, including "Let it Snow" by Dean Martin and "Baby, It's Cold Outside" by Michael Buble and Idina Menzel. With classic holiday music, humor and memorable moments from Disney animated films, this becomes an ideal way for guests to conclude their holiday visit.
St. Nick arrives at Redwood Creek Challenge Trail for Santa's Holiday Visit. His elves have transformed the trail into a magical playground of holiday fun and games, including opportunities for guests to join the ranks of Santa's elves.
Cars Land offers a whimsical "snowcar" that greets guests on the road to Radiator Springs. Each address along Route 66–from Flo's V-8 Café to Luigi's Casa della Tires–features holiday décor that reflects the personality of the "Cars" character who lives there.
"a bug's land" transforms for the holidays, too, as Flik and his bug friends deck their land with oversized lights and ornaments.
A 50-foot Christmas tree adorns Carthay Circle, drawing guests into the holiday magic along Buena Vista Street. The tree and surrounding buildings, inspired by Los Angeles as it appeared when Walt Disney arrived in the 1920s, create scenes of another era with vintage-style decor.
Celebrating the Holidays at Disneyland Park
Disney characters celebrate the season in "A Christmas Fantasy" parade, a daily procession with floats, music, marching "tin soldiers" and holiday cheer. Santa, who makes a jolly appearance in the parade, also will be found welcoming guests at his special location in Critter Country while he visits Disneyland.
The classic Sleeping Beauty's Winter Castle brightens the park nightly with magical snowfall moments along Main Street, U.S.A., concluding with "Believe … in Holiday Magic" fireworks and its stirring snowfall finale.
Twinkling lights, festive holiday garland and nearly 1,800 ornaments decorate the soaring 60-foot Christmas tree in Town Square, Main Street, U.S.A.
Meanwhile …
"it's a small world" becomes "it's a small world" Holiday for the 20th time, celebrating children around the world and the distinctive holiday traditions of their nations. (The Holiday theme debuted in 1997.)
Haunted Mansion becomes Haunted Mansion Holiday, with Jack Skellington and his friends from Tim Burton's "The Nightmare Before Christmas" causing a collision between Christmas and Halloween.
Jungle Cruise is transformed into Jingle Cruise, as the jungle skippers gather jettisoned holiday gifts and decorations to brighten the rugged landscapes surrounding their riverboats.
The Downtown Disney shopping, dining and entertainment district and the Hotels of the Disneyland Resort join in the holiday festivities with twinkling lights and ornaments, holiday displays, special entertainment and holiday dining with themed menus. One highlight is the gingerbread house in the lobby of Disney's Grand Californian Hotel & Spa. Designed to resemble the exterior of the hotel itself, the gingerbread house stands 7.5 feet high and 12 feet wide. Holiday snacks, cider and hot chocolate are sold from a window in the gingerbread house.
Information: Disneyland.com, (866) 43-DISNEY