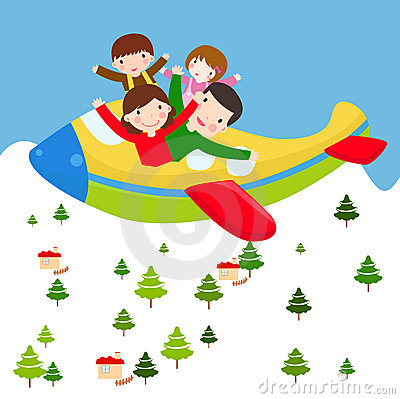 It's going to be a good year for travel agents if selling air tickets is part of their business model. ARC, the financial settlement link between airlines and travel sellers, has reported that the consolidated dollar value of airline tickets sold by U.S.-based travel agencies increased 2.83 percent* year-over-year in the first month of 2014 compared to the same period last year. Those numbers total out to $7.84 billion vs. $7.62 billion in 2013.
January 2014 ticket transactions increased 0.14 percent over the same period in 2013 to 13.3 million. Year-to-date passenger segments increased by 2.1 percent to 28.5 million compared to 27.9 million in 2013.
Those numbers may yet get another boost from the upcoming Spring Break as college students and families across America prepare to go on vacation. No matter where people are flying this year, there are good deals and dud deals to be found. New research from Fly.com has identified the best and worst destination deals for travelers still looking to purchase flights for the mid-term getaway.
This year, average roundtrip airfares for many popular spring break destinations dropped in price compared with 2013. However, travelers flying out of Boston and Columbus can expect to see an overall 1%-2% price increase to destinations from their city. The largest fare hike was 39% from Boston to San Juan, Puerto Rico, where the average roundtrip flight costs $406 this spring.
"Students and families need to make smart, informed decisions if they want to save money on airfare this spring," said Warren Chang, vice president and general manager, Fly.com.  "Sticking with last year's destination may not add up.  On the East Coast, we are seeing tremendous value from destinations like Las Vegas, Cancun and West Palm Beach and, for West Coast travelers, flights to Hawaii are trending significantly lower than last year."
Fly.com used data collected from more than 4.75 million user searches and extracted domestic and international flights with travel dates between March 1 – April 6, 2014, for major college towns in California, Massachusetts, Michigan, New York, Ohio, Pennsylvania and Washington, D.C.
Boston:
2014 Top 10 Routes

Avg. Fare

YOY Fare Change

1. Orlando

$279

9%

2. Fort Myers

$261

-11%

3. Fort Lauderdale

$277

-5%

4. West Palm Beach

$220

-21%

5. Tampa

$262

-5%

6. Las Vegas

$363

6%

7. Miami

$352

6%

8. Chicago

$199

1%

9. San Juan, Puerto Rico

$406

39%

10. Oranjestad, Aruba

$492

-2%
Columbus:
2014 Top 10 Routes

Avg. Fare

YOY Fare Change

1. Las Vegas

$386

0%

2. Orlando

$342

-3%

3. Fort Lauderdale

$367

5%

4. Fort Myers

$361

1%

5. Tampa

$343

2%

6. Miami

$356

-8%

7. Phoenix

$409

8%

8. San Diego

$537

13%

9. Cancun, Mexico

$511

-17%

10. Honolulu

$880

9%
Detroit:
2014 Top 10 Routes

Avg. Fare

YOY Fare Change

1. Tampa

$462

-13%

2. Miami

$369

-8%

3. Los Angeles

$350

-9%

4. San Diego

$388

-15%

5. New Orleans

$358

27%

6. New York City

$171

-26%

7. Cancun, Mexico

$478

-2%

8. Salt Lake City

$396

-11%

9. West Palm Beach

$338

-19%

10. San Antonio

$420

-1%
Los Angeles:
2014 Top 10 Routes

Avg. Fare

YOY Fare Change

1. Honolulu

$438

-21%

2. Las Vegas

$141

-7%

3. New York City

$329

-6%

4. Seattle

$183

-21%

5. Miami

$395

18%

6. Kahului, Maui

$601

-12%

7. Lihue, Kauai

$617

-1%

8. London, U.K.

$861

-5%

9. Los Cabos, Mexico

$389

9%

10. Fort Lauderdale

$358

2%
New York City:
2014 Top 10 Routes

Avg. Fare

YOY Fare Change

1. New Orleans

$298

-2%

2. Las Vegas

$358

-10%

3. Miami

$301

0%

4. Fort Lauderdale

$264

-8%

5. San Juan, Puerto Rico

$361

-4%

6. Paris, France

$761

-9%

7. Cancun, Mexico

$441

-21%

8. Los Angeles

$333

-14%

9. Punta Cana, D.R.

$485

-18%

10. Guayaquil, Ecuador

$566

-11%
Philadelphia:
2014 Top 10 Routes

Avg. Fare

YOY Fare Change

1. Las Vegas

$207

-40%

2. Orlando

$266

-19%

3. Dallas

$135

-66%

4. Fort Lauderdale

$288

3%

5. Miami

$303

-5%

6. Tampa

$284

7%

7. New Orleans

$354

32%

8. Fort Myers

$288

-15%

9. Los Angeles

$319

-1%

10. San Diego

$338

-5%
San Francisco:
2014 Top 10 Routes

Avg. Fare

YOY Fare Change

1. New York City

$318

-11%

2. Honolulu

$507

-14%

3. Las Vegas

$210

4%

4. Fort Lauderdale

$391

-4%

5. Shanghai, China

$713

-22%

6. Miami

$451

0%

7. Cancun, Mexico

$497

-17%

8. Los Angeles

$159

-2%

9. Denver

$200

-22%

10. New Orleans

$464

-3%
Washington D.C.:
2014 Top 10 Routes

Avg.  Fare

YOY Fare Change

1. Tampa

$194

-23%

2. Las Vegas

$331

-23%

3. Fort Lauderdale

$317

26%

4. Miami

$321

9%

5. San Juan, Puerto Rico

$377

7%

6. Lima, Peru

$573

-13%

7. New Orleans

$271

-11%

8. Cancun, Mexico

$438

-23%

9. Orlando

$269

-36%

10. San Diego

$285

-32%
Similar Stories: