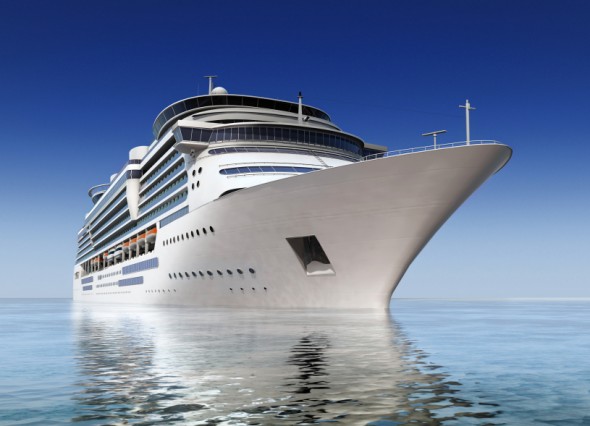 A record 16.3 million global passengers went on a cruise in 2011. And that figure is likely to increase for 2012. To that end, cruise lines are rolling out the programs, itineraries and improvements that will make cruising even more coveted as the ideal way to travel going forward.
Here's a smattering of what's new and noteworthy for cruising as we approach the downside of the 2012 curve and 2013 ahead.
Sometimes a cigar is not just a cigar, and in the case of the luxury brand's fifth stylish Solstice Class ship, a shower is not just a shower. The line unveiled its new "Reflection Suite" last month and in it is an all-glass shower extending out over the edge of the ship.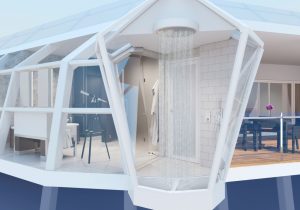 The 1,636-square-foot Reflection Suite with 194-square-foot veranda is Celebrity's first two-bedroom suite, and it comes with a cargo of amenities, including that distinctive sea-view bathroom and the line's hallmark round-the-clock European butler service.
The Reflection Suite is adjacent to the brand's five new "Signature Suites," each offering a 441-square-foot stateroom area and 118-square foot veranda, with floor-to-ceiling windows and veranda doors, all designed to maximize the stunning views of the sea. Celebrity's Signature Suites each can accommodate up to four guests.
The entire area housing the Reflection Suite and Signature Suites can be accessed only by a special cardkey, all svislsblr for buyouts, if desired, so that a family or other group of up to 26 guests can enjoy a private, six-suite sequestered cruise vacation experience.
Celebrity Reflection enters service October 12, 2012, on a nine-night European cruise from Amsterdam to Barcelona.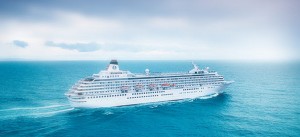 Wine and food fans will get an immersion into Australasian and Balinese cuisine early next year when Crystal Cruises kicks off its wine & food-themed series January 17 from Australia.
A cadre of experts will teach complimentary cooking lessons, hands-on recipe instruction, wine tasting, cocktail-mixing classes, and special dinner menus that all showcase the area's exotic gastronomic treasures.  Presenters include:
Damien Pignolet – Sydney's renowned Modern Australian/French fusion chef and executive chef at Bistro Moncur restaurant.
Heinz von Holzen – Balinese cookbook author and owner of the island's only traditional, multi-award-winning restaurant and cooking school, Bumbu Bali.
Greg Doyle – Former Australian Restaurateur of the Year and Owner of Pier, one of Australia's finest seafood restaurants and a Sydney institution.
Cameron Douglas – New Zealand's first and only Master Sommelier.
Connoisseurs can also indulge in optional, intimate Vintage Room dining experiences, offering multiple courses paired with extraordinary wines.
The 12-night voyages explore the culinary centers of Australia and New Zealand, from the renowned wine regions of South Australia and Wellington to New South Wales' fine dining and Northern Territory's outback pubs. The January "Koalas and Kiwis" itinerary looks at Brisbane, Newcastle, and Sydney (overnight), before sailing through stunning Milford, Doubtful, and Dusky Sounds en route to Dunedin, Christchurch/Lyttelton, Wellington, and Auckland, NZ.  The February "Reefs and Rainforest" voyage overnights in Sydney before venturing north through the Great Barrier Reef, Brisbane, the Whitsunday Islands/Hamilton, Cairns, Darwin, and Benoa/Bali.
All-inclusive rates start at $3,520 and $3,890, respectively, per person, double occupancy, with up to $3,000 in "Book Now" savings off a 2-for-1 fare that expires August 31.  Three additional Wine & Food-themed voyages are also scheduled for May, July, and November 2013, in other regions.
The Silver Whisper launches its 115-day world cruise from Los Angeles January 5  with the bang of Champagne opened at the Peninsula in Beverly Hills the night before. Those who want to cruise in full or in part will get a chance to experience some wonderful overland tours and excursions along the way that complement the cruise itinerary in luxury and theme.
Silversea has seven optional mid-voyage land adventures making their debut that showcase the local culture of each region in single and multi-day trips starting at $999 per person, double.
Outback Odyssey – Guests venture into one of Australia's most remote areas known for rugged beauty and the enduring symbols of Ayers Rock. This five-day/four-night program is offered from Adelaide on February 8. 
Discover Laos – Guests explore the country's charming capital, Vientiane, and temple-filled Luang Prabang, a UNESCO World Heritage Site with a backdrop of scenic mountains. This two-night program departs from Ho Chi Minh City on March 2.
River Kwai & WW II Memorials – A visit to Kanchanaburi brings scenic and serene natural beauty. But for many travelers the draw is the Second World War and the world famous River Kwai Bridge, commemorated in numerous books and films. This one-night program is offered from Bangkok on March 4.
Myanmar: Golden Pagodas & Ancient Temples – Guests get the chance to venture into Myanmar, only recently opened for tourism and still difficult to visit without an organized tour or special arrangements. They visit the exotic capital Yangon, with its magnificent Shwedagon Pagoda, and take a trip to ancient Bagan. This three-night adventure leaves from Bangkok on March 4.
Kandy by Chartered Sea Plane – Guests journey by private air taxi into the center of the Kandy plateau to explore the last royal citadel of ancient Ceylon. Surrounded by hills and dense jungle, Kandy is the cultural heartland of Sri Lanka. This full-day adventure is offered from Colombo on March 15.
Pumba Private Game Reserve & Safari Lodge – This is where the wild things are. The safari adventure in the heart of the Eastern Cape in South Africa is known for its beauty and abundance of wildlife, including the Big Five and more than 250 species of birds. This two-night adventure is starts from Richards Bay near Durban on March 31.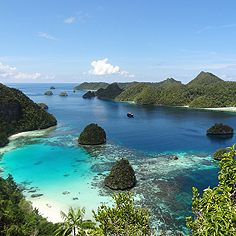 Amanresorts' custom-built, 105-foot Amanikan coastal cruiser in Indonesia will launch the new Raja Ampat Expedition this fall, taking guests on five-or seven-night adventures (from November 15, 2012 through February 27, 2013) through one of the world's most exceptional marine areas.
The Ampat area encompasses nearly 25,000 square miles in the northeast seas of the Indonesian Archipelago, where scuba divers can see more than 1,300 species of fish, 603 species of hard coral (including 75% of all known coral species in the world), 57 species of mantis shrimp and 15 mammal species.
Above water, these tropical islands are home to karst forests of rare orchids, sea eagles, tree kangaroos and the famed birds of paradise. Gam Island is usually the first to be visited, the setting for two exceptional dive sites, while Yangello Island offers unspoiled beaches and mangroves through which guests can kayak, as well as the action-packed dive site known as Mayhem and the colorful coral wall of Citrus Ridge.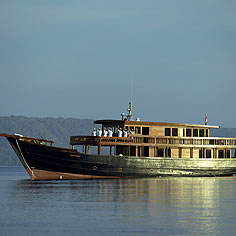 Seven-night itineraries also include stops in Aljui Bay where guests can visit the pearl farm and see the newly discovered "walking shark" on a night dive.
The Amanikan has three luxury cabins with king-sized beds and en-suite bathrooms — ideal for private cruises for one, two, or three couples, or a family, and supports a crew of ten, including a dive instructor and a private chef.
The Raja Ampat Expedition deoarts from Sorong, Irian Jaya (accessible by air from Bali, Singapore, Jakarta or Makassar) on 14 trips from November 2012through February 2013. Rates range from $33,500 for one couple on the five-night expedition to $50,600 for three couples on the seven-night journey. Rates include all food and non-alcoholic beverages while aboard Amanikan, as well as all dives, airport transfers, trekking, beach excursions, speedboat tours, kayaking and national park entrance fees.
Uniworld Boutique River Cruises
New destination, new ships, and new itineraries are all part of Uniworld Boutique River Cruises' additions for 2013 and 2014. In 2013, Uniworld will be the only North American river cruise line to offer river cruising in Italy, along the Po River and the Venice Lagoon. The Splendors of Italy combines a seven-night river cruise with a two-night land stay in Florence and three nights in Rome. There is also a cruise-only option for eight days: Venice & the Po River.

var _gaq = _gaq || []; _gaq.push(['_setAccount', 'UA-31024633-1']); _gaq.push(['_trackPageview']);
(function() { var ga = document.createElement('script'); ga.type = 'text/javascript'; ga.async = true; ga.src = ('https:' == document.location.protocol ? 'https://ssl' : 'http://www') + '.google-analytics.com/ga.js'; var s = document.getElementsByTagName('script')[0]; s.parentNode.insertBefore(ga, s); })();
Also in 2013, Uniworld introduces its latest luxury build, the Queen Isabel to sail the Douro River in Portugal. The Queen Isabel will have a more classic Old World style and elegance similar to Uniworld's other ships in Europe.
For travel to Asia, Uniworld has two new luxury ships in China: Century Legend and Century Paragon, on the Yangtze; and in Vietnam, the new River Orchid on the Mekong.
Looking beyond 2013, two new river cruise ships: the S.S. Alexandra and the S.S. Catherine, launch in spring 2014. The S.S. Alexandra, the sister ship to the S.S. Antoinette, will sail along the Rhine, Main, and Danube rivers; and the S.S Catherine, fashioned after Uniworld's River Royale, will sail in France.
Uniworld specializes in high-end boutique ships with an average capacity of 130 guests. The river cruise line runs over 500 annual departures sailing on over 13 rivers in more than 20 countries throughout Europe, Russia, Egypt, China, Vietnam, and Cambodia.
Wind Star, one of three sailing yachts in Windstar Cruises' fleet, has recently completed a stem to stern renovation as part of an $18 million fleetwide upgrade, bringing a modern, casual elegance to the brand's landmark cruise experience. As part of the $18 million fleet-wide renovation, Wind Star was the first yacht to receive redesigned staterooms and owner's suites and enhanced public areas.
Wind Star's decor was updated with new furnishings, upholstery, art, lighting, wall coverings, carpeting, ceiling finishes, window treatments, and floor coverings. The Restaurant was transformed into a whole new dining experience with a redesigned seating layout, and state-of-the-art wine display and new Continental menu. There's also a new buffet and expanded outdoor dining and seating mid-ship among the public space enhancements.
Windstar Cruises operates three sailing yachts tagged with a "pampering without pretense" motif.  The ships have the ability to visit hidden harbors and secluded coves and stay out of the fray of crowded cruise terminals. The vessels carry between148 to 312 guests, cruise to nearly 50 nations, and call at 100 ports throughout Europe, the Caribbean and the Americas.