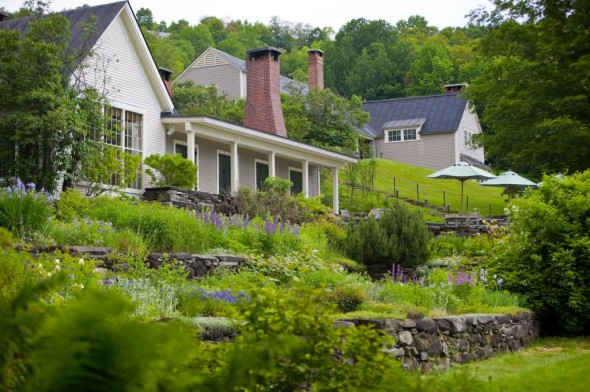 The best of Vermont may be contained in its seasons. Who could argue the bliss of being kissed by the sting of cool fall air in a place where the turn of maple leaves sets the land on fire and the steam of warm cider claims the soul?
Some would argue the best of Vermont is found in its quaint ski lodges and mighty mountains that stay white well into spring. But for Twin Farms, a resort to consider when a five-star hotel is not enough, the best of Vermont can be tapped in every season — and especially in summer.
A visit to Vermont is that much sweeter when hubbing at Twin Farms. You can enjoy the gourmet and "beyond inclusive" benefits of an exclusive Vermont resort and explore the Green Mountain State slowly – one small mountain town at a time, one festival or fair at a time, one covered bridge or antique shop at a time.
Twin Farms, a member of the exclusive Kurtz-Ahlers collection,  is a rare find when it comes to Vermont resorts. Only 20 rooms, suites and cottages dot 300-acre grounds and each possesses its own exquisite style.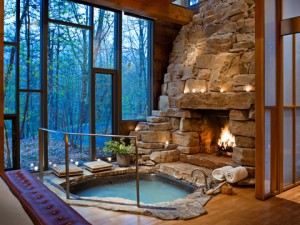 These range from Moroccan fantasy to country log cabin to walled glass  — all stocked with world class art and serving as a canvas for interior designers to run wild. To every room: a fireplace, a spacious tub set by a window view, a magnificent feather bed, a fully stocked refrigerator.  Of course standard amenities for this resort include just about every need and want. Complimentary extends to Wi-Fi, same-day laundry, worldwide phone calls, hand-blended bath products, handmade confections, even packing and unpacking services. A good book by a crackling fire? Done. Glass of brandy with that after-dinner game of chess? Check.
Food is included in the many bennies of being at Twin Farms and it is done exceedingly well. No ingredient goes unexamined — guests get an ingredients questionnaire and preference list before arriving. Menus are then customized according to the guest – not what the chef feels like making – and presented with paired wine picked from the resort's 20,000-bottle cellar. For lunch, consider a Barnard blueberry crumble with a ginger beer float garnished by a freshly picked (and edible) nasturtium flower. Feel like a glass of premium Champagne? Let the wine director open it for you – with a saber.
To shake off the ongoing food coma there's hiking, biking, canoeing, and in the winter, snowshoeing and cross-country skiing amid Twin Farms' expansive trails. Also in those woods find a sensual Twin Farms secret: a Japanese furo. Made of wood and glass. This is a traditional large soaking tub filled with 104-degree water and simply heaven in cooler weather or when the snow is falling on your shoulders.
Rates at Twin Farms start at $1,260-1,400 (off-peak vs. peak. Peak means weekends, holidays, fall foliage season) per night per couple, inclusive. Transfers from airports in Burlington (75 minutes away), Lebanon (two hours away) and area private airports are complimentary.
Twin Farms
Barnard, VT 05031
(800) 894-6327
www.TwinFarms.com
Things to Do in Vermont During the Summer Season
But Vermont in the summer is a sensation unto itself. County fairs, dressage and horse competitions, mountain music festivals and fabulous farmers markets turn a stay at Twin Farms, with its central location convenience, into a slice of north country paradise, full of history, quaint surprises and rare experiences. Here is a rundown of "do's" around the state.
Middlebury Summer Festival-On-The-Green
Dates: July 7-13
Where: Middlebury
Deerfield Valley Blueberry Festival
Dates: July 26-August 4
Where: Jacksonville, Whitingham, Wilmington, Dover, Wardsboro
Vermont Festival of The Arts
Dates: August 1 through Labor Day Weekend
Where: Mad River Valley (Waitsfield, Warren, Fayston, Moretown, Middlesex, Granville, Rochester)
Summer Dog Party on Dog Mountain
Dates: August 4, 12-4 pm
Where: St. Johnsbury
Lake Champlain Maritime Festival
Dates: August 16-18
Where: Burlington
Vermont State Fair
Date: August 30-September 8
Where: Rutland
18th Annual Southern Vermont Garlic & Herb Festival
Date: August 31-September 1
Where: Bennington
New World Festival at Chandler
Date: September 1
Where: Randolph
Killington Hay Festival
Date: September 2 – October 14
Where: Killington
Tunbridge World's Fair
Date: September 12 – 15
Where: Tunbridge
For a complete list of Vermont things to do, including Fairs and Events, visit: VCChamber.com and VermontVacation.com.
Vermont's Best: Summer Fests and Staying at Twin Farms