Travel to Myanmar, a tough place to visit by any stretch, just got a little tougher. Travel to Myanmar (Burma) is hot in any situation but a mass forced exodus of an entire minority population of Muslim nationals known as the Rohingya people is attracting a lot of attention and causing trip cancellations.
Myanmar Tourism, the official tourism arm of the Government of Myanmar, issued this alert this week, suggesting its concern for the displaced populations and its hope to keep an international pipeline of tourists flowing into the country despite these events.
"We continue to believe that tourism is a good way to connect people and to bring development and peace all over Myanmar for everybody from any race or religion and we do call to tourists all over the world to continue visiting Myanmar. Especially now it's important to make conscious decisions and choose to support everybody in the country. Please do visit Myanmar in a sustainable way to support people from all communities," the release noted.
Myanmar is an ethnically diverse nation of people living peacefully together. MTM realizes that tourism in Myanmar is still in its infancy and can only reach a limited number of areas and people, yet it is important to continue developing and expanding sustainable tourism in the country.
Up till very recently Myanmar often was at the bottom of many worldwide rankings and the last years have shown a steady climb and improvement on many fronts for many people. By far, the country has not reached its full tourism potential and still has a long way to go…"
The ministry provided an up to date "safe" map for travelers and travel planners to consult.
Still, Myanmar maintains a steady growth in popularity. In fact, this destination is so in demand that hotel accommodations have to be wrangled by tour operators far in advance. New luxury hotels and river cruises are on the rise, however, in an effort to reach the growing demand. Three new Hilton hotels will be opening by 2020 (Bagan in 2019 and Inle Lake in 2020), and as soon as November of this year in Mandalay. Statistics show a 23 percent increase in tourist arrivals from April to July 2017, over last year, bringing the total number of visitors to 1.06 million over the first four months of fiscal year 2017-18.
For the open and curious traveler, travel to Myanmar is one of the most rewarding travel experiences to be found. Its beauty is immense and often stunning, food an interesting melange of spices infusing tastes of both southeast Asia and India, and its people, new to the presence of foreigners, are interested and friendly.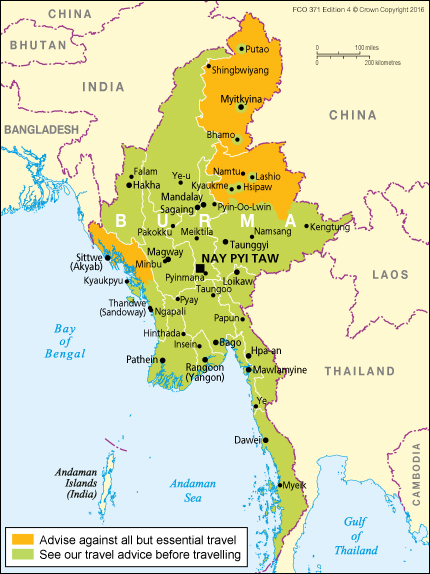 For those looking to explore the more than 1200 miles from Myanmar's southern tip to northern borders, here are some tips – Dos and Don't on seeing Myanmar, the land formerly known as Burma.
Sunrise balloon ride over Pagan
No Burma tour would be complete without seeing the myriad pagodas and temples of Pagan and what better way than in a hot air balloon at sunrise. The Pagan Archaeological Zone is one of the country's top attractions, covering an area of 67 sq km. Tea and coffee are served while the crew prepare the balloons and a light champagne breakfast is served on landing. Now, balloon rides over Inle Lake are also available, depending on what tours operators you choose.
Morning in Moulmein
The country's third largest city was once a busy seaport and the administrative capital of British Lower Burma known as 'Little England'. Today it is a pleasant and quiet town with a rich history lying off the normal tourist trail. Plenty of colonial-style architecture can still be seen, along with brilliantly colored mosques, built for Indian immigrant workers decades ago. Moulmein is also home to Burma's first Baptist church.
Kicking Back in Kalaw
Located between Mandalay and Inle lake, Kalaw was a popular hill station during the British rule and remains a peaceful place to relax and explore the surrounding countryside. At an altitude of 4,330 feet, temperatures are pleasantly cooler offering wonderful hiking opportunities through rugged mountains and bamboo groves to remote hill tribe villages. Kalaw has a charming and quaint atmosphere created by its unique mix of ethnic tribal minorities, Burmese, Nepalese and Indians.
Lingering at Ngapali Beach
Burma's most famous beach, on the shores of the Bay of Bengal, has two miles of palm-fringed white sand. Still maintaining its fishing community, there are charming villages nearby that are waiting to be explored, and almost deserted offshore islands that can be visited. Rumor has it the beach was named many years ago by a homesick Italian sailor from Napoli.
Precarious Perch at the Golden Rock Pagoda, Kyaiktiyo
According to legend, the golden rock is precariously perched on a strand of the Buddha's hair, seemingly defying gravity in its permanently precarious perch in position to be rolling down the hill. Situated at the top of Mount Kyaiktiyo, it is the third most important Buddhist pilgrimage site in Burma after the Shwedagon Pagoda and the Mahamuni Pagoda. The Golden Rock Pagoda is built on the top of the granite boulder and covered with gold leaves, which are pasted on by the flow of devoted pilgrims. A glimpse of the 'gravity defying' golden rock is believed to be enough of an inspiration to turn anyone to Buddhism.
Slow Boat to Mandalay by River Cruise
Lined with ancient palaces and pagodas, the fascinating Irrawaddy river has stirred the imagination of some of the world's greatest writers including George Orwell and Rudyard Kipling. There are a variety of boats that cruise the river, ranging from smaller traditional Burmese boats to the two luxurious Orient-Express boats, which sail to the remote villages and ancient monasteries in the north of Burma.
Don't Do This in Burma
The Road to Mandalay may be lined with heavenly beauty but it is also fraught with hellish peril if you do not obey the rules – and the rules are mostly this simple: Do Not Do Anything to Disrespect the Religion.
That religion is Buddhism. And while the nature of the Buddha is to be tolerant, patient and forgiving, the Burmese people will demonstrate anything but those qualities if they perceive transgression or disrespect, not matter what color passport an offender is holding.
As recently as this year, a Russian woman was arrested and sentenced to six months of hard labor in a Myanmar prison for wearing shoes inside sacred shrines. Now it must be noted that patience was tested. She was given ample warning and asked to remove her shoes at these pagodas. Eventually the Burmese police had to get involve and inform her she was in violation of Section 295 of the country's penal code: remove the shoes or else. According to Australian news reports, she chose the "or else."
The charge can warrant a jail term of up to two years plus a fine. When the perp refused to pay the fine, the judge sentenced her to only a month in prison. But that term did not take in to consideration that she was also in violation of Section 13(1) of the Immigration Act, which lists the customs and traditions tourists must follow while in Myanmar. For that, she received the minimum sentence of six months in prison with hard labor. A maximum sentence is five years.
Other tourist violators have met with equally harsh consequences in the past few years. In 2016, it was reported that a Dutch tourist trying to sleep off jetlag in a hostel in Mandalay, took action when a nearby Buddhist center began broadcasting devotionals from a loud speaker. The tourist found the speaker and unplugged it so he could get some rest and was quickly apprehended, found in violation of one of the country's move coveted laws and sentenced to three months of hard labor in a local prison.
In 2015, a New Zealander was sentenced to six months of hard labor for distributing flyer of a psychedelic Buddha wearing headphones in an effort to promote drinks and tapas at a local bar and lounge. That means covering up the Buddha tats and hiding offensive cartoons.
Other words of advice: don't point with your foot; don't touch anyone on the head; don't call out for someone while pointing your finger upward; don't disturb a person in prayer or meditation; never touch a monk's robe; and don't kiss in public.
While Myanmar may be otherwise safe, and is always a site to behold, the world waits for resolution during this humanitarian crisis. The current government's peace is a fragile one dependent on a military government that remains hesitant to step into the 21st century.
Related articles: