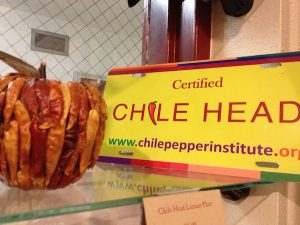 Quirky Las Cruces, New Mexico is preparing for a veritable deluge of space tourists who will make the small city of about 100,000 people their hub when the futuristic, Disney-built visitors center opens at Spaceport America next year.
What those visitors will find is a quaint, agricultural town with a fabulous weekend Farmers Market creating a veritable oasis in a desert full of sage brush and scrub – and national defense weaponry.
The contrasts are what keep Las Cruces going, as tourist hubs go. Where else can you see – and touch – casings from V2 rockets? Where else can you find a desert of dunes as white-pure as snow that expand for miles and miles in every direction? Where can learn everything there is to know about chilies in an academic setting? Or visit a  living 150-year-old adobe village that has changed little in the intervening years except for the taking on of several ornery ghosts? There are wineries to be visited, too, as Las Cruces is home to the oldest wineries in the country – given the fact that it was a spot on the Royal Road that took conquistadors from Mexico to Santa Fe.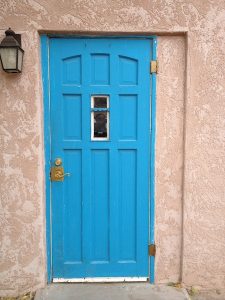 As the gateway to Spaceport America, Las Cruces will be the place where people stay as well as play. For the top hotel in town, it is the El Encanto. Charming as a Heritage Hotel, it offers the Spanish tiling and ornate fountain work one sees in hacienda designs and although the rooms are a bit dated and leaning into the three-star category, the property is more centrally located than most and is but a block from the largest shopping mall in town and its Barnes & Noble. Rooms average about $120 a night and those rates can usually garner an upgrade. Other hotels, less well located, run the field of Holiday Inn Express, Fairfield Inn, Hampton Inn and the like, although clean, comfortable, well-serviced and delivering in welcomed amenities, such as free coffee and mini breakfast buffets.
For attractions, there are several musts in the area that turn into very surprising, if not brag worthy, experiences.
White Sands National Monument has a great visitors center that offers an informative film, fun and practical notions, and then either self-guided or ranger guided walks into the shifting gypsum dunes that make this area so striking. The sand is hard, cool, pure and there is life in the desert here — and sometimes old WWII unexploded ordinance as well. Trails are marked with interpretation and usually it is possible to see and hear testing happening from the Missile Range nearby, which shares the 275-mile expanse with the park. (Visit: www.nps.gov/whsa)
Because this is government territory, all who enter this area that is some 45 minutes from Las Cruces, have to carry photo I.D. through the guard points, although checking is rare.
Also in the general area is the White Sands Missile Range Museum, an odd amalgam of WMDs over the decades. It features an outdoor display of more than 50 rockets and missiles once tested on the missile range including the huge Redstone, the Nike family of missiles and several Navy sounding rockets, as well as a restored V-2 rocket. (Visit: www.wsmr-history.org).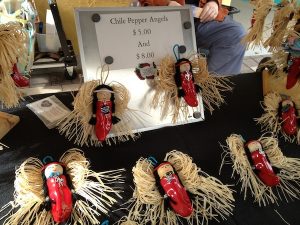 For shopping, the Saturday Farmer's Market in the center of town (or Friday market in nearby Mesilla) cannot be beat for off-beat items such as tin can puppets, bullet jewelry, dog bandanas, artfully crafted earrings, handmade quilts, saint paintings and home-fangled remedies for restless leg syndrome and migraines. Lots of locally grown greens and homemade confections (try the various offerings of peanut brittle habanero for a kick!) to try in a festive street bazaar that goes on for several blocks. Those blocks pass the city's art museum and cultural center that have several ongoing and temporary exhibits on view for free. And they also pass Las Cruces' mini version of The Strand, a bookstore of pre-owned and well organized collections that go on for several winding rooms and storefronts along Main Street.
Perhaps a mile away is New Mexico State University, surrounded by area art and notion galleries and a good place to learn about chilies. Las Cruces is known for pecans and chilies and The Chile Institute at the university has made a science of the chile pepper. It has measured the heat of more than 150 varietals in "SHUs" (Scoville Heat Units, a scale measuring the spicy fire of these peppers). A large demo garden offers a guided tour that tells the whole tale of the capsicum family – from the mildest green bud to the fiery habanero, followed by a tour of the gift shop where you can buy recipe books, pepper spray, chili art and hot brownie mix.  (Visit www.chilepepperinstitute.org)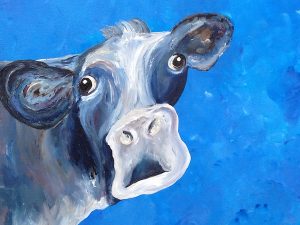 For those who would be farmers or just want to show their families that cows do not grow on milk cartons, New Mexico Farm & Ranch Heritage Museum brings just the right touch of reality. It's an interactive museum chronicling 3,000 years of New Mexico's farming, ranching and rural life through museum-quality exhibits, live demonstrations and storytelling (want to know how to shoe a horse, forge a nail or carve a saddle?), live and occasionally pet-able farm animals, and great grounds for meetings and events. Crawl over tractors, taunt irritable bulls, it's all done here. (Visit: www.nmfarmandranchmuseum.org)
But a visit to Mesilla, a friendly, old and preserved and still living adobe homestead from the early to mid 1800s, is a must for any stay in Las Cruces. The town of 3,000 or so souls is just a few minutes down the highway from Las Cruces but miles away in color and history.  A one-hour walking tour with Preciliana Sandoval, a fifth-generation native historian is all the intro one needs. She comes to the task laden with bandoliers as was the habit of her "shero," Adelita, a soldier in Pancho Villa's army who always carried four pistols and 400 rounds. Preciliana tells all the stories: what happened at the brothels, the burnings of the church (which stands rebuilt in the central plaza surrounded by signs for suddenly pregnant and unwed mothers to be), where the ghosts are and how they became ghosts, and, of course, the meanderings of Billy the Kid, who spent many a dark day in this town. She runs her tours daily at 10 am, reservations required for $7 to $15 per person depending on group size. (Call 575-647-2639).
For dining, Mesilla is the place to be for good food in highly quirky surroundings. La Posta is where to go for fabulous Mexican cuisine and all manner of Margaritas (try the habanero or the pomegranate). The building is one of the town's original adobes and was always a restaurant. The lobby is stocked with weird wildlife: several species of screeching parrots and mina birds and a seemingly blind piranha in the fish tank. Lots of nooks and crannies here throughout, salons for dining and colorful lounges for conversation. (visit: www.laposta-de-mesilla.com)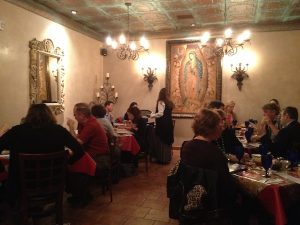 For fine dining, the choice is also in Mesilla at the Double Eagle. Known for its aged steaks and gourmet menu it's an experience in dining as well as ambience – as this place is truly haunted. The adobe is more than 150 years old and was the biggest in the town in its time. The rooms are chock full of odd European antiques from an era when an oil magnate bought the property in the '70s, let a garish decorator go to Europe and go wild, and turned the domicile into a restaurant. Everything about this place is right out of something Disney might have conceived when building its  legendary haunted house ride. And there are spooked rooms in this place (guest are free to wander) that prove out the stories that go with them. (Visit: www.double-eagle-mesilla.com)
Finally, to give the area's pecans their due, dining De La Vega's Pecan Grill and Brewery back in Las Cruces is a lot of fun. It offers twelve specially brewed craft beers and one of those choices is its famed pecan beer, which leaves the spirit of the mighty pecan all over one's palate. Menu favorites include green chili chicken lasagna. (Visit: www.pecangrill.com).
For more information on Las Cruces, visit: www.lascrucescvb.org.
Get there: the closest commercial airport is El Paso International Airport (ELP), located about an hour from Las Cruces off free flowing Interstate 10.