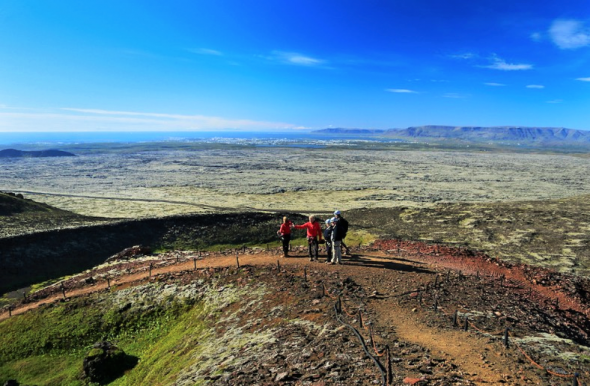 From blowing out birthday candles in a volcano to meeting the Principle of Elfschool, heli-skiing on a honeymoon or planning the perfect proposal, Icelandair will more or less stop at nothing to give passengers their dream with its new Celebration Stopover Campaign.
Experience-hungry travelers are seeking out unique activities yet are more time pressured than ever to plan their great trips. A New Celebration Stopover Buddy service helps with that problem by rounding up members of Icelandair's airline team, and matching them up to passengers for the ultimate personalized experiences while stopping in Iceland enroute from the U.S. to points east.
The Buddies are all local experts who not only know the lay of the land but have brilliant connections to other locals in efforts to maximize time and savings. Passengers stopping over can request a Buddy for free as a local party planner to help arrange a bespoke celebration on your transatlantic stopover or enlist a Buddy to take them to a secluded island for gazing at the Northern Lights; or partaking in a 'Viking clap' made famous at EURO 2016 in a local football match. Or celebrate 'Beyond the Wall' with a Game of Thrones expert – Icelandair's Buddies are up to the challenge
The catch? You have to be celebrating something – a birthday, an anniversary, a proposal, a graduation.
"Travelers are seeking local, unique and personalized adventures in an experience economy," says Birkir Hólm Guðnason, CEO at Icelandair. "Our Stopover Buddy service focuses around celebrations, and we are able to help passengers create unforgettable memories on an Icelandair stopover through our Buddies' local knowledge and connections. Our Buddies are passionate and friendly individuals who can not only help take passengers off the beaten tourist track but also educate them in local culture and responsible tourism."
The Buddies can also help introducce passengers to traditional festivities that brighten the winter months, such as the arrival of the Icelandic Yule Lads, the Winter Lights festival in Reykjavik and Annual Beer Day.
Icelandair has strong musical legacy with their festival Iceland Airwaves, which plays host this year to Björk. A passenger could be paired with a Buddy that could introduce them to that band for a jamming session, invite particiaption to a secret gig or take the lucky passenger to the hottest after party in town in a local's living room.
Earlier this year, the Stopover Buddy service was launched in response to global research highlighting people want to experience local culture and unique adventures over anything else whilst on holiday.
Over half (51%) of the respondents stated they are keen to mix with locals when abroad to have an authentic local experience and three quarters admitted to feeling embarrassed for looking like a tourist.
The Buddies are available for any Icelandair transatlantic passenger to enjoy through March 2017.  To request a Buddy and find out more visit www.icelandair.co.uk/Stopover-Buddy.
As noted in a previous article in Travel-Intel regarding airline stopovers, the popular airline allows passengers a free stopover for up to seven nights at no additional airfare. Reykjavik can be a fun and easy city to explore as the world's northernmost capital. Buddy or not, passengers are asked to bundle up, look up and dip down into divine thermal waters while there.