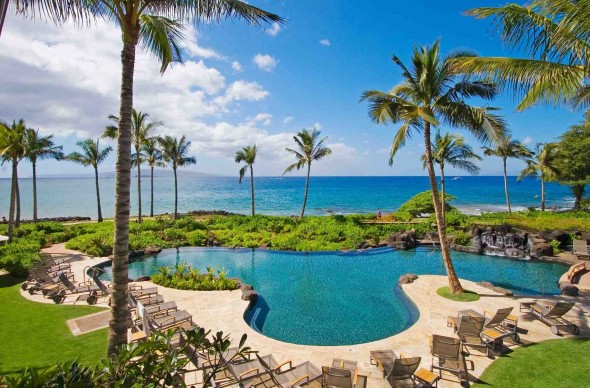 The orders are clear: must be warm, have a beach, have room service, great weather, and shopping nearby. Must be clean, uncrowded and possess a shimmer of luxury.
While this list could be the contents of a classified ad, or even an odd and desperate take on a personals blurb, it is neither.
It is Wailea Beach Villas along a heavenly strand of stunning Wailea Beach in Maui.
The best beaches in Maui go hand-in-hand with some of the best beach resorts in the world. But how many of those amazing tropical hideaways can boast a location within a five-hour flight from the US mainland?
Wailea Beach Villas can. The stylish resort of 98 private villas cradles a perfect swath of the softly pristine Maui coastline for a canvas of sunsets, whale migrations, palms bending to the cooling Trades and tropical rainbows that seem to reach all the way to China.
But it is usually all about the beach, especially when it's summer vacation or the winter holidays and the discussion turns on the best Maui beaches for kids. With Wailea Beach Villas*, every member of the family gets a share of the resort's comforting light.
It starts with the traditional lei, along with the cold plumeria-scented towels and the exotic fruity libations on arrival. Children, too, get a keiki greeting of their own and welcome gift. Then guests are escorted to their accommodations to find out just what their family vacation brings at Wailea Beach Villas.
There's a staff of personal chefs, attendant butlers, personal trainers, even nannies that attend in the nursery customized just for the baby's needs and wants.
Families come to Wailea Beach Villas to let their hair down, their guard down and spread out in opulent residences ranging from the 1,900-square-foot Penthouse Villa to three-bedroom villas of 3,100 square feet with private plunge pools. Interiors of light rattans and comfy sink-into furnishings also include all the must-haves for a family getaway: gourmet kitchens, marble bathrooms, 600 threadcount linens, the unexpected barbeque on the lanai.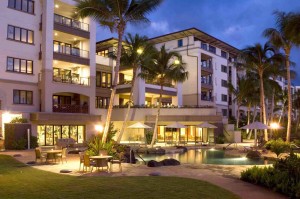 There is also complimentary Wifi, a seven-day concierge, nightly turn-downs, and exclusive room service delivery from Longhi's Restaurant (located at the adjacent Shops at Wailea).
But room service and those barbies on the lanai might not hold the light next to a private dinner for two or eight prepared by a private chef and consumed slowly, course by course, in suite on the terrace overlooking the ocean.
There are private scuba lessons to book, private in-room spa services or yoga for the whole family to consider. Family fun activities in Maui can be as involved as an all-day snorkeling and hiking trip to Lanai or as simple as family surf lessons steps from the room.
When even the beast beaches in Maui call for a break, two pools (one adults only) provide cool, crystal relaxation. The Shops at Wailea, an easy walk, present a refreshing flow of additional dining and entertainment choices. And golf, of course, can be accommodated through nearly four championship 18-hole golf courses.
The deal: Wailea Beach Villas offers Escape to Maui Rates through December 19 with a seven-night stay. Consider the Penthouse Villas, normally $1,225, are $799 per night. Wailea Beach Villas 3-Bedroom Ocean View Penthouse, normally $2,050, is now $1,099.
A bounty of special rates, packages and values for an impromptu Maui getaway can be found: Here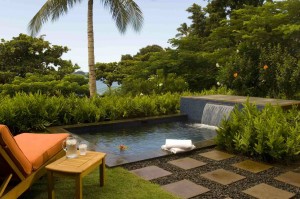 Wailea Beach Villas
3800 Wailea Alanui
Wailea Resort, Maui, HI 96753
(808) 891-6249
Email: [email protected]
Website: www.waileabeachvillas.com
* A member of the prestigious Kurtz-Ahlers collection