New God of the Nile? Call it the Viking Ra. As Egypt regains its popularity as a timeless tourism destination, Viking will be there with its new sun god of a cruise vacation choice. Viking Ra is the  newest addition to Viking's river fleet,
Recently acquired, the vessel has been stripped down to the steel to undergo a complete renovation that will reflect Viking's noteworthy Scandinavian design. Tailored to an intimate sailing experience for just 48 guests, Viking Ra will sail the Nile River on a new Egypt cruisetour, Pharaohs & Pyramids, that will launch in March 2018.
During the 12-day itinerary, guests will experience Egypt's cultural treasures in seven destinations. The cruisetour begins with a three-night stay at a first-class hotel in Cairo, allowing guests to visit the must-see sites such as the Great Pyramids of Giza, the new Grand Egyptian Museum and the Mosque of Muhammad Ali.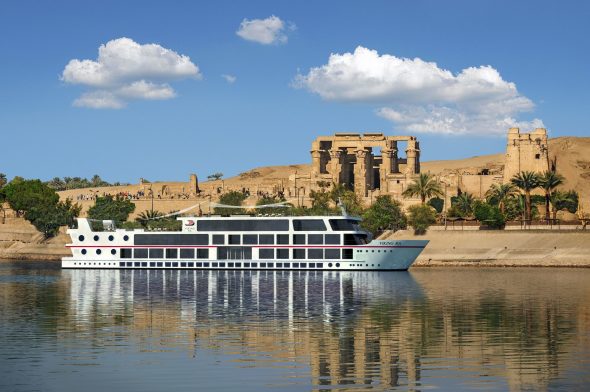 Guests will then fly to Luxor, where they will visit the Temples of Luxor and Karnak before boarding Viking Ra for a 8-day roundtrip cruise on the Nile River to Aswan. They will have featuring Privileged Access to the tomb of Nefertari in the Valley of the Queens and take excursions to the Temple of Khnum in Esna, the Dendera Temple complex in Qena. They will have the chance to visit a Nubian village and experience village life at a traditional elementary school. Finally, the journey concludes with a flight back to Cairo for a final night in the historic city.
Viking Ra Designed for Destination Cruising
The newly rebuilt, all-suite Viking Ra will contain 24 staterooms that to accommodate 48 Viking guests for an intimate cruising experience. Designed will incorporate local influences: traditional geometric Arabic patterns and terrazzo floors and all staterooms will feature:
All Suite Staterooms: The ship features three suite stateroom categories, each of 291 sq. ft., including 20 Veranda Suites with a full-size veranda in the living room and a French balcony in the bedroom. All staterooms include premium amenities such as a hotel-style bed, luxury linens, sofa, private bathroom with shower, air conditioning and flat-screen TVs.
Pool and Two Jacuzzis: In addition to two Jacuzzis, the ship features a pool at the back of the ship, allowing guests to swim surrounded by their destination. A sanctuary from the sun is provided by sculptural "sail-shades" inspired by local dhow ships and intricate mashrabiya-influenced screens surrounding the Pool and Sun Deck.
Spa: Specifically designed for Viking Ra, guests can relax in The Spa offering massage services and a variety of treatments.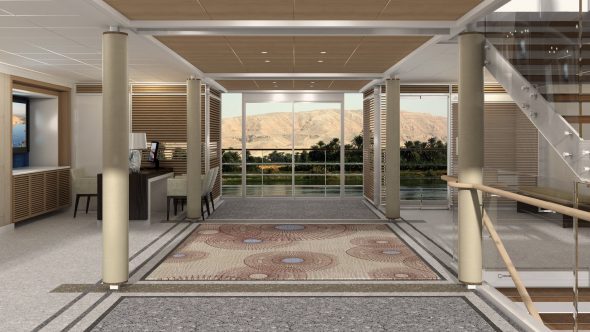 Onboard Dining, Bar and Lounge: Dine in The Restaurant, which serves three full meals and a selection of regional and international fare, then head to the clinker-built bar to share a cocktail with friends. During the day, guests can enjoy The Lounge to relax, take in the views through floor-to-ceiling glass doors or hear an informative discussion on the next destination.
Enriching Entertainment: Connecting guests to their destinations through authentic experiences is central to Viking's "thinking person's cruise." Instead of casinos and water slides, guests are offered Viking's Culture Curriculum®, which includes a Nubian evening event on board and a local experience riding a camel. Additionally, Viking's expert Egyptologist leads all excursions, sharing the archaeological and historical significance of the sites.
Viking Touch
The Viking Difference provides guests with extraordinarily well-designed cruises that bring them closer to the cultures of the world. Itineraries are designed for maximum time in port, often with late evenings or overnights, so guests can experience local culture at night or evening performances. The Viking Way brings guests itineraries that feature Local Life, Working World and Privileged Access experiences.
Related stories: