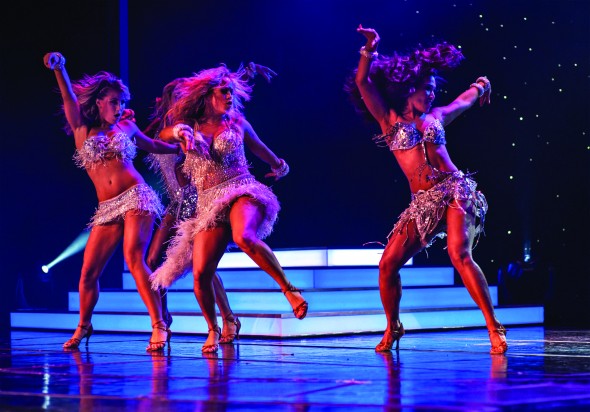 By David Yeskel
Doubling down on what has proven to be a big hit among passengers and agents alike, Holland America Line (HAL) is waltzing through the second year of its "Dancing with the Stars: At Sea" (DWTS) program.   And judging by my recent experience on a theme cruise aboard the ms Westerdam that featured cast members and stars from the ABC hit show, the marketing power and loyal fan following generated by the "Dancing with the Stars" juggernaut is a perfect match for HAL's 45-plus demographic target. 
In early 2013, Holland America introduced the DWTS tie-in with a series of shipboard events that focused on taking the line's then-subdued, onboard dance instruction program and essentially putting it on steroids. On every HAL cruise throughout the year, the entertainment team, aided by the ship's dance pros, runs several at-sea, combined dance lesson/competition events.  Open to any guest, the lessons are immediately followed by a competition that roughly follows the TV show's competitive format. As the contestants are winnowed down via a three-judge panel, four finalists get paired up with the pros, who then lead their charges through the increasingly-difficult choreography of a particular dance step. Based on awarded point totals and audience input, each sailing produces one overall winner, whose score is then compared with other winners to produce an overall ship finalist in October.  Each of the 15 individual ship finalists, along with their guests, are then invited aboard a complimentary Champions Cruise where they compete for the coveted mirror ball trophy as the Dancing with the Stars: At Sea Grand Champion.  DWTS dancers and stars travel on select theme cruises throughout the year, but the competition is featured on every sailing.
I didn't fully appreciate the appeal of the HAL-DWTS relationship, however, until I was exposed to the excitement generated on the theme cruise.  On my sailing, past-season stars Carson Kressley and Sabrina Bryan joined dance pros Emma Slater, Kym Johnson and Tristan MacManus to enliven the four dance lesson/competition events, where passengers learned, then danced, the Samba, Jive, Cha-Cha and Tango in the ship's jam-packed showroom.  The five celebs alternated as judges while also participating in other excellent DWTS-related onboard events, including a sexy poolside fashion show, a Q&A forum, a group photo op and an autograph session.  Passengers also enjoyed informal encounters with the group members, and Kym Johnson led a couple of well-attended, early-morning exercise classes.
But it was the feature production show – starring the aforementioned talent along with a troupe of six additional DWTS dance pros brought aboard – that wowed even jaded cruise veterans.  The fast-moving, expertly choreographed and dynamic performance, featuring a level of dancing talent not typically seen on a cruise stage, was the week's highlight event.  Bolstered by hilarious comic patter delivered by Carson Kressley, this was hands-down, the best show I've ever seen at sea.  And I wasn't alone in my thinking.  Many passengers, including die-hard fans who booked the sailing expressly because of the DWTS theme, were still buzzing about it the next day.
Now that the TV show is heading into its 19th season, I asked the celebrities and dancers for their take on why the DWTS phenomenon continues to resonate so well with the public.  Carson Kressley was able to sum it up succinctly:  "'Dancing with the Stars' has universal, multi-generational appeal," said Kressley.  "It's the ultimate human interest story."
Additional theme cruises on the Westerdam are scheduled this year on November 29th and December 6th, with the latter sailing hosting the Champions Cruise.   HAL has yet to announce whether the program will be extended through 2015.
In further upgrades to the line's main showroom fare, HAL has begun retrofitting the venues with LED video walls in preparation for deploying modern and edgy new productions like Sound Stage (introduced on the Westerdam this summer), that are a far cry – and a welcome change – from the recycled Broadway show tune roundups of the past.
Club HAL
Less-hyped but equally important, the line's Club HAL youth programs have received substantial upgrades in recent years.  And contrary to those who still hold to the long-outdated connotation of Holland America as "your father's cruise line," the large contingent of children on my sailing were excited by, and eager to attend, Club HAL's activity-heavy schedule. While the line still appeals to those – of all ages – who appreciate a more relaxed, refined experience, the recent emphasis on multi-generational travel has ushered HAL's youth programming into the realm of the competition.  Children in three age-tiered categories enjoy Wii Sports, Xbox games and other technology while still being entertained with classic kid's games and Sports Deck activities.  Teens are also well served in their dedicated space, The Loft.
Holland America Line's onboard product mix now appeals to multiple generations of travelers with diverse interests, and Dancing with the Stars: at Sea has proven to be a successful addition to that lineup.
David Yeskel is a veteran cruise industry reporter. Follow David Yeskel, The Cruise Guru, on Twitter at @CruiseGuru_
Related Stories: