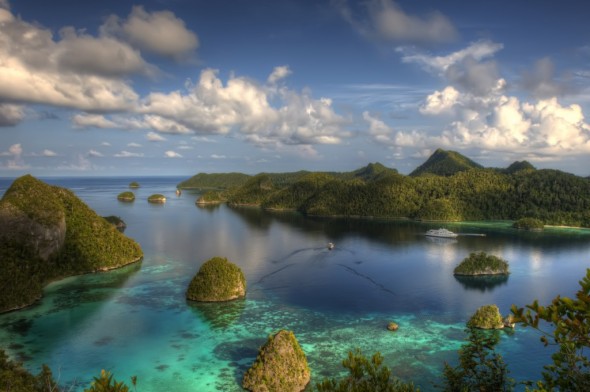 What's the cruise for the person who has everything? The traveler who's been everywhere? The cruise aficionado that has visited every port of call? Perhaps it's the cruise company Downunder that sails True North. Northstar Cruises Australia, part of the exclusive Kurtz-Ahlers Collection, dares to do what few luxury cruise companies have tried: to show the unknown, undiscovered treasures of coastal Australia as only an intimate, 36-passenger luxury yacht called the True North can do.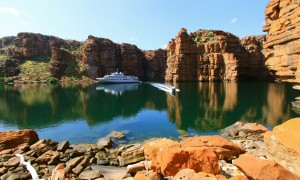 This not a cruise of Australia. It is an exploration where "Barefoot Luxury" rarely steps. A cruise on the True North covers some of this planet's most exotic lands: Northwest Australia, the Kimberly, Western Australia and up into the wilds of West Papua and Papua New Guinea. While cruising Australia's coasts and the remote littorals of these far flung lands, True North's three-dozen passengers (and nearly as many crew) drop anchor way off the grid to swim with bottlenose dolphins, take helicopter flights (yes, the helicopter travels with the yacht) into jungle gorges and wildlife preserves, hike in undiscovered rainforests, snorkel along undisturbed coral inlets and picnic on deserted islands. Cruising Australia on the True North might be described more as royalty meets Robinson Crusoe than Love Boat. Most vessels cannot sail the waters and inlets open to the True North. And passengers get to travel far from the madding crowd.
But those Australia cruising adventures are not without interpretation. Whether the True North is exploring waterfall forests in New Guinea or coral reefs near Cairns, an onboard specialist guides are available to give context to these experiences and make them that much richer.
The True North launched in 2005, but Northstar Cruises Australia came to light as an idea many years earlier when founding director Craig Howson took a half-dozen passengers and a couple of crew to some isolated areas in Western Australia during a fishing expedition on a converted crayfish trawler. Word got out and Howson found a continuing and growing market for these trips, which eventually became a business that incorporated lots of luxury amenities.
Popular with the privacy craving celebrities (Jerry Hall has been a passenger) and adventure-seeking guests alike, the True North delivers on the gourmet dining element as well. Chefs prepare fresh, locally sourced dishes and keep the menu interesting with perfect Australian wine pairings. Passengers can fish for their supper or enjoy heaps of Australia's signature catch, Barramundi. There's always something on the barbie aboard the True North.
The sleek and modern True North sailing vessel is 164 feet, but designed efficiently to house cabins in three configurations (all ample single room accommodations with king or twin beds), plus a sun deck, observation lounge, ship's lounge, alfresco bar, sports deck and dining room.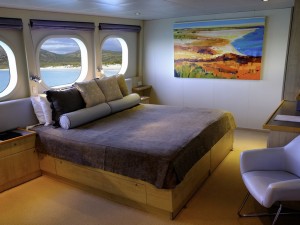 Cruises run four days to two weeks in various itineraries throughout the year. Australia cruise tours include the Southern Safari that cruises around the Adelaide basin and Kangaroo Island; the West Coast Safari that runs from Perth to Dampler; Kimberly cruises that move between Wyndham and Broome, and onto the Rowley Shoals; Sydney Rocks and the Hawkesbury River; and then onward cruises that ply the warm waters between Darwin and Cairns and the shores of West Papua and Papua New Guinea. Perhaps one of the most unusual of True North's adventures is the visit to Cenderawasih Bay on cruises from Darwin where guests can swim with gentle giant, plankton eating whale sharks that average 20 feet in length.
Wherever anchor is dropped expedition six vessels are on hand take passengers in small groups to the various sites. "Barefoot Luxury" aboard True North's adventure cruises around Australia means guests can do what they want, when they want  — and how they want.
Because the number of passengers is limited and the product is so specialized, cabins do tend to sell out. Seven-night itineraries average around $9200 per guest with helicopter options extra.
Contact:
North Star Cruises Australia
(011 61) 8 91921 829
www.northstarcruises.com.au
Sailing Australia: Off Grid Luxury on The True North