Winter is a great time for weekend getaways. And it is also a great time to cozy up at home. A new study, however, indicates that the "staycation" concept is getting left behind and the weekend getaway is back. According to Enterprise's "Weekend Getaway Survey," nearly two-thirds of individuals who plan on taking a weekend getaway in 2017 will travel more than 150 miles from home.
According to the study, released in late 2016 from Enterprise, the car rental company, several trends seem to be emerging.
Here, there, everywhere
There is no one-size-fits-all weekend getaway destination. Twenty-four percent are planning to visit a major city, 19 percent are planning to visit the beach and 14 percent are planning to visit the mountains. Other destinations include a small town (9%), the lake (5%) and the countryside (5%). Repeat destinations seem to be preferred in 2017 – only three in 10 plan to go somewhere new on their weekend getaway.
All in
Nearly two-thirds (62%) of parents taking a weekend getaway plan to take the kids with them.
Relaxing is a priority
When asked to choose a word that best describes their weekend getaway, "relaxing" ranked first, with 39 percent of respondents selecting that word. Aligning with the relaxation theme, the top weekend getaway activities this year include: "Enjoying new restaurants, bars or pubs" (44%) and "de-stressing" (38%).
The thrill is gone?   
When asked to choose a word that best describes their weekend getaway, only 7 percent of respondents selected "romantic."
Road trips rule
The preferred mode of transportation for weekend getaways is the car (74%). Asked what feature they want in a car to take on their weekend getaway, 55 percent chose "comfort," followed by "cruise control" (43%). Only 14 percent desire "luxury" in their weekend getaway vehicle.
Bye, Mom and Bye Dad!      
While the "Sandwich Generation" may be on the rise, travelers aren't including mom and dad in their weekend getaways. Only 6 percent plan to travel with their parents.
Bye Bye Fido!  
Only two in 10 dog owners plan to take their pets on their weekend getaways.
Paying the way
Sixty-one percent of weekend getaway takers plan to spend less than $500, while 39 percent plan to spend between $500-$1,000+.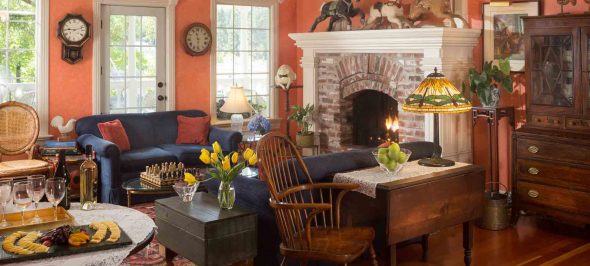 Winter Weekend Getaways in California: Best B&B's
For those in California or those who want to vacation there, here is the ultimate list of charming B&Bs to consider for cozy and cool places to chill out.
Inside the luxurious Eden Vale Inn in the Sierra Foothills, a stone fireplace rises 27 feet from the floor to the timber-framed cathedral ceiling. The slate rock for the fireplace was hand-picked from a local quarry by the owners of the inn nearly 30 years ago, when they were in the process of converting an old, classic hay barn into a home. The masonry weighs about 40 tons. On cooler mornings, the innkeeper builds a roaring fire with oak logs. In addition to the fireplace in the main lodge, all seven guest rooms of Eden Vale Inn have built-in gas fireplaces. Guests can simply press a button and the lights will dim while fire begins to flicker. Outdoors, there is also a circular fire-pit to gather around and gaze up at the stars.
On the Mendocino coast, the enormous great room at the Brewery Gulch Inn is anchored by an iconic, four-sided glass and steel fireplace fabricated by a local shipbuilder. The over-stuffed Stickley-style leather couches, thick shag carpets and bank of windows overlooking the ocean add to the room's appeal as a fireside gathering place. Guests read, play board games and sample the chef's culinary creations by the fire. For more private fireside relaxation, each of the inn's 10 guest rooms have gas fireplaces with comfortable seating areas with cozy throws and pillows.
Inside the French-style chateau of Enchante Boutique Hotel in Los Altos, each room is appointed with beautifully-decorated fireplaces replicating the Rumford-style hearth found in fine period homes.  Each fireplace has a classic barrel arch face and features hand-selected designer tiles to accent each room's color palette. In addition to the guest room fireplaces, the library features a grand marble fireplace with cozy seating; perfect for curling up a book. Guests can also dine beside an inviting period hearth in the bistro, finished with 200-year-old rustic timbers.
The Gingerbread Mansion in Ferndale is a meticulously restored Victorian with lavish guest rooms and antique fireplaces.  Some are decorated with hand-painted antique tiles, some are with cast metal with beautiful engravings, and others feature antique wood panels.  All of the fireplaces are original antiques circa 1890.  Most of the guest rooms and all of the suites have fireplaces. Some of the suites have two fireplaces: one in the bedroom and another in the bathroom. The glamorous Fountain Suite features twin claw foot tubs placed side-by-side in front of a mirrored wall next to a fireplace with antique, hand-painted tiles and a Victorian fainting couch. In other rooms, like the Empire Suite and Rose Suite, guests can recline in claw foot tubs next to the fire.
The circular bar at Nick's Cove & Cottages is anchored by a large, rustic, wood-burning stone fireplace.  The fireplace, along with the exposed wood beam ceilings and game trophies mounted on the walls, creates the bar's upscale hunting lodge ambiance.  Overlooking the misty and haunting Tomales Bay, it's a perfect place to cozy up with elegant comfort food and an artisanal cocktail incorporating fresh ingredients from the on-site garden. In addition to the fireplace in the bar, the inn's restored seaside cottages feature wood-burning stoves along with cozy beds and deep claw-foot tubs.
The wood-burning fireplace in the main lobby of the Benbow Historic Inn has long been a favorite gathering spot for guests.  The fireplace was designed by Albert Farr, a well-known San Francisco architect in the 1920s, based on a similar design he created for Jack London's Wolf House in Glen Ellen, California.  In the 1980s, the inn's owners commissioned a local woodworking artist to build and install the mantel and a local metalsmith to forge the fireplace's distinctive metal doors.  Just as they did in the 1920s, guests gather around the crackling fire to enjoy tea and scones, play a game of chess or checkers or curl up with a good book.
Following the 6.0 earthquake that rocked Napa Valley in 2014, Churchill Manor replaced all four of its original three-story masonry chimneys with gas fireplaces, carefully preserving the inn's historic charm and 125-year-old redwood interiors.  The inn now offers 14 gas fireplaces: one in each guest room and four more in the downstairs parlors. In the Stags Leap guest room, the original gold leaf tiles were preserved and now surround a stunning period gas fireplace. Downstairs, guests can enjoy wine and appetizers beside the glowing hearths of all four parlor fireplaces.
At the historic Inn at the Presidio in San Francisco, cast iron gas fireplaces are the dominant feature in the living rooms of each of the inn's 17 suites. In the main lobby, an inviting wood-burning fireplace is flanked by leather couches and serves as a convivial gathering spot for guests.  Outdoors, a fire pit is another popular place for guests to meet and mingle.  Built in 1903, the understated elegance of the Georgian Revival-style hotel was once reserved for Army officers. It's the only inn of its kind inside an urban national park.
Overlooking the rocky coastline of Pacific Grove, the historic Martine Inn is graced with Victorian wood-burning fireplaces in 11 of its guest rooms.  Firewood, kindling and newspaper are pre-assembled inside the fireplaces so that they can easily be lit with a single match.  In addition to the guest room fireplaces, the inn also features two other fireplaces. The dining room fireplace is lit for breakfast each morning and wine and hors d'oeuvres in the evening.  Guests can also cozy up to the fireplace in the library, which features over 1,000 books ranging from English classics to current gems.
Nestled in a quiet forest hollow of the High Sierras near Yosemite, McCaffrey House Bed and Breakfast Inn offers charming, black iron fire stoves in every guest room. The warmly-furnished rooms also feature Amish quilts, artful décor and exquisite views of the surrounding verdant forest. Each evening, the innkeepers serve wine and cheese beside the glow of the living room fireplace. The inn combines refined luxury and modern comfort with the romance of a mountain lodge.
The historicQueen Anne Hotel in San Francisco's premiere Pacific Heights neighborhood offers opulent guestrooms with wood burning fireplaces and two lovely gas fireplaces glowing day and night in the parlor and library.  The elegant Victorian rooms and fireplaces allow guests to step back in time and relish a bygone era.  Guests can relax by the fire with coffee or a cup of tea in comfortable antique chairs and sofas.  The library offers a small collection of books that other travelers have finished and left for future guests' enjoyment.
The flickering glow from El Morocco Inn & Spa's three fireplaces add to the enchantment of this Moroccan-inspired retreat in Desert Hot Springs.  Inside the Kasbah Lounge and Library, guests can snuggle next to the fire while sipping complimentary sherry and watching "Casablanca" on a continuous loop. A large, outdoor fireplace with Moorish design and a mosaic marble hearth stands near the deep end of the warm spring-fed mineral pool, where guests can cozy up after a late night swim.  Next to the outdoor bar, a white marble fire pit is flanked by rugs, rattan sofas and Moroccan poufs for enjoying Morocco-tinis under the stars.
For more information about these and other California bed and breakfast inns, visit www.cabbi.com.