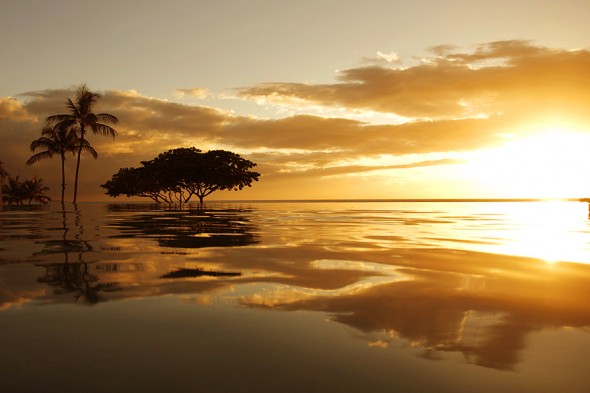 Hawaii is hot these days. The come-back state is on the rise with hotel occupancy rates reaching the 80 percent mark and room rates climbing 6.4 percent to a whopping $212 per night on average. Despite the doldrums economy and relatively high cost of a Hawaii vacation, the people are coming, according to Smith Hospitality Advisors and Smith Travel Research.
The welcome news happens three years after Hawaii suffered one of the worst tourist seasons in the Aloha State's history. ,
But today Hawaii is taking in record visitor revenues: $1.1 billion in May – marking a 17.5 percent spike over the same month in 2011, says the Hawaii Tourism Authority (HTA). The islands saw some 622,899 visitors that month, a 12.5% increase over the same month last year.
The increase in demand is getting the attention of airline companies. Hawaiian, United and Allegiant, are adding new direct flights to the islands. The no frills flyer Allegiant Airlines began regular service to Honolulu from both Las Vegas (three times per week) and Fresno (once per week) in June.
The growth is primarily coming from the east and west coasts of the U.S. (west coast is up 6.9 percent) as well as Canada (up 5 percent) and Japan (up 9.3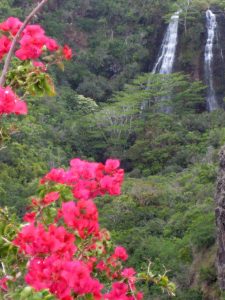 percent), according to HTA.
Maui, too, has been benefitting from this boom. Visitor expenditures were up 12.3 percent over last May to $248.1 million. The daily spend is up 4 percent to $193 per person. There were 172,052 visitors to Maui in May who stayed an average of 8.4 days on the luxury isle.
Things to Do in Maui on a Summer Day
Heading Maui way? Here's what's new and to-do on the "Valley Isle":
Festivals and Events
August 4: Maui Coffee Festival at The Shops at Wailea
The Shops at Wailea has partnered with the Maui Coffee Association to develop a first-of-its-kind coffee event in south Maui. The first-annual "Maui Coffee Festival at The Shops at Wailea" will take place Saturday, August 4 from 10 a.m. to 4 p.m. at The Shops at Wailea. Attendees at this free event will interact with Maui coffee growers, learn what makes the island's coffee unique, and sample an array of brews and coffee-related offerings. Visit www.TheShopsAtWailea.com.
August 17-19: Second Annual Lanai Slack Key Festival
Four Seasons Resorts Lanai presents the second annual Lanai Slack Key Festival. The alluring sounds of the slack key guitar will sweep the island – from the beaches of Manele Bay to the upcountry region at the The Lodge at Koele. Throughout the three-day free event guests will be treated to complimentary performances by legendary performers and musicians. Call 808-565-2388.
August 31: September -Kaanapali Fresh
Kaanapali Fresh is a new three-day summer event highlighting Kaanapali as the premium spot for exquisite cuisine, meaningful experiences, and fun activities. The Kaanapali Beach Resort area comes together with chefs' menus, Grown-on-Maui products and lore of the rich history of the land. Entertainment by Spyro Gyra and Makana at the "Kaanapali Food & Wine Festival" and Third Eye Blind at the "Concert Under the Kaanapali Moonlight".  Tickets: www.kaanapalifresh.com.
September  16: 42nd Maui Marathon
Considered one of the most scenic routes in the United States, the marathon begins in Kahului and ventures along the island's scenic coastline ending in Kaanapali Resort. Shorter distance races and a fitness expo are also offered. Visit www.mauimarathonhawaii.com.
Fridays: Maui Friday Town Parties
"Maui Friday Town Parties" showcase Maui's historic towns and communities each with free entertainment, special offerings and "Friday-only" promotions from each town's family of merchants. Wailuku celebrates the first Friday, Lahaina claims the second, third Fridays honor Makawao and the last Friday of each month takes everyone to Paia. Visit www.mauifridays.com.
Ongoing ….
Tour da Food Maui – GAS-tronomy!
This three-and-a-half hour tour starts early in the morning, visits four gas stations serving up some of the best local food on Maui and is definitely for seriously adventurous food lovers only. GAS-tronomy Maui is offered Tuesdays, Wednesdays, and Thursdays for from two to four guests. Reservations and pre-payment in full required. Call 808-242-8383 or visit www.tourdafoodmaui.com.
Just for Teens: "The Spot" at Grand Wailea
"The Spot" is the newest addition to Camp Grande. It is a teenage paradise with a karaoke lounge, XBOX 30 Kinect, Rock Band, Dance Central and a sports lounge. Open from 9 a.m. – 4 p.m. and 5 – 10 p.m. for guests ages 13-17 years only. Call 808-875-1234 ext 4754.
What'SUP at Travaasa Hana
Experience a sense of adventure and Hana's natural beauty during a new stand up paddle (SUP) boarding adventure at Travaasa Hana, offered complimentary for guests in a small group setting. This new activity takes place in secluded Hana Bay, letting guests soak up intimate views of lush vegetation and a black sand beach and enjoy a core workout at the same time. Visit www.travaasa.com/hana.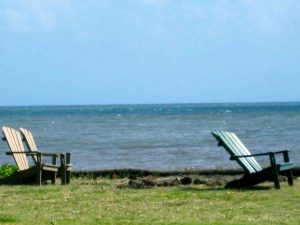 Outdoor Painting
Designed for beginning to intermediate artists, this outdoor acrylic painting class offers a demonstration of basic technique followed by the opportunity to create your own work of art. With a maximum of 10 students per session, visitors will receive one on one support and instruction to produce a finished painting for keep. This class is available to anyone age 14 and up and all materials are supplied by Grand Wailea. Thursday, 8:30 – 11:30 a.m. $40 per person + $25 materials fee. To sign up, call NaPua Gallery at Grand Wailea, 808-874-0510
Romance is in the Air – September is "Couples Month"
For couples flirting with a tropical stay in paradise, think September at Four Seasons Resort Maui at Wailea – Hawaii's traditional Aloha Month and the Resort's "Couples Month." Complimentary classes and activities will be offered each day. Guests can attend cooking classes with Master Executive Chef Roger Stettler or Four Seasons bartenders will teach couples how to make the resort's signature cocktails. Outdoor wellness classes feature experts in couples' meditation and trunk shows will be presented by the resort's new designer shops.
Kaanapali Sunset Luau at Black Rock extends show dates
The Kaanapali Sunset Luau at Black Rock is now offering show dates three times a week during the busy summer months. Due to great demand, the luau, held on the Ocean Lawn of the Sheraton Maui Resort & Spa, has added an extra showing on Friday evenings. Guests can enjoy an exciting and colorful presentation set to pulsating and syncopated drum beats, partake in luau buffet, and take the benefits from a full open bar. Call 808-877-4852 or visit www.sheraton-maui.com.
Story of Hawaii Museum
Maui's newest attraction, Story of Hawaii Museum, Gift Shop & Gallery, presents a unique exhibit that tells the tale of the Islands through historic maps, rare prints, and authentic antique pieces. The display begins with the Polynesian migrations of prehistory, continues with examples of maps from the European voyages of exploration, the Kingdom of Hawaii, missionary and plantation days, the Territorial period, World War II and statehood to the present. Open daily, admission ($10 adults, $5 children 12 and under) includes a DVD about the mapping of Hawaii. Call 808-283-3576 or visit www.storyofhawaiimuseum.com.
More? Check out Visit Maui's blog