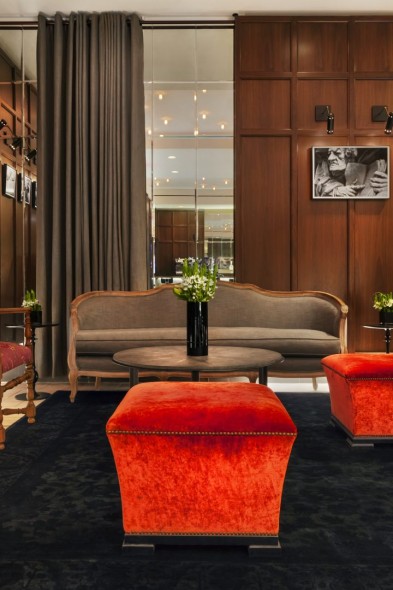 By Stacey Zable
The choices for hotels in New York City are abundant, but the Hotel Belleclaire should be at the top of the list for families considering travel to the Big Apple. Here are five reasons that make the historic property the perfect base for city adventures.
Hotel Belleclaire Location
The Hotel Belleclaire offers an ideal location on the Upper West Side in a quiet residential neighborhood away from more congested areas of Manhattan. Its 77th Street and Broadway address is walking distance to Central Park, Riverside Park, Lincoln Center, and the American Museum of Natural History. A subway station is only a block away to whisk families to Times Square and other sites of the city. Many shops and restaurants are within walking distance.
Guests of the Hotel Belleclaire are also able to take advantage of the complimentary 1.5 hour walking tours at sister Triumph Hotels properties so that they can explore other neighborhoods of Manhattan, such as Hell's Kitchen, TriBeCa, Downtown and Midtown.
Hotel Belleclaire Family Suites
A recent multi-phase restorative renovation added even more luxurious touches to Hotel Belleclaire's 240 rooms and suites. Guests enjoy Frette linens, laminate wood floors, complimentary high-speed Wi-Fi, and C.O. Bigelow bath amenities. The 22 Family Suites offer high ceilings, plenty of light, comfort and space, often a rarity in New York City hotel rooms. The two-room, one-bath, Family Suites feature one room with Queen-size bed and the second with two Full-size beds. Each room has its own flat screen HDTV, as well as a desk. A DVD player is included in each of these suites and complimentary movies are available for families upon request. A discreet sliding door separates the two rooms in some suites for privacy. Another good choice for families are connecting guest rooms, which are also available at the hotel.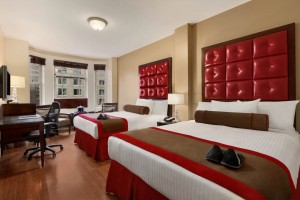 Hotel Belleclaire History
Built in 1903, Hotel Belleclaire is one of Manhattan's oldest luxury hotels boasting an Art Nouveau-inspired design created by Emery Roth. Legendary guests include Mark Twain and Babe Ruth. A restoration of the historic building's brick and limestone façade is planned to take place within one year. The intimate lobby reflects a turn-of-the-century or European feel to it with cozy sitting areas and cocktail bar. Black-and-white photographs line the walls and pay tribute to the hotel's history.
Hotel Belleclaire: Attention to Service
As a boutique property, the Hotel Belleclaire not only puts an emphasis on service but also creates a warm and inviting home-away-from-home to return to each night after a day of sightseeing. Doormen, receptionists, and bartender all provide warm smiles and hellos and goodbyes as guests enter and leave the hotel. Every effort is made by the staff to handle special requests. Lobby coffee, tea, and hot chocolate service is available so guests can grab a cup and relax in the inviting space. Weekly general manager cocktail hour meet and greets further the welcoming ambiance.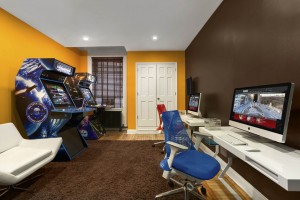 Hotel Belleclaire Media Lounge
For families who require some down time from sightseeing, the Hotel Belleclaire's private media lounge offers two arcade stations with more than 10,000 games and multi-player options, as well as three 27-inch Apple computers. The property also has a 24-hour fitness center.
Room rates start at $129. Hotelbelleclaire.com
Stacey Zable is the Family Travel Editor for Travel-Intel. Visit her site at staceyzable.com.