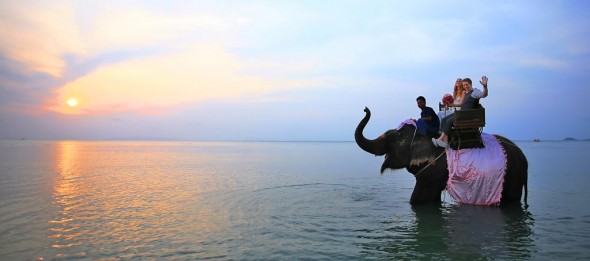 For couples who are tying the knot who might not want to invest in white lace and roses, several adventurous options await that will bring bragging rights and buzz to any cocktail converstion. Nuptials with sharks, vows in the air, weddings in the nude, wearing mud or wrapped in tree bark are not uncommon for those willing to wager that a little wackiness at wedding time may bode well for a future of marital bliss.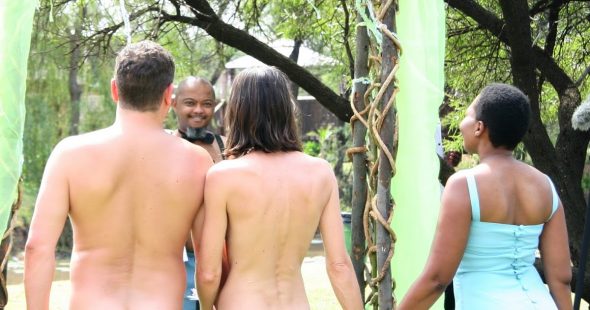 Bare Weddings
You can keep your hat on, but not much else if the choice is for the all-nude wedding package at Desire Resort on the Riviera Maya, near Cancun, Mexico. It can be a private ceremony or a group experience. Either way you get the benefit of a dedicated wedding planner and a fully private beach setting. After the vows, you get to leave the earth behind on a nude cruise that can accommodate six other couples — drinks, repasts and snorkel gear included.
For couples that may want to wear mud to a marriage, New Zealand has the answers. Rotorua, a North Island eco-wonderland of boiling lakes and steaming geysers, offers the option to exchange vows in aptly named Hell's Gate where there are plenty of natural mud pools. Obliging nearby lodges provide a variety of venues, ceremonial accoutrements and post-ceremony showers for couples and their guests.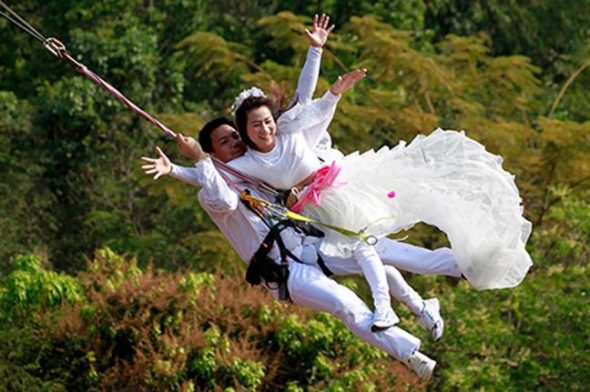 Air Weddings
Destination Vows out of Toronto, Canada can accommodate nearly any airborne wedding venture, whether a couple wants to take the plunge by skydiving into their marriage, jump off a bridge or cliff in a bungee-focused act of commitment, or have their wedding in the sky using a crane to hoist a platform 150 feet in the air over some idyllic setting, as the couple and up to 20 guests take part in vows and a memorable gourmet meal in the clouds.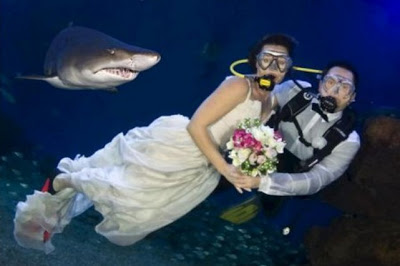 Shark Weddings
Suit up and dive in at Shark Reef at Mandalay Bay in Las Vegas. Weddings come with all the musts-haves for nuptials: metallic wet suit, oxygen tank, masked officiant, predator fish handler, and some 11 species shark. Couples read their vows to each other, although the other may not hear them, and the officiant gestures them through the ceremony as tortoises float by and sharks circle on high.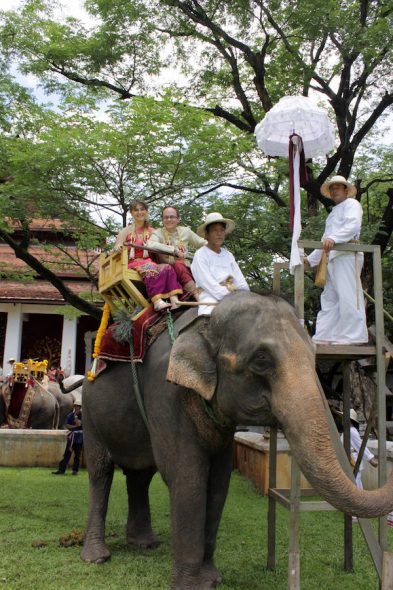 Elephant Weddings
You can ride your way into a jungle marriage in the wilds of Northern Thailand. Four Seasons Tented Camp in the country's Golden Triangle region offers a full wedding package with monk blessings, elephant rides, mahouts, in-tent massage and hair styling. Champagne toasts complete the occasion, as gibbons howl and elephants raise their trunks.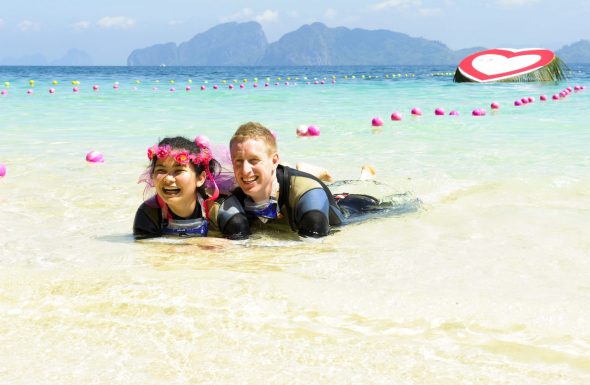 Underwater Weddings
Thailand is the place to go for those who want to start their marriage in the waters below the waves. Trang Province on the Andaman Sea offers Underwater Wedding Ceremonies to pre-certified divers that include all the gear plus elements of traditional Buddhist nuptials. A group event takes place annually around Valentine's Day, and has married more than 500 people since the tradition began in 1997.
The group ceremony is a three-day event that starts with each couple planting a tree in the botanical gardens, followed by a parade through the streets of the main town in traditional Thai ceremonial dress. Monks pour blessed water over the couple's hands in accordance with local custom, and then there is a traditional pre-wedding party in the evening. The undersea ceremony, itself, happens the second day when couples take a longboat to Kradan Island and are married in the calm, warm waters around 30 feet below the surface. In the evening, there's a dinner, music, dancing and fireworks, afterwhich newlyweds are escorted to their honeymoon suites by older married couples.

Islander Weddings
Getting married in Fiji is easier than you think. Ceremonies offered by a number of resorts, including Toloriki Island Resort and Lomani Island Resort. These are beach weddings where the bride and groom wear bark. They are ordained by a priest, drink mildly narcotic kava from a coconut shell, and then are waved on their way aboard a longboat paddled by hunky tattooed warriors.

Castle Weddings
Ok, it's not so wacky but it is still pretty outrageous: a Disney wedding inside the Sleeping Beauty Castle. It's every little girl's dream to marry a prince in an enchanted castle and now Walt Disney Parks & Resorts offers fairytale weddings with all the pomp, including horse-drawn carriage, Disney characters and fantasy honeymoon stays at nearby Disney-themed properties.