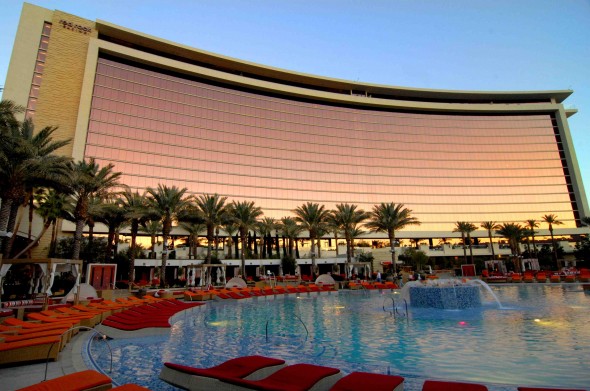 While the Las Vegas Strip is where the action (and crowd) is Las Vegas locals know the epicenter of Las Vegas seems to be creeping ever westward toward Red Rock Canyon and that fading mountain horizon beyond.
Red Rock Casino, Resort & Spa read the tea leaves back in 2006 and built a shiny brass-colored crescent shaped resort tower that beckons to this day with all the good stuff a Vegas getaway can bring – but without the come-ons and the crowds.
As the cranes and dozers continue to build up the city's burgeoning West Side, Red Rock Resort is right there making magic happen and creating a foundation of support for some very big plans.
Most recently, the 800-room Station Casinos flagship property announced preparations to create passageway that will connect guests of the hotel to the new Shops at Summerlin. The shopping experience will bring at least 125 retailers and restaurants to this handsome 106-acre, 1.6 million-square-foot outdoor complex and become a new focal point of activity for Las Vegans. The concept was originally slated for 2008 as part of a greater Red Rock destination that Station Casinos envisioned. And now, the long-awaited shopping attraction, overseen by Hughes Corp., is expected to open in the fall on a spot just south of the Red Rock Resort complex.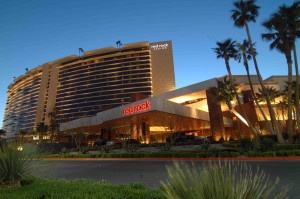 Red Rock Redux
And as every thing in Vegas more than five years old is new again, the rule of thumb also applies to Red Rock Resort, which is pulling up the carpet and putting on the paint around the property as some big new leisure attractions and makeovers spring to form.
For starters, there will be four new restaurants onboard and they will all flow through Red Rock's new Restaurant Row. The new restaurant venues will be built along the Charleston Boulevard casino entrance area and will sport their own outdoor entries and patios. They will be linked by a sophisticated decked-out pedestrian walkway with plenty of interior and exterior movement and water design. The new "Row" will artfully connect a number of dining venues including the existing Lucille's Bar-B-Que and Yard House.
The new kids on the block of this restaurant scene, all part of a greater $35 million redo at Red Rock, round out an eclectic dining profile at the property. They include:
•        Mercadito Red Rock: The Sandoval brothers of Chicago are bringing their legendary Mexican cuisine to Las Vegas. The menu will blend traditional Mexican fare with creative interpretations of local and seasonal ingredients and will offer a beverage menu that will wow with unusual variations of classic cocktails complemented by an extensive tequila list. Zagat named Mercadito one of "America's Hottest Mexican Restaurants" in 2013, and the restaurant was recognized by USA Today for serving one of the "country's ten best margaritas."
•        The Light Group: A new neighborhood dining experience will feature a farm-to-table selection of small plates with simple, seasonal and sustainable ingredients paired with hand-crafted microbrews and an extensive wine list. Light Group Executive Chef and Partner Brian Massie will be at the helm.
•        New Italian Restaurant: A new contemporary and casual Italian restaurant will replace the existing Terra Rossa Italian restaurant.
•        Noodle Bar: Red Rock's culinary team has also developed a noodle bar concept that will be located between the Grand Café and the High Limit gaming room and will offer lively interactive dining focused on noodle bowls, dim sum and specialty fried rice.
In the meantime, some old favorites around the property will be seeing new spin.
T-bones Chophouse:  The newly renovated steakhouse will feature a stylish refurbishment including all new furniture, carpet, drapes and additional artwork.
Resort suite upgrades: 26 of Red Rock Resort's stylish suites, which range in size from 1,500 square feet to 6,500 square feet, will receive a complete transformation.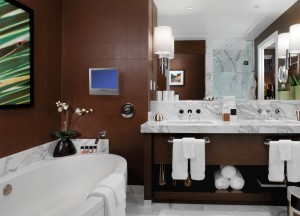 The Spa at Red Rock: The 25,000-square-foot spa and salon will undergo a complete renovation. Watch for news on this one in the coming months.
All these plans are currently in progress and eyeing a fourth quarter 2014 completion.
Meanwhile, the property still serves as a beacon of entertainment on the West Side and plans a number of events moving through summer. Red Rock's pool concerts are famous for the strong band names they attract and the fun involved with rocking around and in the resort's circular pool. Watch for the Sandbar series in August with a roster of red-hot stars that include Kansas, the Goo Goo Dolls and Plain White T's. Zowie Bowie and T-Bones can be found kicking it up in the Lounge most nights. And for those who like to rock to a different tune, there are schedules that include country line dancing and cool crooners.
And, of course, hands can stay in pockets as much of the entertainment comes with the establishment. Guests and locals who want to catch up on their movie acumen head to the film court where some 15 current show titles hit the list, and usually for an affordable $8-$11 (have you been to a movie theater in L.A. lately?). Boarding Pass points are good here, too.
Bowling fans are not to be left out. The balls come out and the pins go down at Red Rock Lanes – open seven days and 24 hours on weekends.
But for weary workers, sultry sun worshippers and sybaritic sensation seekers searching for segue from life's daily hues and cries, solace and even sweet nirvana happens at the Red Rock Spa. Although the hotel is hush hush about the upcoming revamp at the spa, enlightened pleasure hunters will still find what they came for through a mindful menu of bamboo fusion treatments, energy balancing therapies, even Shirodhara Scalp treatments that tune your cranium and keep your chakras piqued.
Gotta wedding? Have a hot date? The bounty of beauty options is bigger than the body treatment list. Bring your skin to life with precious gem particles or have some non-invasive fine-line fillers for those encroaching life maps forming on your face. There are sun repairs, pregnancy calmers, back rejuvenators, quickie facials, even a gentleman cleanse (for guys, that is — not a South Pacific hair wash). An exclusive spa pool and lounge keep the crowds at bay. The fitness center is steps away for those who would rather spin and tread than hike in the nearby Red Rock Canyon preserve.
Red Rock Casino Resort and Spa remains Las Vegas' West Side answer to fun in the sun, inside and out. Still a shining tower in a wide and wondrous desert, Red Rock is as much about the future of Las Vegas as it is about the destination.
Red Rock Casino, Resort & Spa
redrock.sclv.com
(702) 862-3154

Related Stories: