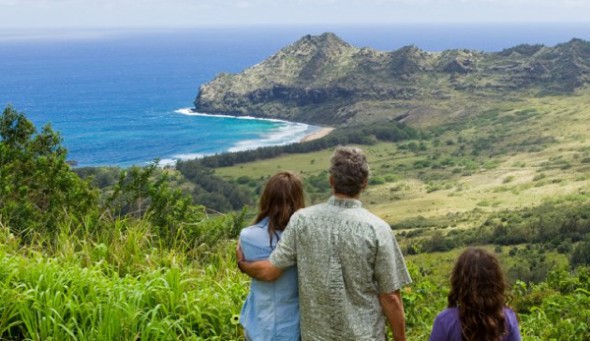 Drop a rock in Kauai and chances are that spot has been part of a film set. Kauai Hawaii's fourth largest and, perhaps, wildest island in the archipelago, has hosted more than 76 films since 1933 – many of them very famous and notable.
As does Paris, Rome, Venice and New York, Kauai plays more than a backdrop in these films. It plays a character – an idyllic island, a World War II outpost, a land that time forgot. And sometimes, as in the 2011 release of The Descendents, Kauai even plays itself.
With the advent of the 50th anniversary of the Elvis Presley classic, Blue Hawaii, Kauai's Visitors Bureau decided to make movies another reason for visiting the island and a number of sightseeing options follow the footsteps of Hollywood around the island into some very recognizable and surprising places.
Movie Tours of Kauai
A good way to start an overview of Kauai's astounding sets might be by helicopter. A Jurassic Falls Helicopter Tour by Island Helicopters takes off from a pad near the airport and takes six passengers per craft on a grand island tour that lasts an hour and offers a bird's eye view into some serious celluloid hot spots. Anchored by the Jurassic Park theme, guests are immediately swept through the Hanapepe Valley and land at the bottom of the 360-foot Manawaiopuna Falls that were used in the Jurassic Park series.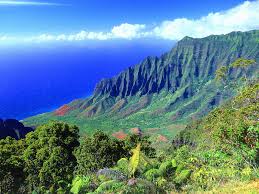 The helicopter moves on through Waimea Canyon, considered the island's own Grand Canyon for its depth and strange arid character, to the Na Pali Coast, an astoundingly scenic series of undulating cliff drops with beach landings accessible only by boat, hiking or helicopter. The land has played everything from Africa to Viet Nam for such films as King Kong (1976), Six Days, Seven Nights (Tahiti, 1998) and Tropic Thunder (2008).
Onward to Hanalei Bay and you get an overview of the setting for South Pacific right down to the bluff at Princeville used as the French planter's home.
But most of these spots are just as interesting on the ground at close range and one tour company called Roberts Hawaii offers a movie location round-up that lasts about six hours and comes with stories. For instance, guests can get an inside look at what was once the infamous Coco Palms resort where Elvis stayed and filmed Blue Hawaii (Roberts is the only tour company that has a deal with the grounds keeper to take guests around the hotel and grounds of this once thriving honeymoon spread). Also covered are settings for Gilligan's Island, Jurassic Park, Fantasy Island, Donovan's Reef, Uncommon Valor, Miss Sadie Thompson and The Wackiest Ship in the Army.  The day comes with lunch – at Tahiti Nui—an island beer and burger shack in Hanalei made famous in The Descendants.
Where to Stay and What to Do in Kauai
And while knowing where the movies were filmed can add spice and an inside track to the most scenic places in Kauai, there are plenty of off the beaten track adventures to be had and many in areas the film-going public has never seen.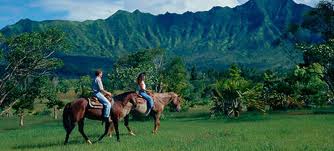 These soft adventure options include horseback riding and swimming in a remote and verdant patch of a private ranch (Princeville Ranch Adventures), or swimming with dolphins and turtles on the waters off the Na Pali Coast (HoloHolo Charters), zip lining or mountain tubing (Kauai Back Country Adventures) or kayaking along the Hanalei River (Blue Lagoon Kayak Adventure Tour). Average duration is three to four hours.
Accommodations in Kauai run the gamut from extremely affordable to posh.
Upscale travelers should head to the north end of the island to the St. Regis Princeville, a Starwood property with killer sunset views, a quiet swim-able beach at Pu'u Po'a Beach, a design-intensive restaurant by Jean-Georges Vongerichten and a premium emphasis on service. Starting rates average $400-$500 per night.
At the middle end find Kauai Beach Resort, which offers plenty of value in location (about 15 minutes from the airport in Lihu'e) with large accommodations, balconies over the pool and a private beach that is part of a soft sand littoral that continues for miles in either direction. There's a café and lounge overlooking the pool and a carefree élan to this place that makes it a gem – and a bargain with rooms that start as low as $119.
For a little more room but a lot less service, a stay a The Cliffs at Princeville fills the bill, especially for families. These are vacation homes rented to visitors and come with a kitchen, living room, dining area, two bathrooms, bedroom, porch or patio, and parking up close in a community of such homes along the cliffs of the North Shore. The homelike setting includes occasional wandering chickens and geese amid the greenery of shared grounds. The location is minutes away from the action in downtown Hanalei (where you can find a down-home luau happening Wednesday nights at the 'Nui, and plenty of unusual notion shops surrounding that stay open until the sun goes down).
There is a grocery store not far from the Cliffs, although not in walking distance. Also find some small swimming pools, tennis courts, even a gazebo overlooking the ocean on the grounds. Onsite reception staff can help with local activities planning. Rack rates start at $324 for a one-bedroom condo.
Non-stop flights to Kauai from Los Angeles can be found on American, Alaska, Delta and United. Hawaiian Airlines stops in Honolulu first.
For more information on visiting Kauai contact the Kauai Visitors Bureau, (808) 245-3971, www.kauidiscovery.com.
Similar stories: