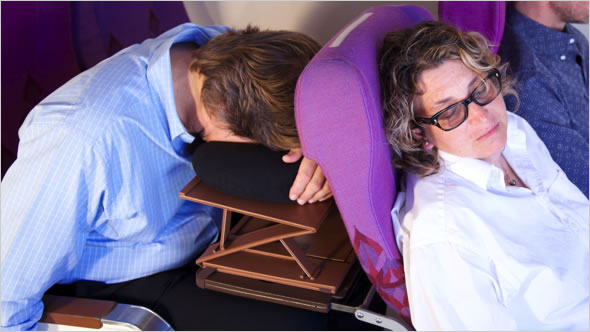 CES 2014 had all the usual array of fanfare: stadium sized monitor banks advertising the latest in sound, television and automotive technology. There were self-drive cars and strange hybrid hands-free vehicles to wade through, all manor of sound technology, boom boxes of sound the size of a sea shell, connected home appliances – and robots that did it all for you – televisions in 3D and 4D that curved at the touch of a button, and plenty of gadgets to go with your gadgets.
Travel-Intel waded through the tech tents and iLounges and Japanese pom pom girls attracting eyes for the latest in hard drives to come up with our list for the 10 best Travel Gadgets from CES 2014.
1) Aero-Tray: easy carry pop-up workspace trays for airline travelers – because there will always be flights you have to take in economy class. $59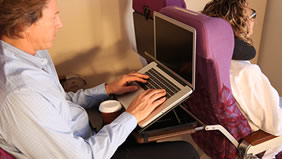 2) HP Dash Cam: Records everything in front of the car and has motion sensors to photograph thieves when you leave the car. Alerts for lights and traffic cams; gives digital read outs of where you've been. Records meteor attacks and police trouble wherever you may find it. $99-$199.
3) Ooma call-in service: The VOIP company that has taken over the residence phone world allows you to take your personal number on the road to make calls out AND receive calls for a fraction of a penny per minute no matter where you are. Callers call your local number (no hidden long distance charges from forwarding to a different country) and those called see your local number when you call them. Voicemail included. Call-in service to debut this spring.
4) HyperJuice: The company offers a line-up of attractive gadget chargers and remains the only company offering an outboard charger (nicely compact, although somewhat weighty) that can keep a Mac computer juiced for hours beyond its battery limits.
5) Mophie Space Pack: The company that brought the first iPhone case to market that could hold an entire backup phone charge in a protective case wrapped around the phone, now takes that concept to the next level: memory. Watch for new Mophies that offer that extra 16 to 32 megabytes of space to your iPhone. Perfect for carrying music collections, photos, even image-heavy presentations without slowing the phone.
6) GreenSmart Carrying Cases: these are stylish carry-ons made from recycled plastic bottles. Lightweight, durable, kind to the earth. Starting at $39.95.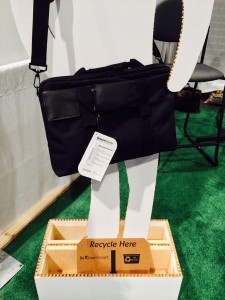 7) Sony is aiming to win the space in Windows portable convertible laptops and this year's CES brought the Sony Flip PC as a smaller model that competes with full-size tablets. Priced at $799 the new Vaio Fit 11A Flip PC is lighter, smaller and easier to hold than previous iterations and comes with a quad-core Intel Pentium CPU, 128GB of solid-state storage. The item weights in at less then three pounds, folds into tablet mode or swivels on its hinge into laptop mode. And the Flip PC comes with a digital pen that complements the pre-installed Adobe software Sony is adding.
8) Sony also showcased a variety of devices that all come with a "one-touch" syncing function with each other so users can seamlessly sync photos from their cell phones, music to their Bluetooth earbuds, documents to their computers, tablets or other computers and so on – no painful waiting for browsable devices. The company also announced entry into the activity tracking space with the Core and Smartband. The sleek band is worn on the wrist and tracks motions like any other activity monitor, but also logs such things as music listened to and where the wearer has been via the Lifelog Android app. It's tiny chip is said to be the tiniest gadget Sony has ever made. The Lifelog journal can serve the wearer for a number of yet undiscovered uses. It's expected to run at a price point of around $150.
9) There was odd buzz at CES 2014 around tiny gadgets that offer "Blackberry" style typing functionality for iPhones. One such company, launched by American Idol host Ryan Seacrest, called Typo, offers a pullout extension for people to thumb their texts and is now in legal disputes over the design with Blackberry. But another company called Spike by SoloMatrix, Inc., offers a plastic keyboard that pops from the back of the iPhone case to the screen of the iPhone and sends a tactile signal with each letter to the corresponding letter beneath on the iPhone Screen keyboard. Perfect for hardwired Blackberry fans who want to transition.
10) Finally, in the portable boom box field that is rife with small, candy-colored speakers, all wireless with Bluetooth capability and no bigger than a donut, we choose the Panasonic SC-NT10 Portable Outdoor Speaker. The item can withstand extremes in climate, dust, shock, splash and short drops, and syncs, streams and charges Smartphones while letting out monster sound through XBS Master technology. Good for beach and boardroom, for some eight hours of play. Can be found for prices ranging from $117 to $219.
Other stories about travel gadgets: